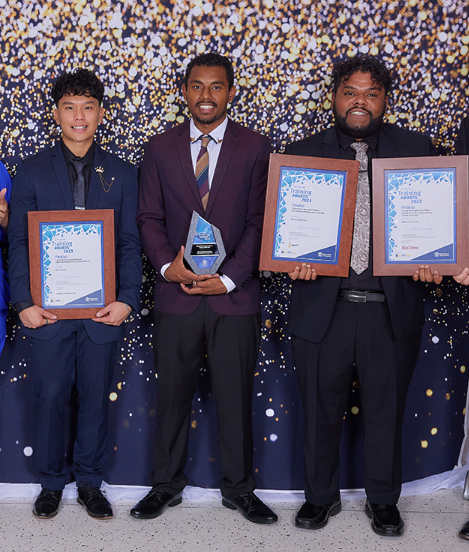 MRAEL school-based trainee and proud First Nations student Kyezaya Namai-Sabatino will represent Tropical North Queensland in the Queensland State Training Awards this September.
The Napranum resident was recognised for his strong work ethic at the Tropical North Queensland Training Awards after winning the School-based Trainee of the Year award. The Year 12 Western Cape College School Vice-Captain and Sports Captain recently completed a Certificate II in Engineering and is now undertaking a school-based traineeship in diesel fitting with Rio Tinto, Weipa.
As a school-based trainee, Kyezaya has found working with heavy machinery thrilling, combined with his strong work ethic has seen him excel in learning all the elements of his trade so far. After doing work experience in diesel fitting at Andoom Heavy Equipment Workshop in Weipa, Kyezaya jumped at the opportunity to pursue a traineeship, "I have a big fascination for heavy machinery, from big trucks, to loaders and dozers on the mine sites. I was eager and motivated from the start to demonstrate high work ethic and commitment to my traineeship," he said.
"A promise I have made to myself was to do my absolute best and make my family very proud. This is my first time to be nominated for the prestigious awards and I am extremely proud to have won," he said.
Kyezaya is also involved in the Aboriginal and Torres Strait Islander Aspirations program at school where he was a state finalist last year. He also invited to speak at the Western Cape Futures Symposium, an event where companies from all around Queensland came together in Weipa to talk about potential in communities and barriers to regional development in the Western Cape region.
MRAEL trainee Karl Ocate and apprentice Massie Zamiak were also finalists in the Tropical North Queensland Training Awards. Karl was nominated in the School-based Apprentice or Trainee of the Year award and Massie was nominated in the Harry Hauenschild Apprentice of the Year award and Aboriginal and Torres Strait Islander Student of the Year award.
Kyezaya will progress to the Queensland Training Awards state final in September, with the opportunity to compete for national titles at the Australian Training Awards in November.
MRAEL CEO Christine Zechowski said she was very proud of all the MRAEL trainees that were nominated in the awards, "Kyezaya, Karl and Massie have all demonstrated a high work ethic, strong teamwork and communication skills and commitment to their traineeships and have served as role models and advocates for vocational pathways and their communities. We congratulate them on their achievements. We want to wish Kyezaya the best of luck in the Queensland Training Awards in September," she said.