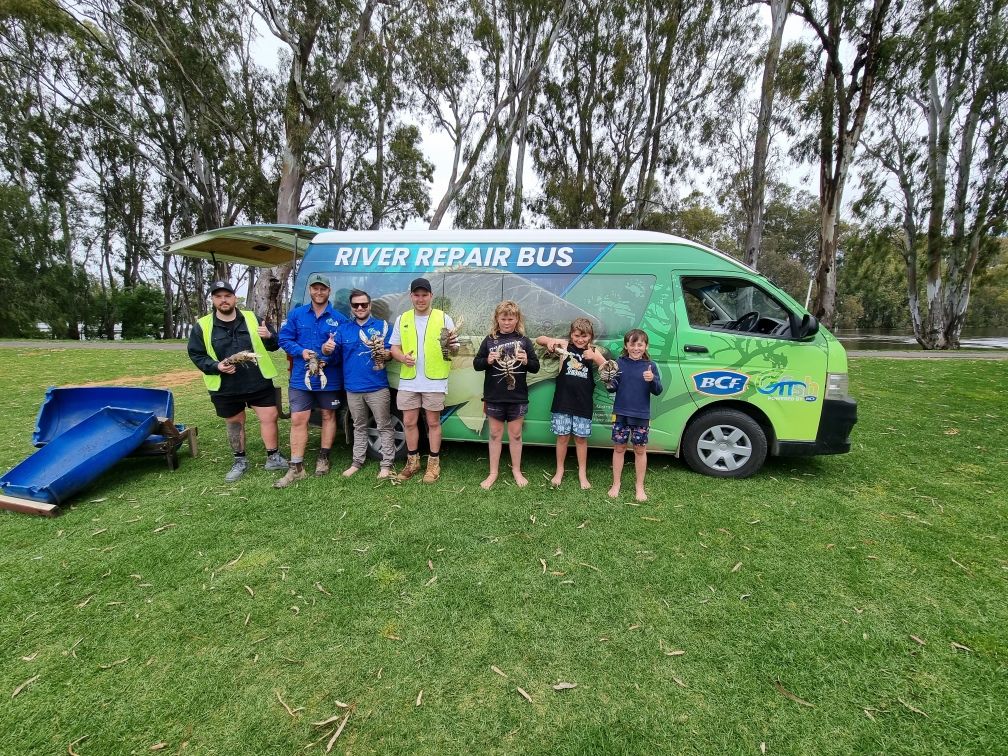 More than 1500 freshwater crayfish and hundreds of native fish are back in the swim of things in the Murray River after being rescued following the devastating floods which inundated the area late in 2022 and early 2023.
A rescue operation was undertaken by OzFish Unlimited, volunteers, farmers, landholders and New South Wales and Victorian state government agencies to save aquatic species following the significant flooding within the Southern Murray-Darling Basin over the summer months.
Working together with an alliance of like-minded organisations, OzFish's Fish Emergency Recovery Teams went into action and donated more than 350 hours to collecting iconic aquatic species like the Murray cod, golden and silver perch.
In extremely difficult and distressing conditions, OzFish volunteers managed to safely and efficiently rescue 775 freshwater crayfish and 47 native fish over a two-month period.
Combined with several other community groups and other government agencies who helped in the rescue mission, more than 1500 freshwater crayfish and hundreds of native fish were successfully captured and relocated or held over the course of the flooding period.
They were taken to private aquaculture sites where they were looked after until the conditions improved before they were released back to where they came from in the Murray River in May. 
The OzFish Fish Emergency Recovery Teams worked in conjunction with NSW DPI Fisheries, the Murray Darling Basin Authority, Mallee Catchment Management Authority, the Victorian Fisheries Authority, First Nations communities, aquaculture organisations and community members, with funding support from our major partner BCF – Boating Camping Fishing.
"At the end of 2022 and start of 2023 there was flooding right across the Murray-Darling Basin, and it was one of the largest the Basin has seen in at least 40 years," said Braeden Lampard, OzFish Program Manager - Murray Darling Basin.
"Floods pick up debris like leaves, sticks and native vegetation. That causes survival problems for aquatic species because as it breaks down it sucks oxygen from the water. 
"That meant that quite large areas of floodplains were inundated and that flooding essentially caused stress to many aquatic species. Freshwater crayfish started exiting the waterways because the conditions were degrading quite quickly.
"The native fish showing signs of stress were losing colour, many of them were pale white and floating so they were on the edge of dying.
"We worked throughout the mid and lower Murray from Mildura up to Barham for a month and a half, collecting native fish by boating along in a vessel and netting the distressed fish and placing them in a tank filled with oxygen to bring them back to life.
"To give you an idea of the scale of the flooding we were catching distressed fish in the middle of wheat fields."
Spotting the distressed fish in the water was trickier than collecting the crayfish which had climbed trees or wandered onto the land due to the state of the water.
OzFish is now working hard to ensure healthy habitat is restored to the hardest-hit areas and we are doing what we can to mitigate the drivers of many of the challenging conditions.
If you would like to know more about the project or get involved become a member of OzFish online at www.ozfish.org.au or contact 1800 431 308.
About us:
About OzFish
OzFish Unlimited is a national environmental conservation charity established to improve the health of our rivers, lakes and estuaries. It is a member-based organisation dedicated to make our fishing grounds healthy, vibrant and more productive. Their active work includes; habitat restoration such as resnagging, riverbank planting, clean-ups, fishways, shellfish reefs and educational and community capacity building programs.
Contact details:
Media Contacts
If you would like high-res photos, further information or to interview Braeden Lampard about the project, please contact OzFish Unlimited communications manager Paul Suttor
0421 491 229 | paulsuttor@ozfish.org.au