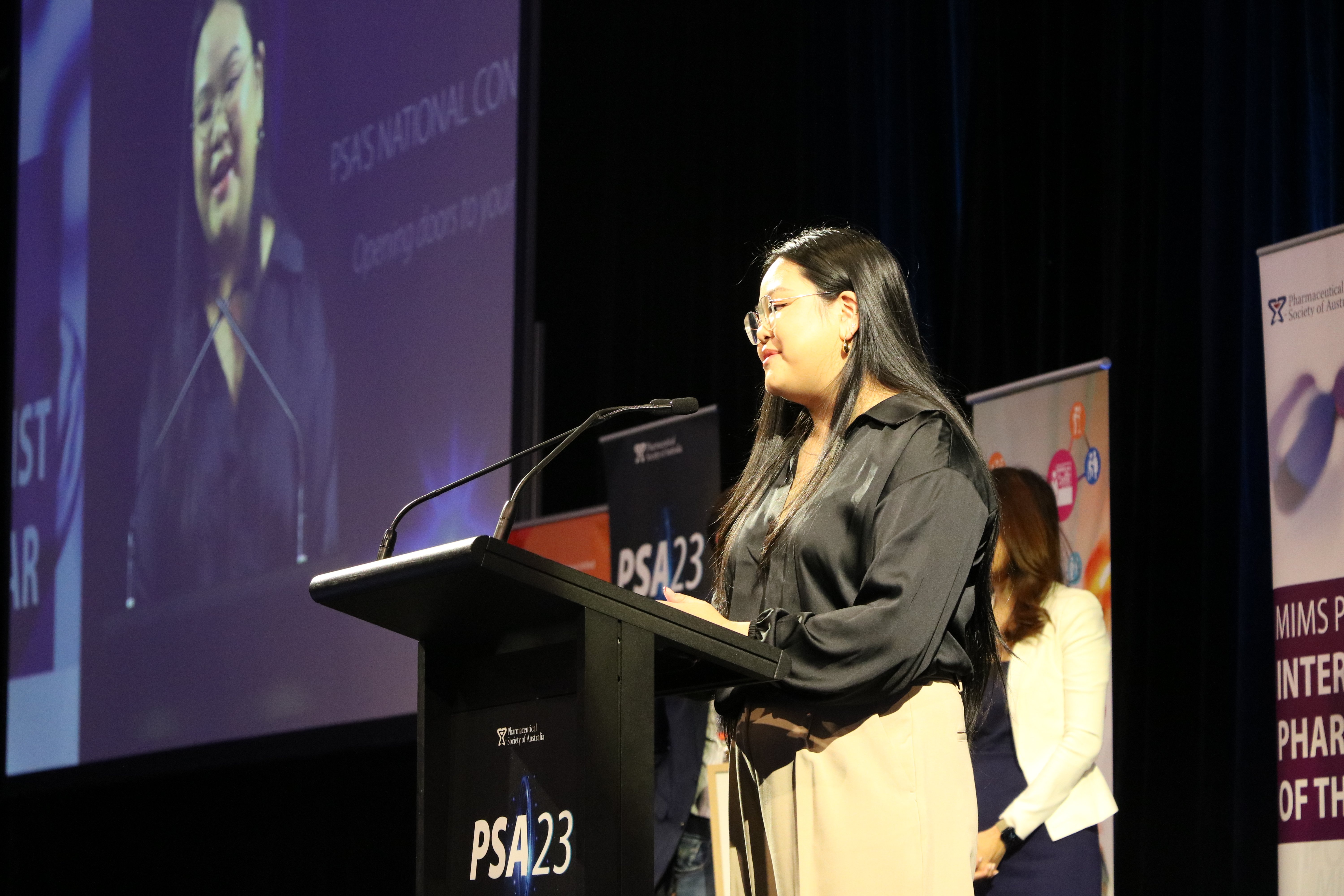 29 July 2023
The Pharmaceutical Society of Australia (PSA) is proud to announce the 2023 Intern Pharmacist of the Year and Locum Pharmacist of the Year, which were awarded at PSA23's plenary session this morning.
William Chan MPS has been awarded the 2023 PSA Locumate Locum Pharmacist of the Year.
Grace Quach has been awarded the 2023 PSA MIMS Intern Pharmacist of the Year.
The PSA Locumate Locum Pharmacist of the Year Award recognises the incredible impact locum pharmacists make all over Australia.
"I'm proud to award William Chan with the PSA Locumate Locum Pharmacist of the Year Award, acknowledging the vital work of locum pharmacists around the country," Dr Sim said.
"William has brought his expertise and infectious smile to pharmacies around Australia, making sure that communities have access to pharmacist advice when they need it.
"The work of a locum pharmacist often goes unnoticed. William, like many locum pharmacists, takes the challenges of a new pharmacy in his stride. On behalf of all pharmacists, we thank William and all locums for their work."
Locumate co-founder Kavita Nadan also extended her congratulations to William.
"Locumate, from it's inception, has put a focus on creating a community for our locums." Ms Nadan said.
"Resilience, adaptability, and collaboration will be key skillsets that will see a locum thrive during these unprecedented times and William Chan has exemplified this in his career to date.
"At Locumate we will strive to provide continuing support now and into the future."
The PSA MIMS Intern Pharmacist of the Year Award recognises intern pharmacists who show outstanding performance in their development as professional pharmacists.
"During her internship, Grace was already leading a range of initiatives in her pharmacy, from developing brochures for patients to supporting other students and interns to develop their practice.
"Congratulations Grace, we cannot wait to continue supporting you throughout the rest of your pharmacy career.
MIMS CEO Robert Best also congratulated Grace, reaffirming MIMS commitment to supporting the next generation of pharmacists.
"2023 is a special year for MIMS and our involvement in Intern of the year award. It's our 60th Anniversary as the most trusted provider of drug and medicines information across the Australian healthcare industry," Mr Best said.
"For the last 6 decades, MIMS has acknowledged that pharmacists are the cornerstone of advising, educating and dispensing medicines across Australia, and continue to view the pharmacy profession as the most important and pivotal part of our medicines ecosystem when dealing with consumers and patients.
"For six decades, MIMS has been the most trusted provider of drug and medicines information across the Australian healthcare industry. It's this longevity of use that compels MIMS to ensure that we continue to provide the Pharmacy industry, from its interns through to many with decades of experience, the most of up to date drug and medicines information to be available at the point of care for their use."
PSA extends thanks to award sponsors, MIMS and Locumate, and looks forward to working with them again in 2024.
PSA Excellence Awards – media notes
William Chan MPS, PSA Locumate Locum Pharmacist of the Year
William Chan MPS is a community pharmacist and locum, travelling around the country to support understaffed pharmacies. He is known for his can-do attitude and adaptability when it comes to his locum roles.
Working across five states and territories over the last 18-months, William has worked across community pharmacies in both metropolitan centres and single-pharmacy towns. He says that being a locum pharmacist has given him the opportunity to work in a wide range of settings.
William is passionate about supporting other locum pharmacists, and hopes to provide management consultancy services to pharmacies in the future.
Grace Quach, PSA MIMS Intern Pharmacist of the Year
Grace Quach is an intern pharmacist at Star Discount Chemist in Arana Hills, Queensland. Grace served as the President of the Queensland Pharmacy Students' Association in 2022 while completing her studies at the University of Queensland.
In her role with the Star Pharmacy National Support Office, Grace has supported interns and students, organising university networking events including "Networking and Cocktails with the Stars".
Using her passion for marketing and engagement, she has developed a range of materials for patients promoting key health messages. From MedsChecks and Diabetes Checks to championing Dose Administration Aids (DAAs), Grace is focussed on what will best serve patients and their health outcomes.
Grace's dedication in investing time to have meaningful consultations with patients, their families or carers, and doctors has aided in the organisation of many DAAs for patients. Grace continuously makes the effort to check her resources to ensure she is providing in-depth counselling to her patients and utilises physical resources such as demo devices and consumers' medicines information printouts to enhance her patients' understanding, as well as her own.
Media contact: Georgia Clarke M: 0480 099 798 E: georgia.clarke@psa.org.au
The Pharmaceutical Society of Australia is the only national peak body that represents all of Australia's 36,000 pharmacists across all practice settings. We want every Australian to have access to the best healthcare, and this must include optimising access to pharmacists' knowledge and medicines expertise at the forefront of our healthcare system.