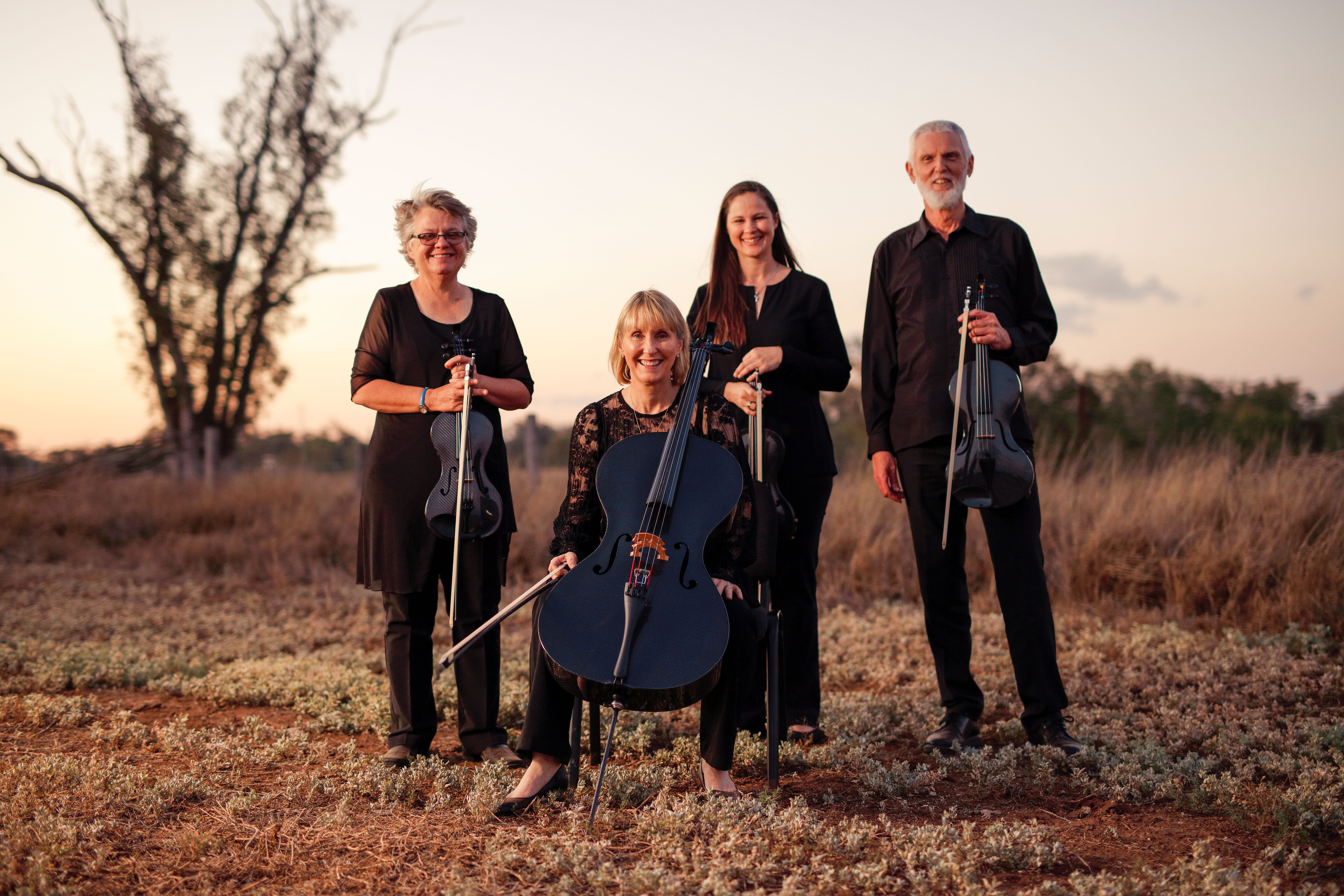 Music pathways and careers forged over seven years of regional touring –
Chinchilla student Grant Dolbel in Scotland performing, before returning for community concerts with the Queensland Symphony Orchestra!
Regional Queensland will soon sound wonderful. From Monday 31 July to Thursday 3 August, Queensland Symphony Orchestra (QSO) will head west, taking the QSO Connect Ensemble to Chinchilla, Miles, Roma, and Tara as part of the Enrichment through Music (CMRT) Initiative, an innovative partnership with Australia Pacific LNG operated by Origin Energy.
It's an important initiative that sees regional and rural students and communities experience the QSO Connect Ensemble, up close, firsthand and in real life. This unique annual regional tour sees QSO collaborate with local schools in each town, delivering workshops with students and providing professional development sessions for teachers, as well as playing side-by-side with community bands in Roma and Chinchilla in free community concerts.
It's making a real difference in Western Queensland, with students inspired to choose music as their career.
Chinchilla State High School Grade 11 student Grant Dolbel, has been involved in CRMT since its inception and now plays in eight ensembles including being selected for two in Brisbane - Queensland Youth Orchestras Wind Symphony (principal percussionist) and the Young Conservatorium Wind Orchestra - plus he runs Chinchilla's community Big Band rehearsals each week.
Right now Grant is in Scotland, after being selected for the Young Conservatorium Scotland tour to the National Youth Wind Ensemble of Scotland, at the Royal Conservatoire in Glasgow! That's a long way from Chinchilla! He's been selected for MOST (Musically Outstanding Students, Creative Generation Excellence Awards in Instrumental Music 2023) and AHEP (Australian Honours Ensemble Program) Open Conservatorium Griffith University.
His mother, Amy Dolbel is a passionate supporter of QSO's CMRT tour.
"We've seen Grant's passion for music grow every year since the QSO first visited Chinchilla. It's been a very special musical journey for him, the visits and the involvement he's had with QSO have shaped his commitment to music. We are so thankful to the QSO for reaching out to regional areas and exposing our communities to such beautiful music because we know first-hand the inspiring effect it can have, as it has for Grant," she said.
Grant said he was excited about the return of the QSO next month!
"I really enjoy the workshops with QSO and the community concert. Having the opportunity to learn from Mr (David) Montgomery (QSO Percussionist) over these years has been great, it's helped me develop my skills and changed the way I approach my music. There's no doubt in my mind that when I finish school, I'm pursuing music, to see where it takes me," said Grant.
This is the seventh year that QSO has toured under this program. Over this time 21 schools have been involved, with QSO hosting 63 student workshops and rehearsals, and performing 37 school concerts and 15 community concerts to a total of 3,155 avenue attendees. Importantly, 1,126 students have participated in the program, and 7,936 students have attended.
Queensland Symphony Orchestra Director, Chief Executive Yarmila Alfonzetti said, "In 2023, we continue our commitment to reaching more people across Queensland with the joy of live music, venturing into classrooms and town halls in regional centres and remote communities across the state. This tour is a pivotal part of our commitment to all Queenslanders to share our music. Watching students like Grant thrive is so exciting for everyone at QSO."
"QSO is passionate about celebrating music. We take our role as the state's orchestra very seriously, and we look forward each year to working with the teachers, students, and local communities of regional Queensland. This year we will perform side-by-side with Maranoa Music, Roma district Combined Schools Strings, Roma district Combined Schools Concert Band, Chinchilla Concert Band, Chinchilla Strings, Chinchilla Christian College Band, Chinchilla Primary School, Chinchilla State High School and more. We are delighted to include students from the communities of Mitchell, Injune, Surat, Wallumbilla, and Yuleba."
Australia Pacific LNG Chief Executive Officer Khoa Dao said the on-going relationship with QSO was one that continued to benefit regional communities across Queensland. "Australia Pacific LNG is delighted to once again partner with Queensland Symphony Orchestra to enable this tour to happen," Mr Dao said. "Bringing QSO's talented musicians to Southern Queensland's regional areas not only provides great musical entertainment but also provides a unique education in music to local school students. At APLNG we see this event as another opportunity to give back to the communities we work in. We've had great feedback from locals who have enjoyed – and benefitted from - the experience each year, which is great to hear."
IMAGERY HERE
WESTERN QUEENSLAND TOUR COMMUNITY CONCERTS –
All information at qso.com.au/CMRT2023
Roma / Mandandanji - Tuesday August 1 @ 6:30PM
ROMA BUNGIL CULTURAL CENTRE - 57 BUNGIL ST, ROMA Q 4455
https://qso.com.au/events/2023/Regional-Concerts/roma-community-in-concert-2023
Musicians from QSO Connect Ensemble will perfrom with musicians from Maranoa Music, Roma District Combined Schools Concert Band and Roma District Combined Schools String Orchestra for this free community concert, conducted by Ingrid Martin.
No bookings required.
Tara – Wednesday August 2 @ 1:30PM
TARA MEMORIAL HALL - 19 FRY STREET, TARA Q 4421
Musicians from Queensland Symphony Orchestra Connect Ensemble will perform a free concert for the Tara community.
Chinchilla / Jinchilla – Thursday August 3 @ 6:30PM
COUNTRY HOPE CHURCH - 3 BURBANK STREET, CHINCHILLA Q 4413
https://qso.com.au/events/2023/Regional-Concerts/chinchilla-community-in-concert-2023
Musicians from QSO Connect Ensemble perform with musicians from Chinchilla Concert Band, Chinchilla State School, Chinchilla State High School and Chinchilla Christian College for this free community concert, conducted by Ingrid Martin.
No bookings required.
For further information, please visit qso.com.au/CMRT2023
For more Queensland Symphony Orchestra media information, interviews, and additional imagery, please contact Kath Rose on 0416 291 493 or email kath@kathrose.com