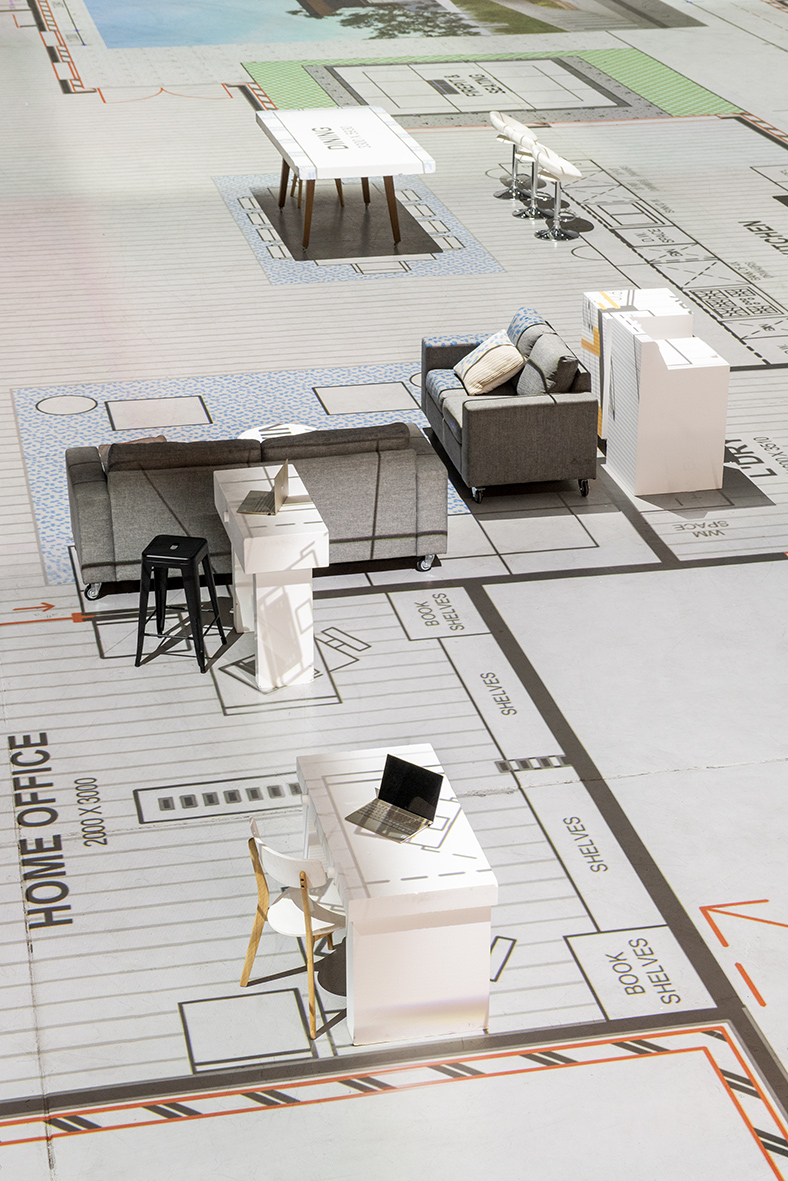 State-of-the-art technology helps customers envisage design spaces
Lifesize Plans, the Australian owners of the world's first patented real scale walk-through technology, is helping reduce renovation regret for Australians' planning a new home build or renovation. The company's real-scale project walkthrough experience gives home-owners further opportunity to refine their dream designs with their architect or builder and gain a better understanding of their new home.
"With the cost of building and renovating skyrocketing and inflation impacting on prices, home-owners are seeking greater insight and understanding for peace of mind before proceeding with major building projects," said Lifesize Plans CEO Chris Ghaleb. "Lifesize Plans' projection of a site's complete layout on a 1:1 scale gives all stakeholders the opportunity to walk through designs together prior to building, making it a game-changer for home-owners by improving the design for better building and delivery of purposeful spaces."
Experiencing a home's design at scale has clear benefits according to Chris. "A residential home's design approval based on a life-sized scale experience before building creates greater efficiencies for all parties," said Chris. "The collaboration between home-owners, designers and builders on designs presented at Lifesize Plans improves communication, aligns project expectations, and can reduce build costs."
At a time when renovators and new home builders are increasingly seeking assurance about their project, the technology's ability to communicate concepts is a valuable service. "Designers and builders have identified the value of Lifesize Plans and are including a walk-through experience as part of their home design and build packages," said Chris.
Tapping further into their customer service value proposition is Lifesize Plans' soon to be launched Extended Reality (XR) experience, developed with Virtual Reality leaders Envision VR, which will blend the digital and physical worlds to add a new interactive, immersive XR experience to its suite of services, complementing its current space visualisation and 3D design modelling in real-time.
The Quinlan Group, a residential and commercial designing and construct firm, recently completed a home extension in Paddington, Sydney and giving their client the opportunity to walk-through the design at Lifesize Plans increased their client's confidence in the plans and confirmed the project.
Through Lifesize Plans, the client was able to see the complete project including upper and lower floors, external landscaped areas, common areas, renders, and more at a 'true' 1:1 scale.
"The great thing about seeing plans at scale through Lifesize Plans' technology is that a client's whole family, and the design team and other stakeholders, can experience the design at the same time," said Justin Quinlan, Managing Director of The Quinlan Group. "Those experiencing this new technology may then find that they need more space or that the space is not used to its full potential. They may also realise that they are over building and can reduce the size of their project, saving themselves thousands of dollars in remodelling during construction."
The Lifesize Plans walk-through helped Justin's client understand the spatial arrangements and size of the extension. "The session confirmed most of the design was good to go, with only some minor amendments to the kitchen," said Justin.
Visualising the designs with the client through Lifesize Plans, Justin improved the home-owner's satisfaction with the project. "Lifesize Plans is really good for putting everyone's mind at ease as it's very hard for people to visualise volume from a drawing. Lifesize Plans gives us the opportunity to engage with customers in a novel but really authentic way. The projected floorplans, furnished with real furniture, help home-owners envisage the size and flow of proposed spaces."
The Lifesize Plans Sydney flagship showroom is complemented by sites in Brisbane and Perth in Australia, and internationally, the first international franchise in Southern France. All sites provide a glimpse of what is yet to come with international expansion plans already underway in USA, Egypt, Dubai, Ireland, and Philippines.
Discover how experiencing your new home or renovation through Lifesize Plans can refine spaces and help reduce costs at https://www.lifesizeplans.com/
-ENDS-
Key Facts:
Hi-res images available here:
https://www.dropbox.com/sh/vwelpue9b2pao0y/AADGtosCOwXPtMVs_Rlp1DMXa?dl=0
About us:
Lifesize Plans owns the world's first patented real scale walkthrough technology, which has changed the way people design, construct, and renovate. Appealing to multiple industry sectors including residential, commercial and retail, Lifesize Plans allows those looking to build the opportunity to walk-through the proposed floor plans before a brick is laid.
State-of-the-art technology allows Lifesize Plans to show a building site's complete layout – including every floor, common areas, driveways, parking, and gardens, to a 'true' 1:1 scale.
Ultimately, Lifesize Plans users get a true feel of the layout and size of their project, giving them the best chance possible of perfecting their design, and potentially saving thousands of dollars. www.lifesizeplans.com
Contact details:
Samuel Spurr, PR Account Director
M: 0438 501 005