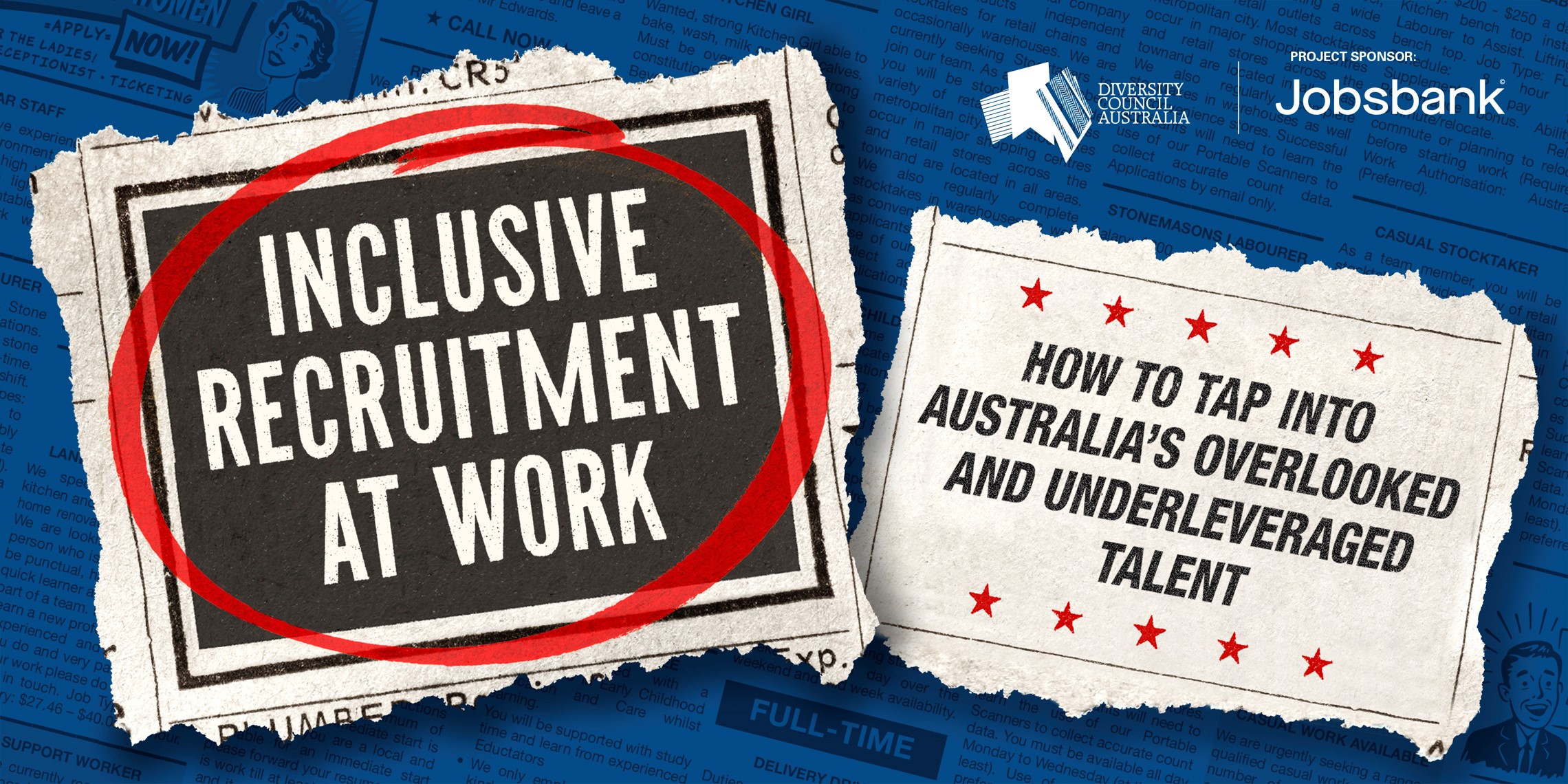 Diversity Council Australia is set to release a new solution to Australia's labour shortage by giving employers the tools to unlock a talent pool of over 3 million underleveraged jobseekers.
Staff shortages remain a key concern for businesses in 2023, with job vacancies still 89% higher than pre-pandemic levels and record low unemployment creating a perfect storm for employers.
To combat this, DCA has partnered with Jobsbank to translate our evidence-based research into a set of practical, interactive tools informed by our groundbreaking Inclusive Recruitment at Work report.
Launched in October last year, the report revealed outdated recruitment practices are locking more than 3 million jobseekers out the labour market, representing an untapped talent pool disproportionately made up of marginalised groups.
Inclusive recruitment practices benefit both jobseekers and employers by helping to foster a more inclusive and diverse workforce which research shows is not only good for reputation, but also significantly increases performance, wellbeing, and innovation as well as staff retention and attraction.
DCA's new Inclusive Recruitment Tools are designed to help employers reflect on how they can make their recruitment processes more inclusive, covering everything from job descriptions to post-interviews.
They include:
The Inclusive Recruitment Quiz: An education-based questionnaire to assess knowledge of best practice inclusive recruitment processes. The quiz is designed for learning purposes, with results presented as a downloadable PDF report unpacking each answer including links to resources.
The Inclusive Recruitment Checklist: An interactive PDF to help employers tick-off key practices that will ensure their recruitment and selection processes are inclusive for all candidates.
The Inclusive interviewing infographic: A cheat sheet outlining key actions and behaviours crucial to interviewing inclusively.
For more information, join DCA for an online event launching the Inclusive Recruitment Tools on Monday 31 July 2023 from 2pm – 3pm AEST. Media interested in attending can contact ali@dca.org.au. More information will be provided at this link when the Tools go live on 31 July.
Quotes attributable to DCA CEO Lisa Annese:
"To solve Australia's labour shortage, employers need to diversify who and how they hire. Millions of workers are being locked out of the labour market due to outdated hiring practices.

"Most of these workers are from marginalised groups facing bias and exclusion in the recruitment process itself – both covertly and overtly. These people are talented and eager for work but without an inclusive approach to recruitment, employers will continue to miss out on this underleveraged talent pool.
"The Inclusive Recruitment Tools are an exciting new direction for DCA, designed to tackle Australia's labour shortage by translating our evidence-based research into practical and easily actionable tools.
"By making our recruitment practices more accessible and inclusive, not only can we tap into the incredible talents of almost 3 million Australians, but we can also create a more equitable job market for all Australians."
Quotes attributable to Jobsbank CEO Dr Karina Davis:
"Breaking down barriers to employment, tackling discrimination and fostering more diverse workforces are crucial to generating future economies that are inclusive of all Australians.
"We've partnered with DCA to give employers the right tools to overcome these obstacles and access a talented pool of underleveraged workers, improving their inclusivity and their bottom lines along the way.
"These tools offer practical, evidence-based solutions to employers who want to be part of a fairer and more inclusive Australian workforce."
[Ends]
Media Contact: Ali Coulton | media@dca.org.au.
About DCA: Diversity Council Australia is the independent not-for-profit peak body leading diversity and inclusion in the workplace. We provide unique research, inspiring events and programs, curated resources, and expert advice across all diversity dimensions to a community of over 1,200 member organisations. Our member organisations are estimated to employ nearly two million Australians, representing up to 20% of the workforce.