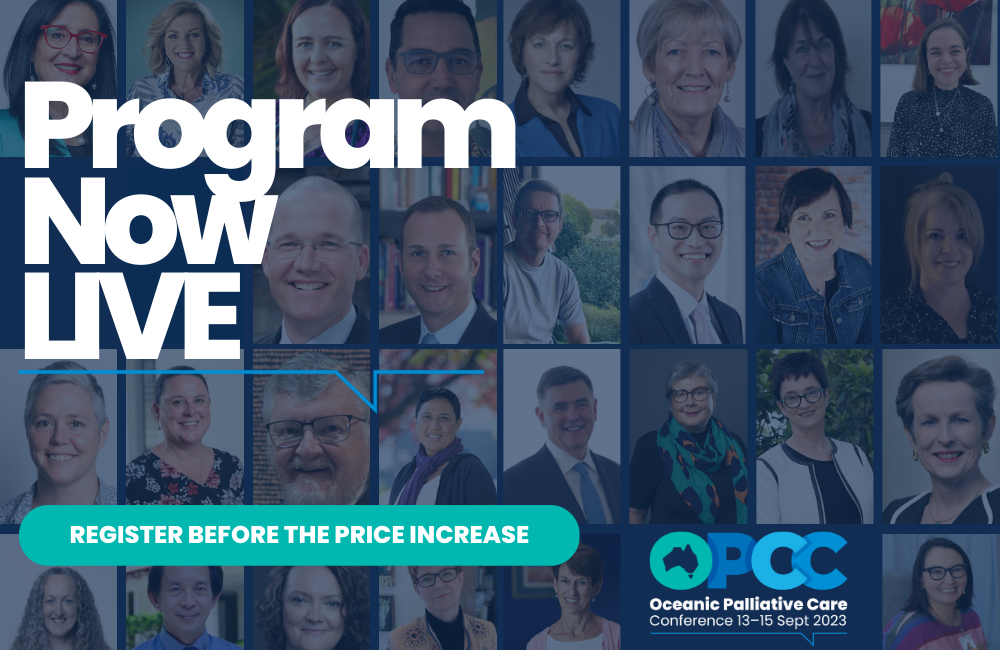 The full program for the 2023 Oceanic Palliative Care Conference (23OPCC) has been released as registrations climb towards 1000 delegates.
"Our sector is very passionate about the care they provide and OPCC really energises innovative thinking not just in the palliative care sector but also its connection with aged care, disability services and the wider health system," says Camilla Rowland, Chief Executive Officer, Palliative Care Australia.
The 23OPCC program is now live for all to explore and start planning their three days in Sydney. Speakers include geriatrician Dr Sue Kurrle, Canadian researcher and podcaster Dr Hsien Seow, former Health Secretary Prof Brendan Murphy, Aboriginal nurse practitioner Kat Hooper, renowned researcher and leader Professor David Currow and many more.
Designed around the theme, 'With the end in mind, shaping stronger health systems, delivering quality palliative care,' the program will roll out across three concurrent streams picking up on topical issues in a post-Covid world related to sustaining and building the workforce, caring for diverse populations, future models of care, aged care and primary health reform, and the best and latest in clinical care.
"We were blown away by the strength of the abstract submissions we received, the best and brightest speakers are lining up to share their work and knowledge at OPCC," says Ms Rowland.
Adding to the mix is a strong series of workshops exploring creative expression, Aboriginal culture, storytelling, the art of hypnotherapy, the use of song in palliative care, and more.
"OPCC will be an experience that not only informs clinical practice but also feeds the mind and soul, with improving patient care at the heart of everything we do," Ms Rowland says.
The full 23OPCC program featuring over 215 speakers, 15 plenary presentations, and 15 workshops can be viewed HERE.
Standard registrations are open until 17 August, a late fee will apply from 18 August. Limited online registrations will open next month. Further registration details are HERE.
"OPCC is recognised globally as the premier palliative care conference of the southern hemisphere, and we are thrilled that so many people are attending, but there is room for more," Ms Rowland says.
"At this key moment of health and aged care reform it could not be more important to come together and help shape the future."
The Oceanic Palliative Care Conference runs 13 to 15 September, at the International Convention Centre, Sydney, and incorporates the National Palliative Care Awards on 14 September, sponsored by Silverchain.
Contact details:
Ian Campbell
P: 0417 482 171
E: ian.campbell@palliativecare.org.au