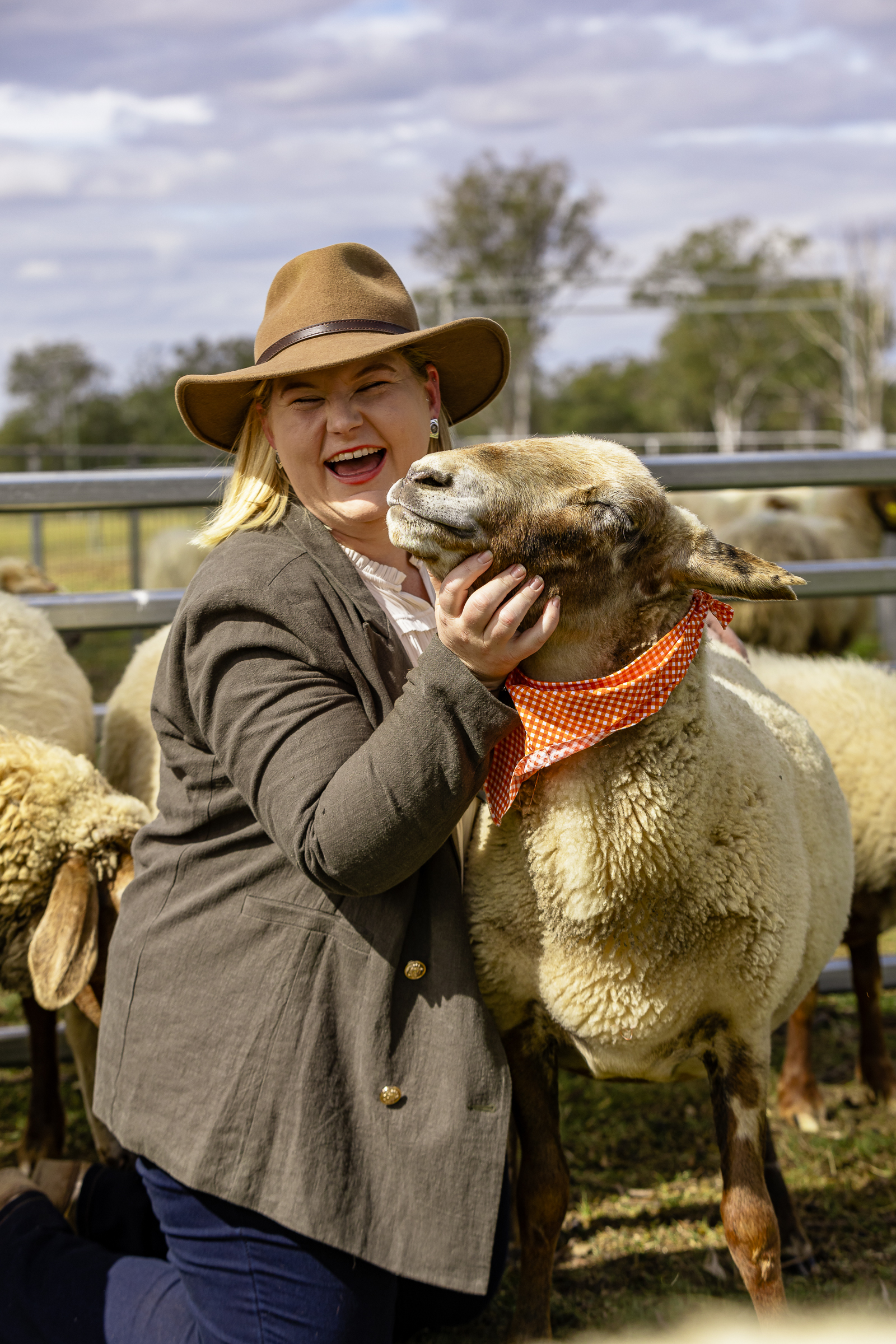 In the perfect Spring preview event, the final Scenic Rim Farm Gate Trail for 2023 is Saturday August 26
Twin Lamb Cuddles, Petal Walks, Alpaca Picnics, Camel Kisses, Piglet Giggles -
Finger Lime Marmalade, Olives, Cheese Platters, Local Honey, Garlic, Turmeric and Limes, Carrots, Farm Walks, Overflowing Larders, Wine Tastings!
So, empty that esky and call the crew - here's all you need to know!
It's also most Spring in the Scenic Rim, when the region rings of births and blooms, so mark the diary for Saturday August 26, and the final Scenic Rim Farm Gate Trail for the year, when farmers, growers, producers, winemakers, brewers, distillers and flavour-makers across the region open their gates to celebrate where food comes from.
From cuddles with twin lambs at Towri Sheep Cheeses and at Olive View Farm (yes, both have twin lambs!), to fresh produce straight from the paddocks of local farms, picnic selfies with alpacas, stocking up on artisan dairy products and learning more about dairy farming at Tommerup's Dairy Farm to beer and ice cream tasting at Scenic Rim Brewery, flower walks at Elderflower Farm, wandering the vines at the region's vineyards, buying just-picked mushrooms and fingerlimes, visitors leave with full stomachs and a love for the Scenic Rim region, its produce and its people.
There's 26 FARM GATES OPEN on August 26, just over an hour from both Brisbane and the Gold Coast - it's the perfect day trip, or weekend away!
2023 Scenic Rim Farm Gate Trail – Saturday August 26, 9am to 3pm
Follow @destinationscenicrim and on Facebook and DOWNLOAD THE MAP at destinationscenicrim.com.au
HERE'S WHAT YOU NEED TO KNOW: Farm Gates are described aligning with the MAP attached and here
1. PEAK ORGANICS -Grab your leafy Greens
Run by produce-loving volunteers at Ivorys Rock, Peak Organics is certified with Australian Demeter Bio-Dynamic and produces seasonal vegetables and fruits, leafy greens, citrus, garlic and rosellas, applying regenerative practices in its operations. 310 Mt Flinders Road, Peak Crossing 0411 203 975
2.SUMMER LAND CAMELS – you feta get to this one!
Summer Land Camels is Australia's largest camel dairy, so don't miss your chance get up close and personal with these amazing animals! There's farm tours, camel feeding, camel rides, and award-winning fresh camel dairy products (um, Camel Milk, Camel Feta, Camel Milk & Honey Vodka anyone?). *Their Milk Feta won GOLD at the 2023 Sydney Royal Cheese and Dairy Show! @summerlandcamels 8 Charles Chauvel Dr, Harrisville (07) 5467 1707
3. COCO AND MYRTLE – a little luxe stop
Just outside Harrisville there's a gorgeous little caravan called Coco & Myrtle that sells luxurious natural soaps and bath bombs. For Farm Gate Trail, there'll be added local stalls. Dog friendly, and say hi to the goat! @cocoandmyrtle 713 Warrill View Peak Crossing Rd, Harrisville 0417 548 873
4. SCENIC RIM MUSHROOMS – fabulous fungi
An artisan mushroom farm growing premium and medicinal mushrooms in a former bowls club in Harrisville – this is the stuff legend is made of! Learn all about fabulous fungi, how to grow and cook wander local stalls. @scenic_rim_mushrooms 13 Church St, Harrisville 0422 793 749
5. SCENIC RIM FARM SHOP – in the middle of a patchwork of paddocks
Under 120 year old Jacaranda trees, the Scenic Rim Farm Shop and Café is a celebration of local Spring produce, plus there's a bumper produce stand run by Di Fyson of Fifth Acre organics, and its right next door to Elderflower Farm. Book for tables. Dog friendly. @scenicrimfarmshop 541 Kents Lagoon Road, Kalbar. 0429 452 637
6. ELDERFLOWER FARM – posies pretty as an (insta) picture
One of the prettiest Farm Gates on the Trail! Elderflower Farm is a boutique flower farm and shop in the grounds of the Scenic Rim Farm Shop. Stroll around the beautiful flower field, shop in the rustic flower and garden shop, make your own flower posies! @elderflower_farm_qld 541 Kent's Lagoon Rd, Kent's Lagoon 4310
7. OLIVE VIEW ESTATE – say it fast and a few times, you'll get it!
Wander a working olive farm, home to over 700 olive trees that's just a stone's throw from Boonah and Kalbar. There's olives, olive oil, dehydrated cocktail citrus, farm made goodies, relishes, honey and seasonings straight from the farm, as well as old-fashioned sodas and sweets, sold from their 1950s vintage restored bus "Myrtle". Grab some carrots on the way to feed the sheep. Dog friendly! @oliveviewestatescenicrim 58 Kulgun Rd, Boonah 0448 168 817
8. VALLEY PRIDE PRODUCE – straight from the soil
This is Local Produce Heartland - Valley Pride Produce is a 5th generation, family owned, vegetable farm just five minutes from Moogerah Dam near Boonah, a MUST STOP for just picked veggies. @valleyprideproduce 83 Scholl Road, Charlwood QLD 4309
9. SCENIC RIM BREWERY – nine beers a flowing!
Just out of Boonah at Mount Alford, against the backdrop of mountains is the Scenic Rim Brewery, full of local produce, Dutch delicacies and BEER! Sip the Digga, Shazza, the Phar-Que and the JUST RELEASED Ripa Rita brewed from local Rosellas and Beets! Wander the market stalls, have a homemade scone with jam & cream, a hot dog or pork knuckle, or order a hamper. Diners need to book! @scenicrimbrewery 898 Reckumpilla St, Mount Alford (07) 5463 0412
10. BUNJURGEN ESTATE – Wine's the answer, don't remember the question
This stunning vineyard will have four separate tasting tents – so you can stroll and sip! There's Rose, Shiraz, Ruby and Tawny Ports to sip, and take home of course! @bunjurgenestate 121 Brent Road, Bunjurgen
11. BARNEY CREEK VINEYARD COTTAGES – the cellar door is officially OPEN for 2023!!
This beautiful family owned and operated vineyard and vine-stay only opens their Cellar Door for five months a year. There'll be free wine tastings from 9am to 4pm of their Sparkling Shiraz rose, still Shiraz rose, Petit Verdot, Merlot Petit Verdot, GSM, Shiraz and fortified Shiraz. Their shop features locally sourced produce - relishes, chocolates, olives, cheese! (Tip, their accommodation is open all year, it's a magical place to stay!). @barneycreekvineyardcottages 198 Seidenspinner Rd, Mount Barney
12. THE SHED CAFÉ RATHDOWNEY – ole ole ole, olives olive olives
Rathlogan Olive Grove and the Shed Cafe shop, at Mount Maroon, is minutes from Rathdowney and home to 1200 olive trees and fabulous local produce. A great stop. @theshedrathlogan 4 Upper Logan Road, Rathdowney
13. OAKY CREEK FARM & HARVEST CAFÉ – garlic, turmeric and limes – divine!
Oaky Creek Farm & Harvest Cafe is family owned and grows seasonal garlic, turmeric and limes with homemade salts/rubs made on-farm. The cafe is dog friendly, and has stunning views of Innisplain, great coffee, a playground, live music, real fruit ice cream and walking farm tours. @oakycreekfarm 208 Oaky Creek Road, Oaky Creek. 0459 818 794
14. THE OVERFLOW ESTATE 1895 – wine time, all day!
On the banks of Lake Wyaralong, this winery is a true escape! Enjoy locally produced wines and delicious food from Two French Chefs Menu or grab a picnic blanket and enjoy a wine and Charcuterie board on the lawn, and listen to the live music. Bring the esky!! @overflowestate1895 1660 Beaudesert Boonah Road, Wyaralong. 0455 221 895
15. TOWRI SHEEP CHEESES – see EWE there!
Just out of Beaudesert, Towri is home to 350 magnificent sheep, a cheesery for the ages, PLUS being Spring, it's LAMBING SEASON and already TWINS have been born! Wander the STUNNING gardens and nibble on cheese platters, meet the world famous Hercules the racing sheep and all his friends! Flutterby Gourmet Creations and the Farm Shop will showcase local produce, Jasmine Urban Farm will talk gardening, and Chris from Black Bee Apiary will talk about harvesting Towri Honey. Australia's first ever Sheep, Camel, Goat and Jersey milk cheese EWE + 3 will be for sale (quite the coup given it sells out in a lamb's bleat!). @towri_sheep_cheeses 206 Saville Road Allenview. 0403 463 429
16. BEE ALL NATURAL – buzzy bees be ready
The perfect opportunity to get your hands on a range of fresh raw honey, creamed honey, and beeswax products AND talk to the makers and the beekeepers, not the bees, obv, they are way too busy!). @beeallnaturalau 313 Bushman Dr, Jimboomba 0412 850 065
17. WHITE'S FARM – pumpkins and avocados with love
In the beautiful Kerry Valley outside Beaudesert, on the way to The Lost World, there's White's Farm, home to pumpkins and avocados straight from Mother Nature. Retried farmers, this is the place to stop, stay and have a chat. 2028 Kerry Road, Kerry 0427 027 501
18. TOMMERUP DAIRY FARM – 6 generations and now Farmers of the Year
Meet 6th generation dairy farmers, the Tommerup family, winners of the Australian Farmer of the Year Innovation Award, and on August 26 their Farm Larder will be overflowing with award-winning artisan dairy products, rose veal, milk-fed pork, bacon, free range eggs, their famous Jersey Girl ice creams and Kay's hand-rolled butter infused with Red Gum smoked salt! Visitors can feed the animals, take a tour with the farmers, and enjoy a picnic in the paddock; there'll be live music, produce stalls, food and drinks. New additions to be unveiled at the Farm Gate Trail include:
· The Tommerup Market Garden which grows corn, Elderberries, native Raspberries, watermelons and more.
· Carol's Garden, dedicated to the Tommerup Grandmother and home to beautiful cut and dried flowers, as well as Australian natives, and yes, sunflowers!
· Harry's Farmhouse Kitchen – the brainchild of next-gen farmer, Harry, he's transforming farm 'waste' products into value-added produce fresh from the farm. Pickles, chutneys and relishes made from their organically grown produce from the farm market garden, broths and stocks from pork & veal bones, amazing pies and pasties from their ethically raised rose veal and milk fed pork. @tommerupsdairyfarm 2142 Kerry Rd, Kerry (07) 5544 9269
19. LADYBROOK FARM – four legged cuddles galore!
In the gorgeous Kerry Valley outside Beaudesert is Ladybrook Farm, a 2,600acre working beef cattle property with farm stay and camping experiences. @ladybrookfarmescape Left Hand Brand Road, Darlington 0409 267 039
20. SARABAH ESTATE VINEYARD – stunning!
Just outside Canungra, hidden in a valley beside Lamington National Park is Sarabah, the family-owned estate and vineyard. In a word – STUNNING!! The Chalet Bistro champions local produce, there's be wine tastings, wood fired pizzas, and their farm animals and HOSE ALPACAS (yep, that's right) will all be ready to welcome Farm Gaters!
@sarabah_estate_vineyard 46 Rymera Road, Sarabah 0409 274 314
21. O'REILLY'S CANUNGRA VALLEY VINEYARD – sip beside the creek and breathe
Bring a picnic blanket, have a picnic along the creek and enjoy a $10 tasting paddle (usually $20), wander the vineyards. Fun Fact - the O'Reillys pioneered ecotourism in Australia when they began hosting visitors in Lamington National Park in 1915. Plus, Mountview Alpaca Farm is located here too! @canungravalleyvineyards 852 Lamington National Park Rd, Canungra. (07) 5543 4011
22. MOUNTVIEW ALPACAS – alpaca picnic and selfies!
Stop everything because this Farm Gate is staging a "Backpacking Alpacas" event! You'll go out with the alpacas for a short hike down a local country road to a picnic spot – visit a few farm gates first and fill your own eskies for the picnic! You must book for the Alpaca Picnic here https://mountviewfarm.com.au Don't forget your selfie with an alpaca. @mountviewalpacafarm 852 Lamington National Park Rd, Canungra 0490 973 865
23. CANUNGRA CREEK FINGERLIMES – the caviar of the citrus world!
The home of organic finger limes, the native "caviar citrus" that has the food world enraptured, Canungra Creek Fingerlimes will have varieties freshly picked for the Farm Gate Trail, along with their popular marmalades and preserves, plus skincare products and soap all made using organic fruit grown on the farm. Dog friendly!
@canungra_creek_fingerlimes 72 Double Crossing Rd, Canungra. 0418 761 567
23. CAULDRON ESTATE AND DISTILLERY – bring a GIN-ormous esky to this one!
Just two years old and already the awards mantelpiece at Cauldron Estate and Distillery is heaving. 'The Cauldron' sprawls over seven glorious green hectares. Drop in for locally made spirits in a prohibition-inspired cocktail bar, while taking in the views of beautiful established vineyards. Tastings and great company guaranteed!
@cauldrondistillery 89-123 Hartley Rd, Tamborine Mountain. 0433 160 265
25. WITCHES FALLS WINERY – sip sip and stay, or sip and away!
This stunning winery at Tamborine Mountain is a must-visit! There's wine flights and our tip? Match back with some local cheese. Book a table or BYO picnic blanket and walk the vineyard. Bookings Essential. @witchesfallswinery 79 Main Western Rd, Tamborine Mountain 07 5545 2609
26. TAMBORINE MOUNTAIN DISTILLERY – watch out for all those awards!
Welcome to Australia's most awarded distillery and liquor brand of the new millennium! Not kidding. There's also Distillery Tastings, Cocktail Making and Live Entertainment as well as food vans and local cheeses.
@tamborinemountaindistillery 10 Macdonnell Rd, Tamborine Mountain. (07) 5545 3452
2023 Scenic Rim Farm Gate Trail
Saturday August 26, 2023 - 9am to 3pm
Follow @destinationscenicrim and on Facebook for more or visit destinationscenicrim.com
Contact details:
Kath Rose
0416 291 493
kath@kathrose.com