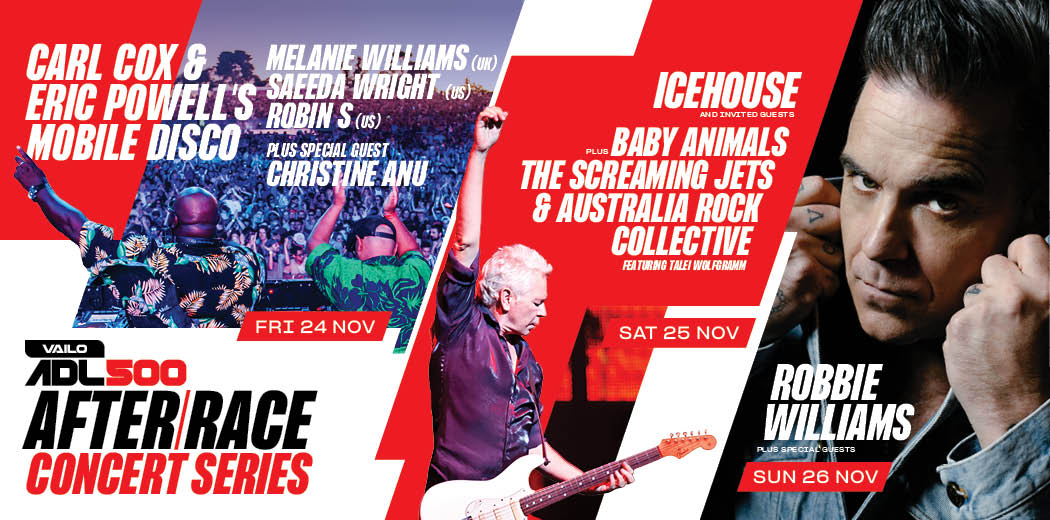 The VAILO Adelaide 500 After-Race concerts are back bigger than ever for 2023, with the most diverse and spectacular line-up of acts ever seen.
Celebrating twenty-five years as a solo artist, global pop sensation and ultimate showman, ROBBIE WILLIAMS, headlines the VAILO Adelaide 500 after-race concerts bringing his high-octane XXV tour with an unparalleled catalogue of pop hits, to Adelaide on Sunday November 26. ROBBIE WILLIAMS has sold over 85 million albums, 14 UK number one albums (the most for any solo artist, equalled only by Elvis Presley) and 14 number one singles as a solo artist.
Robbie will be supported by Lufthaus a newly formed electronic group featuring Australian songwriting/production team Tim Metcalfe and Flynn Francis. More Sunday night acts to be announced soon.
Performing on Friday and Saturday nights are an eclectic mix of International and Australian artists.
Saturday night's traditional Aussie rock line-up will be headlined by ICEHOUSE, with Baby Animals, The Screaming Jets and the Australian Rock Collective rounding out a powerhouse night of rockin' entertainment.
With a career spanning over 45 years, ICEHOUSE, led by the masterful Iva Davies, is one of our nation's most loved bands, synonymous with the sound of Australia. Their timeless hit songs include the iconic anthem Great Southern Land to hit singles Crazy, Electric Blue and Can't Help Myself to name a few.
Joining ICEHOUSE on stage will be their special guests William Barton and The Brewster Brothers.
Award-winning composer, producer, multi-instrumentalist, and vocalist William Barton is widely recognised locally and internationally as one of Australia's leading Didgeridoo players.
The Brewster Brothers John and Rick Brewster, best known as the songwriters and guitarists of legendary rock band The Angels, are considered one of the most respected and enduring acts of the Australian pub rock scene.
Fronted by the leading lady of Australian rock music, Suze DeMarchi, hard rockers Baby Animals are ready to bring the house down with their legendary hits Rush You, Early Warning and One Word.
Emerging out of Newcastle in 1990, The Screaming Jets led by frontman Dave Gleeson have proven themselves to be a force of nature of the Aussie music scene for more than 30 years with a long line of high rotation hits including Helping Hand, C'Mon and Better.
The Australian Rock Collective brings together four of Australia's most celebrated musicians - Kram (Spiderbait), Mark Wilson (Jet), Darren Middleton (Powderfinger) and Davey Lane (You Am I), with guest vocalist Talei Wolfgramm (Wolfgramm Sisters), for one electrifying rock and roll experience.
CARL COX AND ERIC POWELL'S MOBILE DISCO with the House Divas, get the party started after the action on the track on Friday November 24.
Internationally renowned DJ's Carl Cox and Eric Powell will dig deep through their extensive record collections, playing their favourite soul, funk, disco, and house tracks.
Joining them on stage will be the "House Divas" featuring international vocalists Robin S, Melanie Williams, and Saeeda Wright, with a special appearance by one of Australia's most popular female performers, Christine Anu. Together with roller skaters, dancers, and percussionists it's guaranteed to be a fantastic summertime vibe!
New York based singer/songwriter Robin S, known for her 90's smash hits "Show Me Love" and "Love For Love"; British singer Melanie Williams who lent her vocals to the 90's dance hit, "Ain't No Love (Ain't No Use)" by Sub Sub; and Saeeda Wright from Mothers Favorite Child, a former member of Prince's New Power Generation, will come together to add a new dimension to the hugely popular Mobile Disco international event that plays to tens of thousands from Glastonbury to Coachella.
Local acts will be announced soon to join the extensive line-up as part of the Music SA Bands on Track incentive.
Friday November 24
CARL COX AND ERIC POWELL'S MOBILE DISCO with the House Divas - Robin S (US), Melanie Williams (UK), and Saeeda Wright (MFC - US) - and special guest Christine Anu
Saturday November 25
ICEHOUSE
with special guests William Barton and The Brewster Brothers
Baby Animals
The Screaming Jets
Australian Rock Collective
Music SA Bands on Track
Sunday November 26
ROBBIE WILLIAMS
Lufthaus
Music SA Bands on Track
The VAILO Adelaide 500 will be held November 23 - 26, 2023. Tickets on sale now at Ticketek.
For all media enquiries, please contact
Kathryn McGowan 0414 529 805