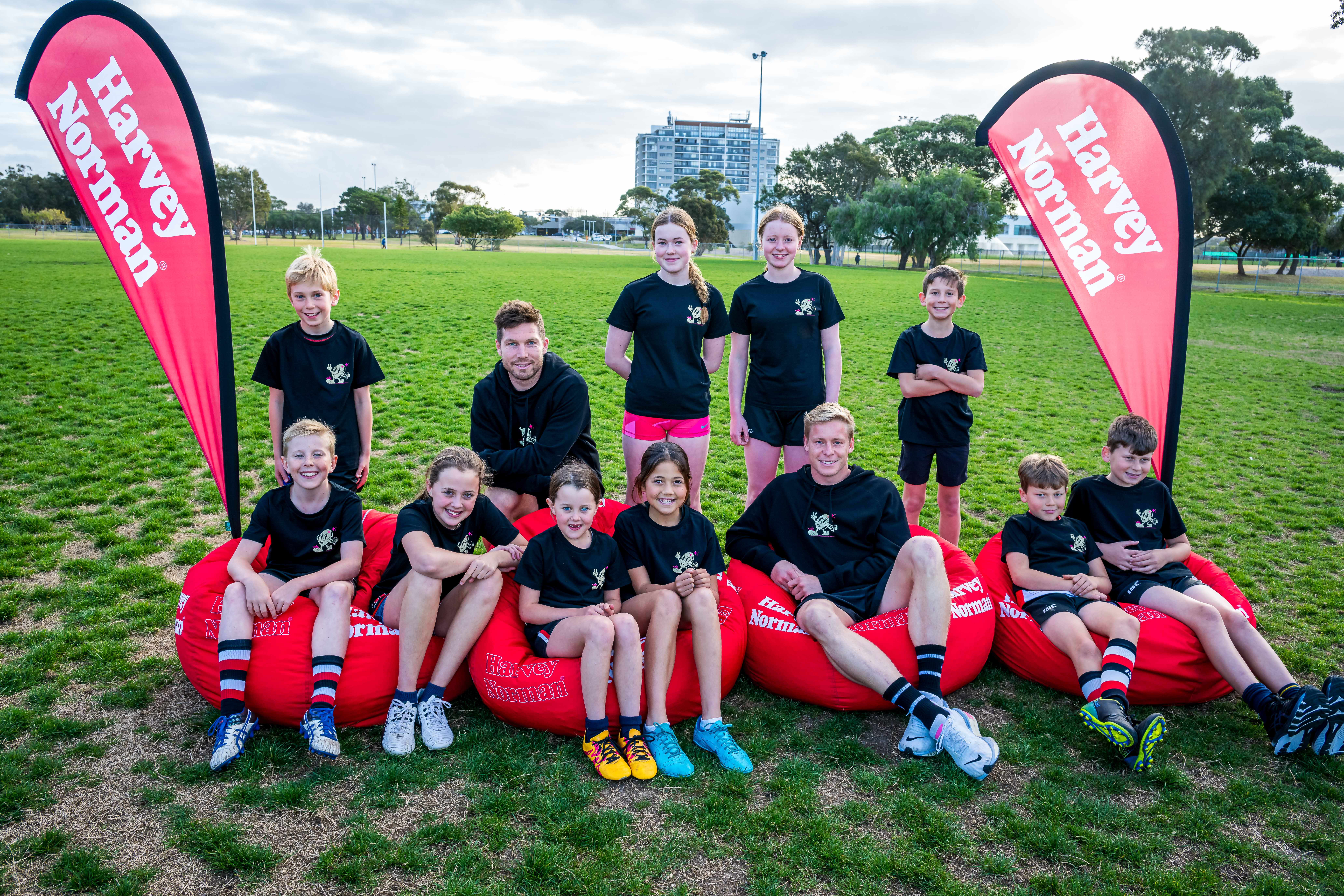 Two of the AFL's most recognisable players, Toby Greene and Isaac Heeney, have come together to create 5th Quarter Camps, a specialised footy program for children and teenagers aged between 6 - 16 years old. 
Presented by Harvey Norman, 5th Quarter Camps has been designed to give children and youth the skills, knowledge, and confidence to become the best footballers and versions of themselves.
The first-ever 5th Quarter Camps program will commence during the last week of the Spring school holidays on Wednesday 4th and Thursday 5th October 2023 at GIANTS HQ, VAILO Community Centre, with registrations now open. 
Greene and Heeney will be joined by AFLW players Alyce Parker (GWS GIANTS) and Chloe Molloy (Sydney Swans) for two interactive clinics featuring skills, drills, and games focused on teaching the basics of footy in an authentic way. 
5th Quarter Camps can accommodate kids and youth of all abilities and skill levels, from those wanting to take their footy to the next level or those who want to connect with their friends and community. 
Both Greene and Heeney have created the 5th Quarter Camps through a shared passion for teaching Aussie Rules to the next generation of kids, with a vision of growing the game in the NSW market.
Greene, who grew up in Victoria, remembers attending a clinic held by James Hird when he was younger and how that ignited his love for the game.
"Some of the best experiences I had as a kid was going to footy clinics held by the stars of the game. Those clinics impacted me as a player and a person, and I want to provide the kids of NSW with the same opportunities to connect with footy and all the benefits that come with being a part of a football community," said Toby. 
"Through 5th Quarter Camps, we want to continue to see the game grow in NSW, so Isaac and I have made it our mission to build something that will help future-proof the game in an emerging market."
No stranger to the 'other code', Heeney comes from a Rugby League family and was encouraged to try Australian Football by his mother. 
"There is so much to gain from getting involved in footy, it doesn't matter what background or ability you have - footy is a safe and inclusive environment and provides kids with confidence both on and off the field. 
"We're excited to have created a product that allows kids to access Aussie Rules where they previously may not have been able to. We're working with AFL NSW/ACT so it adds even more clinics to their roster, with the aim to boost the overall AFL footprint," said Heeney. 
AFL CEO-Elect, Andrew Dillon, said: "The AFL is very pleased to see the 5th Quarter Camps program come to life and I'm excited about the positive impact the program can have on engaging young people and growing the game in New South Wales and the ACT. 
"Full credit to Toby Greene and Isaac Heeney for the initiative they've shown in building out the concept. Both players are not only stars for their clubs on the field, but they are also showing themselves to be fantastic ambassadors for the game and role models in the community.
"Supporting the grassroots game and getting more kids involved in Australian football in NSW/ACT is a high priority for the AFL. 5th Quarter Camps, with the support of AFL & AFL NSW/ACT, can play an important role in generating significant participation and engagement outcomes." 
Katie Page, CEO Harvey Norman, said: "NSW kids are growing up watching the playing brilliance of Giants' captain Toby and Swans' champion midfielder Isaac. Now these talented players who have been inspiring them at the elite level, are now showing their camp participants first-hand what it takes to play AFL just like them.
"Harvey Norman is proud to support the introduction of the 5th Quarter camps to create an accessible and exciting new pathway into the game of AFL in NSW."
"On behalf of the team at 5th Quarter Camps, we'd like to thank our sponsors Harvey Norman, Guzman y Gomez, and Posisocks and also thank AFL NSW/ACT, the GWS GIANTS, and Sydney Swans for their continued support and collaboration," said Greene. 
Each participant will receive an exclusive 5th Quarter Camps '5th Kit' including a t-shirt, Harvey Norman & 5th Quarter Bucket Hat, Harvey Norman VIP card & in-store offer, Posisocks, a GYG Merch pack and Free Burrito Voucher.
Participants and their families will also have access to ongoing content throughout the year through the 5th Quarter Camps' online community, including fun and informative videos, tutorials, and insights from the players. 
Expansion into regional NSW and quarterly camps will commence in 2024.
britt@princepr.com.au
  0421 990 863