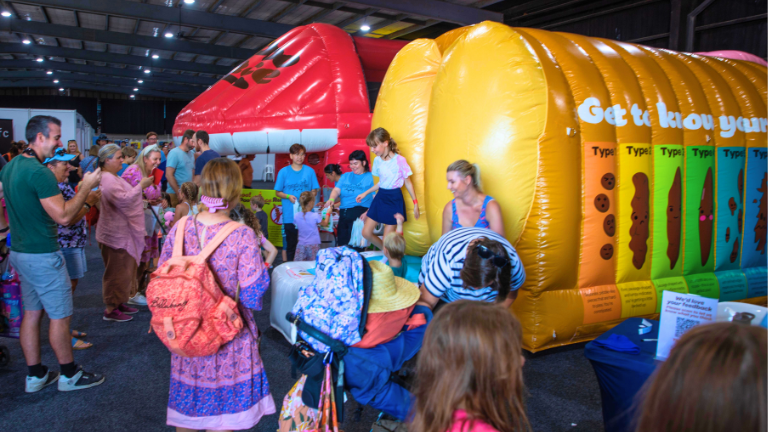 Highlights from day seven of National Science Week
NSW: Climate solutions: a heat-wave warning signal; carbon capturing seaweed.
NSW: Newcastle's giant inflatable Poo Palace recreates the journey of food, from lips to loo.
ACT: Blade Runner: what do neuroscientists and bioethics experts think?
VIC: Software, sunscreen and STEM Sisters: pop-up science talks outside the State Library
SA: First Nations perspectives of earth, air, fire and water at SA Museum's Night Lab.
QLD: Street Science on the farm at the Ekka.
TAS: Racing robots, seed bombs, an augmented reality sandpit: Schools Day at the Festival of Bright Ideas.
WA: Bringing the dead back to life: Ask a palaeontologist and archaeologist how.
Read on for more on these, including direct event contact details.
Also today:
Coming up tomorrow:
Bird brains; an Aussie astronaut; humans' animal nature; and learning from 60,000+ years of Indigenous knowledge – see a preview of Saturday's highlights.
National Science Week 2023 runs from 12 to 22 August.
Visit ScienceWeek.net.au/events to find more stories in your area.
Media centre here. Images for media here.
General Science Week media enquiries: Tanya Ha: tanya@scienceinpublic.com.au or 0404 083 863
More about the event highlights
Meet visionary Australians who are accelerating the net zero carbon revolution.
Australians have always prided themselves on their ability to adapt to extreme weather. But time is running out, warns climatologist Neville Nicholls. Starting his career at the Bureau of Meteorology in the 1970s, Nicholls has helped Australians understand El Nino weather oscillations, the emergence of global warming and the escalating dangers of extreme heat.
In 2009, after the record-breaking heatwave that preceded the devastating Black Saturday bushfires in Victoria, Nicholls created an early-warning heat-wave signal that has saved countless lives over the past decade.
Friday 18 August: www.scienceweek.net.au/event/100-climate-conversations-neville-nicholls/ultimo
There is a lot of hype about seaweed – a magic bullet touted as a solution to everything from the livestock industry's methane problem to sequestering the world's carbon through colossal seaweed farms. Dr Pia Winberg, founder of Venus Shell Systems, explains the reality behind the hype and the opportunities for building an Australian seaweed industry.
Friday 18 August. Event details: https://www.scienceweek.net.au/event/100-climate-conversations-pia-winberg/ultimo
Meteorologist, oceanographer, science communicator and former navy officer Nate Byrne will talk with Neville Nicholls and Pia Winberg for two episides of 100 Climate Conversations, recorded live at Powerhouse Ultimo as part of Sydney Science Festival.
Media enquiries: Siân Davies, sian@articulatepr.com.au, 0402 728 462; or Sasha Haughan, sasha@articulatepr.com.au, 0405 006 035.
Experience the journey that food goes on, and ask the experts about digestion, farts and faeces, gut health and good bacteria.
The Poo Palace is a giant inflatable re-creation of the digestive system where children take a sensory adventure through the gastrointestinal tract, from lips to lavatory.
The Poo Palace is made up of 4 modules that mimic the journey food takes along the digestive tract (mouth, stomach, small intestine, large intestine).
Children learn first-hand how food moves through the body, and through live experiments with researchers from the Hunter Medical Research Institute.
Saturday 12 - Sunday 20 August: www.scienceweek.net.au/event/poo-palace-at-the-museum-5/newcastle
Media enquiries: Tracy McKelligott, Tracy.McKelligott@hmri.org.au
Do androids dream of electric sheep? And does Blade Runner keep neuroscientists awake at night?
Join three experts as they discuss the nature of memory, how humans feel emotions, what it means to be human, and how we relate to those who have similar capacities, including those who do not have an organic body. These topics are explored in the 1982 movie Blade Runner.
A screening of Blade Runner at the National Film and Sound Archive will be followed by an expert panel discussion, featuring:
Associate Professor Adrian Carter is a neuroscientist and an ARC Future Fellow at the Monash Bioethics Centre.
Dr John Noel Viana - bioethicist at the Australian National Centre for the Public Awareness of Science (CPAS) at ANU, with an interest in the societal aspects of neuroscience and biotechnology development.
Moderator Dr Anna-Sophie Jurgens is a Lecturer in Popular Entertainment Studies at the CPAS. Her research explores the cultural meanings of science.
The screening will be preceded by a brief introduction on robots in popular culture and on ethical issues raised by embodied artificial intelligence.
Friday 18 August: www.scienceweek.net.au/event/science-art-film-blade-runner/acton
Media enquiries: Dr Anna-Sophie Jurgens, anna-sophie.jurgens@anu.edu.au, 0424 844 642.
The singing immunologist and science communicator who was intrigued by a reaction to sunscreen – Dr Catriona Nguyen-Robertson
The software engineer and TEDx speaker developing the idea of 'agile nations' – Dr Rashina Hoda
Exploring what's driving the disease progression in Motor Neuron Disease – PhD candidate Chau Tran.
These are just 3 of the 12 female scientists, technologists and experts sharing their work, giving short talks outside the State Library of Victoria.
Organised by STEM Sisters, Soapbox Science is coming back for the 12th year to continue its mission to highlight the importance of science and capture the attention of people from all walks of life by offering STEM women from underrepresented nations the opportunity to step into the spotlight.
Friday 18 August: www.scienceweek.net.au/event/soapbox-science-melbourne-2023/melbourne
Media enquiries: Ruwangi Fernando, ruwangi.fernando@stemsisters.org.au or 0451 951 066.
Dr Ruwangi Fernando from STEM Sisters is available for media interviews.
Night Lab: In Our Element is an after-hours, adults only event at the South Australian Museum celebrating the four natural elements: Earth, Air, Fire and Water.
Night Lab: In Our Element takes its theme from the four natural elements, exploring the science and cultural significance that these have for Aboriginal and other First Nations groups. With fire performers, science shows, costume judging, themed food and drinks, science presentation and presentations on cultural significance, element based adult crafts, and more.
Friday 18 August: www.scienceweek.net.au/event/night-lab-in-our-element/adelaide
Media enquiries: Alison Kershaw, Alison.Kershaw@samuseum.sa.gov.au or 0417 046 600.
Street Science presenters share the science behind agriculture through exciting visual demonstrations. Discover the unexpected potential for produce like seaweed and corn in revolutionising our everyday lives.
Fun and interactive demonstrations will have any young scientist engaged before exploring how innovations in agriculture are shaping the future sustainability of our planet.
Saturday 12 – Sunday 20 August: www.scienceweek.net.au/event/street-science-education-stage-at-the-ekka/bowen-hills/
Media enquiries: Dr Anita Milroy, a.milroy@uq.edu.au or 07 3365 2846
Racing robots, seed bombs, an augmented reality sandpit, and more at Festival of Bright Ideas – Hobart, TAS
Ride the waves in an Antarctic storm and dive into the abyss to uncover the mysteries of the deep aboard the blue-water research vessel, Investigator, without getting your feet wet.
Go for gold: solve Australian Science Olympiad questions.
Make seed bombs to restore backyard biodiversity.
Delve into an augmented reality sandpit to see how information about our environment can help people tackle complex challenges.
Expert talks on what humans and plants have in common.
Pollen, particles and pathogens: what's in the air, and why should you care?
Pick the brains of brain experts.
Racing robots with artifical intelligence.
Plus, Questacon's Science on the Move exhibition, where visitors can turn themselves into a battery, crank up a tornado in a bottle, try at escaping from handcuffs, catch sounds, and see the world through coloured filters.
These are just some of the speakers, activities and displays at the Festival of Bright Ideas, Tasmania's largest public STEM event, at Princes Wharf 1 on Hobart's waterfront.
Friday 18 August: Schools Day: www.scienceweek.net.au/event/festival-of-bright-ideas-schools-day/hobart
Saturday 19 August: www.scienceweek.net.au/event/festival-of-bright-ideas-2/hobart/
Media enquiries: Belinda, Inspiring.Tasmania@utas.edu.au
Studying dead things to bring the past back to life is what palaeontology and archeology have in common.
Palaeontologist Professor Kate Trinajstic and archaeologist Dr Sven Ouzman explain the similarities and differences against the backdrop of WA Museum Boola Bardip's Discovering Ancient Egypt Exhibition, joined by host Michael Mills in a live recording of the Palaeo Jam podcast.
The world's oldest heart: Professor Kate Trinajstic is a vertebrate palaeontologist and Research Fellow at Curtin University having recently been awarded an ARC QEII Fellowship "Fleshing out the fossil record" in 2011 to investigate the development of the skeleton and specialised musculature in early vertebrates.
Oldest known rock art to graffiti: Dr Sven Ouzman is an archaeologist and heritage specialist working on archaeology, rock art, Indigenous knowledge and intellectual property. This work includes studying some of the oldest known sites of human occupation in the Kimberley at 50,000 years ago; dating the oldest known rock painting in a rock shelter in Australia at 17,200 years old; as well as the contemporary archaeologies of graffiti and homelessness in Perth/Boorloo today.
Michael Mills is an award-winning science communicator, script-writer, song-writer, producer, performer, director, podcast creator, and musician.
Afterlife Bar is a pop up bar within the Discovering Ancient Egypt Exhibition.
Friday 18 August: www.scienceweek.net.au/event/dinosaur-talks-at-the-bar-before-time-2/perth
Media enquiries: WA Museum media, media@museum.wa.gov.au or 0466 304 807 or Michael Mills, michael@heapsgood.com.au or 0411 287 381