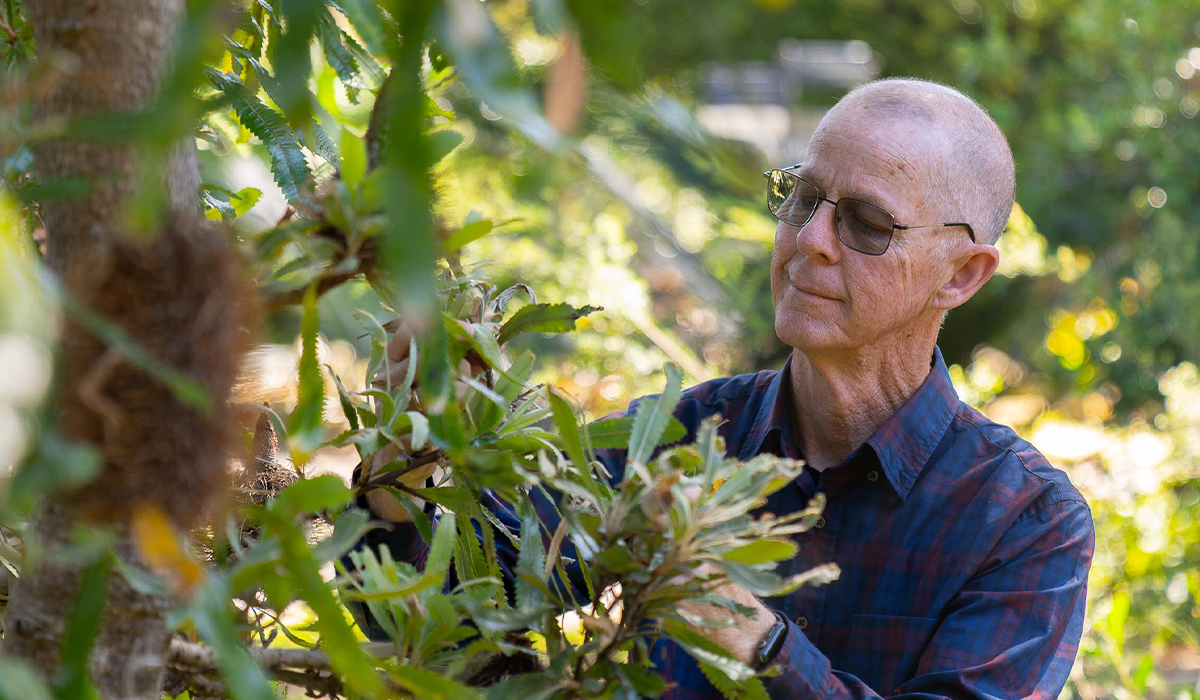 Highlights from day four of National Science Week
NSW: Meganne Christian: meet the Aussie engineer set to become an astronaut.
National: Which artist-researcher duo will win the battle to design the top Shirty Science t-shirt?
ACT: Do environmental policies add up? Ask Hugh Possingham, a professor of both maths and zoology.
NSW: Leafy green cities, coastal wetlands, microalgae: the climate solutions you wish you knew about.
TAS: Cats, chemicals, brains, stress, and space junk: young scientists tour Tasmanian schools.
WA: A band of physicists go on a road trip to explain quantum and dark matter.
WA: Noongar knowledge and elemental energies from earth, air, water and fire.
NT: Paint with a UV torch at 'Sea of Light', a light installation at MAGNT.
NT: A health lab on wheels and AI 'time machine' shows impact of disease.
Read on for more on these, including direct event contact details.
Also today:
Coming up tomorrow:
Science denialism; the new space race; happiness; plastic eating microbes; and female animal reproductive bits! – see a preview of Wednesday's highlights.
National Science Week 2023 runs from 12 to 22 August.
Visit ScienceWeek.net.au/events to find more stories in your area.
Media centre here. Images for media here.
General Science Week media enquiries: Tanya Ha: tanya@scienceinpublic.com.au or 0404 083 863
More about the event highlights
Join astronaut reservist, UNSW alumna and engineer Dr Meganne Christian in conversation with Aude Vignelles, Chief Technology Officer of the Australian Space Agency.
In 2022, Dr Christian was selected to join the European Space Agency's astronaut reserve, putting her on course to become one of the first Australian females in orbit. The possibility of going to space fulfills a lifelong dream for Dr Christian and culminates a career in engineering, renewable energy and atmospheric research.
Driven by a sense of adventure, Dr Christian decided to apply for the astronaut reserve after surviving a challenging year of atmospheric research in Antarctica's Concordia station, dubbed 'White Mars' for its isolation and harsh conditions. Meganne Christian invites us to imagine a future where the stars are within our reach.
Tuesday 15 August: www.scienceweek.net.au/event/meganne-christian-an-evening-with-a-future-astronaut/kensington
Media enquiries: Siân Davies, sian@articulatepr.com.au, 0402 728 462; or Sasha Haughan, sasha@articulatepr.com.au, 0405 006 035.
Which artist-researcher duo will win the battle to design the top Shirty Science t-shirt?
Artists and scientists team up to design a shirt that shatters stereotypes, encourages collaboration and shares the impact of Australian research. Each team will reveal their t-shirt design and pitch their art and science in a YouTube Live event hosted by ABC News Breakfast weather presenter Nate Byrne, with commentary from a panel of esteemed scientific and creative judges.
The live audience will cast their vote to determine which pair's work will win the title of 'The Most Excellent Science Shirt'.
Tuesday 15 August: www.scienceweek.net.au/event/shirty-science-presents-the-most-excellent-science-shirt/
Media enquiries: Madison Hartill-Law, madi@shirtyscience.com or 0439 487 615.
The maths of saving the planet - according to a mathematician saving the planet – Bruce, ACT
How has science and mathematics shaped – or not shaped – Australia's most significant environmental policies?
Professor Hugh Possingham, one of Australia's most experienced and respected environmental scientists, has some thoughts, which he will share at the Krebs Lecture.
Hugh is the former Chief Scientist for Queensland and a Professor of both Mathematics and Zoology at The University of Queensland.
He will share his unique, candid perspective of environmental and climate change policies, from emissions offsets to land-clearing to protecting threatened species.
The examples could include biodiversity offsetting, allocation of funds to threatened species, long-term monitoring, land-clearing, designing marine protected areas, wildlife management, and more.
Tuesday 15 August: www.scienceweek.net.au/event/krebs-lecture-how-science-and-maths-influence-environmental-policy/bruce
Media enquiries: Jaana Dielenberg, Communication and Engagement Manager, Biodiversity Council, jaana.dielenberg@unimelb.edu.au or 0413 585 709.
Hugh Possingham is available for media interviews.
Climate solutions you wish you knew about – how plants can help us tackle climate change – Sydney, NSW
What can we learn from the way plants adapt to changes in climate?
How will plants handle sea level rise? What role do our urban green spaces play? What does a more-acidic ocean mean for the very tiny but important seaweeds at the bottom of the food chain?
Ask the experts:
Plants in smart green cities – Prof Michelle Leishman, Macquarie University
Wetlands weathering climate change – Prof Neil Saintilan, Macquarie University
Microalgae in a warming and acidifying marine environment – A/Prof Katherina Petrou, University of Technology Sydney
Protecting plants and fungi from diseases and other threats – Dr Brett Summerell, Australian Institute of Botanic Science, Royal Botanic Gardens and Domain Trust, Sydney.
Dr Brett Summerell, Chief Botanist and Director Science, Education and Conservation at Botanic Gardens of Sydney is available for interviews.
Tuesday 15 August: www.scienceweek.net.au/event/sydney-science-trail-excursions-2/sydney
Media enquiries: Botanic Gardens of Sydney media, media@botanicgardens.nsw.gov.au or 02 9231 8122.
40 Young Tassie Scientists will talk at schools and public events across the island, to regional, rural and island communities; as well as in Hobart at the Festival of Bright Ideas.
Meet:
Multiple dates and locations. And at Festival of Bright Ideas: Friday 18 - Saturday 19 August.
Media enquiries: Ash Russell (they/them), ash.russell@utas.edu.au or 0447 378 689
All of the Young Tassie Scientists are available for media interviews.
A band of physicists go on a road trip to explain quantum and dark matter – touring Australia's cities and regions
The National Quantum & Dark Matter Road Trip brings quantum and dark matter experts to pubs and schools in cities and towns around Australia, including Adelaide, Sydney, Eden, Albury, Perth, Wangaratta, Stawell, Melbourne, Mallacoota, Apollo Bay, Brisbane, cairns, Townsville, Mackay, and Winton.
Dark matter accounts for 84 per cent of all the matter in the Universe… but we don't yet know what it is. Australia is a key player in the quest to find out.
Quantum technologies are crucial in the hunt for dark matter, and they're already used in smart phones and cars, medical imaging, manufacturing, and navigation. But today's technologies capture only a small fraction of the potential of quantum physics.
Cottesloe: Tuesday 15 August: www.scienceweek.net.au/event/national-quantum-and-dark-matter-road-trip-4/cottesloe/
Media enquiries: Fleur Morrison, fleur.morrison@unimelb.edu.au or 0421 118 233.
Multiple experts involved with different legs of the tour are available for media interviews, including UWA particle physicist Ben McAllister.
Earth, air, water and fire: Noongar knowledge and elemental energies– Hopetoun, WA
Noongar Bush Educator – Belinda Swift, an on-country excursion will go to the Fitzgerald Biosphere and share how and why Aboriginal people used the energy of the earth, bush and fire to survive, find foods and make camp.
She will talk about how humans harness the four elements of nature – Earth, Air, Water and Fire – to produce useful energy. As well as the importance and cultural significance of the area.
People can also make a mini wind turbine or hydroelectric waterwheel in workshops at Hopetoun Community Resource Centre.
Water: Tuesday 15 August: www.scienceweek.net.au/event/elemental-energies-water-element-2/hopetoun
Fire: Wednesday 16 August: www.scienceweek.net.au/event/elemental-energies-water-element/hopetoun
Media enquiries: crc@hopetounwa.com or 08 9838 3062
Painting in a Sea of Light – The Gardens, NT
Sea of Light invites people to explore how light is produced and perceived. Using a UV torch as a paintbrush, participants can paint and stencil their own voyage or create bioluminescent animals in the Discovery Centre at MAGNT.
Children and families can steer ships that leave glowing paths of light in their wake as they sail across the sea floor or create a floor of fireflies that fade as time steals their lanterns.
Sea of Light brings together magical light and a gentle soundscape to create a unique adventure as part of Darwin Festival and National Science Week.
Tuesday 15 August - Sunday 20 August: www.scienceweek.net.au/event/sea-of-light/the-gardens
Media enquiries: Nicole Ogilvie, Nicole.Ogilvie@magnt.net.au or 08 8999 8264.
Dr Kirsti Abbott, Lucyna Kania and Dr Dan Edwards from the MAGNT science team are available for media interviews.
A health lab on wheels and AI 'time machine' shows impact of disease – Darwin, Daly River, and Tiwi Islands
Chronic diseases – such as diabetes and heart disease – cause suffering for thousands of Australians.
The Menzies HealthLAB – a clinic on wheels – lets people see heart and kidney ultrasounds, hear their heart beating, and try on 'alcohol goggles' that mimic raised blood alcohol levels.
An award-winning interactive Time Machine app completes the picture – literally – by showing how those choices affect appearance.
HealthLAB will travel to locations around Darwin and to the remote communities of Naiuyu and Wurrumiyanga, giving locals the opportunity to talk to a range of scientists and health professionals about the science behind the inner workings of the human body, the technology behind the equipment we use, and future careers in science.
Palmerston Library: Tuesday 15 August. Event details: https://www.scienceweek.net.au/event/healthlab-palmerston-library-2/palmerston-city
Media enquiries: HealthLAB, healthlab@menzies.edu.au or 08 8946 8541