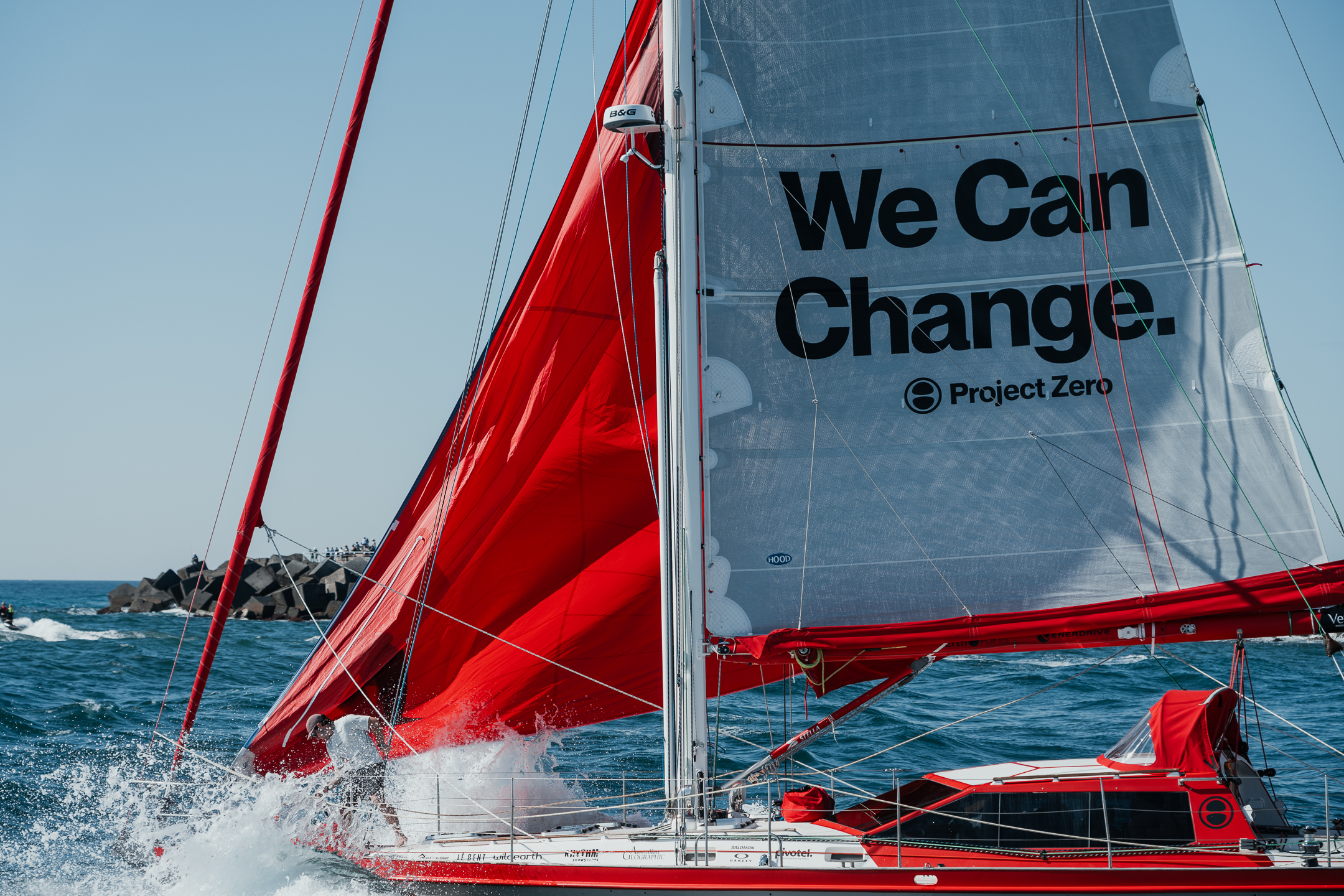 (Southport, Queensland, August 13, 2023) Polar explorers and climate change champions, Dr Geoff Wilson AM and his son, 22-year-old Kitale, were today farewelled by 200 family and friends, supporters and the adventure community as they boarded their net-zero vessel Nanook X for a two-year odyssey that will take them from the South Pole to the North Pole.
Geoff is a world-class polar explorer with seven records to his name; Kit is a filmmaker and climbing expert with adventure in his DNA. Together they will document the true, untold stories about climate change aboard their specially adapted steel-hulled, carbon-neutral boat, powered by solar, hydro and wind power.
Final preparations were not plain sailing for the father and son adventure duo, who faced unexpected storms on the final training run from the Gold Coast to Sydney recently.
"The sail to Sydney was always going to be tough due to the forecasted storms - but despite big seas coming over the decks, 40 knot gusts and a dangerously seasick cameraman, Nanook and the expedition crew performed above expectation," says Geoff.
The pair were in the Snowy Mountains last week, testing ski and ice equipment, when Geoff suffered a puncture wound to his calf.
"The leg has healed and I'm feeling strong," said Geoff.
Today's farewell from Mariner's Cove Marina, Southport, on Queensland's Gold Coast, was an emotional event for Geoff's wife Sarah and the couple's other children, daughter Java and Jade, now a mother to a four-month son Ru, the first Wilson grandchild.
Project Zero will take the team to Patagonia, Antarctica and the Arctic in a journey expected to take two years.
Nanook X is loaded with six months of provisions, including food, water, and equipment that will support their net-zero goals. A desalinator will make 60 litres of water per hour.
Their energy sources are estimated to be 80% renewable, with the 20% non-renewable offset by forest planting initiatives during their journey.
Stowed on board is also the survival equipment they will need to traverse ice fields, glaciers and vast polar landscapes including sleds, skis, ice axes, kites, tents, mountaineering ropes and first-aid kits.
Setting out with them on Nanook X, are sailor/drone pilot Jordy Pearson and 1st mate Alistair "Crusty" Burton.
From the South Pole to the North Pole, Geoff will meet the world's leading climate scientists and advocates while Kit will capture the images showing the impact global warming is having on these magnificent landscapes.
It's a setting where Geoff has experience. He received the 2023 Lifetime of Adventure Award from the Australian Geographic Society, in recognition of his exploration and research of the harshest environments across the globe.
His son brings the same passion to the project, albeit with a different skill set.
They share the aim of educating Aussies and the world, in a fun and informative way, about climate change, and will present practical tips on how to change our lifestyle and reduce our impact on the Earth.
But before they change the world, they will need to meet their own challenges, not the least will be bonding as a team, backed by an expert crew.
"The first leg will be one of the most difficult," says Geoff.
"As we gel as a team, we'll be dealing hour after hour with rough seas south of New Zealand; icebergs need to be avoided, storms handled, and the boat has to be nursed through some of the world's roughest oceans over 6,000 nautical miles to Southern Chile then into the Patagonian Fjords."
He says the biggest single risk to the project is ice that could crush the vessel, or trap it, stopping progress.
"Kit brings his strong climbing and ropes work to the game; I bring polar and crevasse survival knowledge, calm head under fire, leadership and forward drive to the party."
Where possible Project Zero will seek to use green modes of transport by sailing, hiking, kite-power and skiing.
"Our mission is clear – work as a team to create awareness and instigate change to protect the planet for future generations," says Geoff.
The journey can be followed at www.projectzero.earth and via Instagram @projectzero_earth.
Project Zero is made possible, thanks to the support of the community, supporters and sponsors, including: Australian Geographic Society; Rewards4Earth Foundation (Erth Points); Dometic; Enerdrive; Pivotel Satellite; Rhythm Snowsports; Wild Earth ; Salomon; Arc'teryx; Mammut; Oakley; Le Bent; Merino Country; Stellar Marine; Blackboard Coffee; Sea to Summit and VetLove.
More about Dr Geoff Wilson AM:
Dr Wilson is a veterinary surgeon, founder of 5th Element Expeditions and multiple world record holding adventurer. He is the recipient of the "Lifetime of Adventure" award from the Australian Geographic Society, its highest honour, and is recognised in the Australian Museum's "50 Trailblazers" of all time. Earlier this year, he became a Member of the Order of Australia for his services to the community.
###
Media Assets HERE (images, 3 mins b-roll)
Historic Assets HERE (previous expeditions)
Key Facts:
Dr Wilson holds the current record for the longest solo, unsupported polar journey (2019/2020), the first summit of Dome Argus, solo and unsupported (2019/2020), the fastest solo, unsupported crossing of Antarctica (2013/2014), the fastest unsupported crossing of Greenland, south to north (2017), and the first and only wind-assisted crossing of the Sahara Desert (2009). His most recent expedition success was crossing Australia's Simpson Desert using a wind-assisted buggy (2022). He lives in Queensland with his wife of 30 years, Sarah Wilson, and has two other adult children, daughters Java and Jade. He became a grandfather earlier this year.
Contact details:
For further information, interviews: eckfactor 0438 532 569 Karen@eckfactor.com