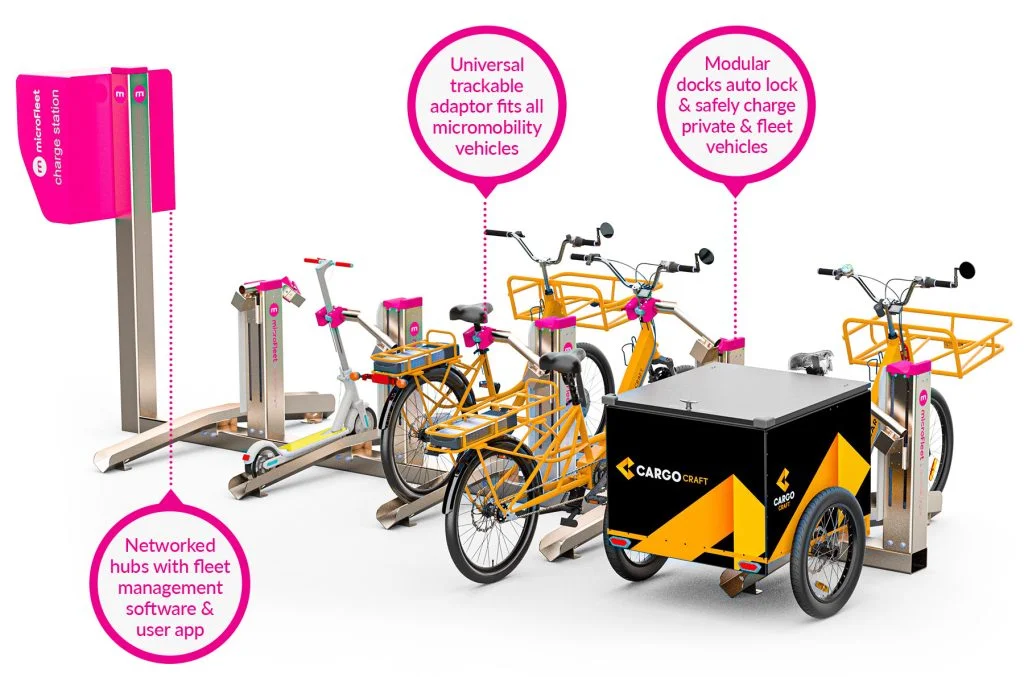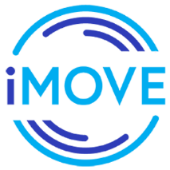 NEWS RELEASE
August 2, 2023
Aussie start-up microFleet lands $500K iMOVE CRC backing to take on global $300bn e-micromobility market
iMOVE Cooperative Research Centre has backed Australian company microFleet with $500,000 funding to launch a patent-pending invention called OneDock, which could see Australia seize a golden opportunity in the booming e-micromobility market tipped to be worth $300bn by 2030.
microFleet is a sister company of Electric Vehicles Pty Ltd, which has a longstanding contract with Australia Post for the supply and maintenance of e-bikes for its 2,000 plus national fleet.
OneDock (image attached) is a universal charging and parking station for electric bikes, scooters, and other light electric vehicles. It's the world's first mechanical and digital technology platform to enable universal micromobility tracking, docking, charging and sharing, whether privately-owned or part of a public/corporate fleet.
The technology's implications for urban transportation are profound, promising cities a future where the integration of e-micromobility is not just seamless but also sustainable and efficient. For users, it means no more hunting for charging points or worrying about running out of power mid-ride.
microFleet is in talks with New York City representatives, with aims to be among an elite cadre of companies to roll out e-micromobility charging systems in 2024. A successful negotiation could translate to a staggering 70,000 OneDocks gracing the streets of the Big Apple.
The innovation comes at a crucial time, especially considering the alarming trend from New York in 2022, where ad hoc lithium battery charging resulted in 216 fires, 147 injuries, and six fatalities.
It has been estimated the global e-micromobility charging market will be worth $67bn by 2030, and microFleet aims to capture 2% market share worth $1.35bn.
The company aims to install 100,000 smart docking points in Australia and 1 million globally by 2030.
iMOVE CRC – part of the Australian Government's Cooperative Research Centres network - funded microMobility under its Impact Extension Program for Australian companies to accelerate the development of ground-breaking technology, products and services in the transport sector.
iMOVE managing director Ian Christensen said:
"In a world where the transportation sector is undergoing rapid transformation, driven by both technological advancements and environmental imperatives, solutions like OneDock are not just desirable; it's essential."
"microFleet's OneDock is the embodiment of the future of urban mobility and transportation. It's sustainable, user-centric, and primed for global adoption. It's green, it's smart, and it's what cities need. This is a game-changer and iMOVE CRC is proud to be part of this transformative journey."
OneDock inventor and microFleet COO Al Reid said:
"The future of urban transportation is not in massive cars or sprawling highways. It's in efficient, green, and user-friendly solutions like e-bikes, e-scooters, and the infrastructure that supports them. With OneDock, microFleet is not just imagining this future, we're building it."
"This is a golden export opportunity for Australia. However, our ambition transcends beyond a product; we're envisioning cities where transportation is seamless, eco-friendly, and efficient. The backing from iMOVE is a monumental step towards realising this vision on a global scale."
OneDock will have its international launch in Europe in 2024 at a series of leading trade fairs for the cycling and micromobility industries.
ENDS
Notes to Editors
Available for Comment/INTV
iMOVE CRC managing director Ian Christensen
To arrange, please see media contacts below:
Jacqueline King, iMOVE Communications Manager, jking@imoveaustralia.com, 0404 045 293
Rajiv Maharaj, newsroom@storyinception.com, 0416 148 541
About microFleet
microFleet began as part of Electric Vehicles Pty Ltd (EV), established in 2004 by electric bike pioneers Scott Dickason and Steve Smart. EV has since become a leading LEV manufacturer and service provider, including building and maintaining Australia Post's electric mail bike fleet, now 2,000 strong. In 2021, Al Reid helped Scott and Steve spin out microFleet to help address the COVID-driven boom in the global LEV market and enable micromobility throughout Australia and globally. They are currently raising investment to accelerate global adoption of their proprietary technology.
About iMOVE CRC
iMOVE is the national centre for collaborative R&D in transport and mobility. It facilitates, supports and co-funds research projects that improve the way people and goods move in Australia. It has 44 industry, government and academic partners and has over 50 projects completed or currently underway in a broad range of transport areas. Find out more about our work: https://imoveaustralia.com/
Key Facts:
· Aussie start-up microFleet secures $500K from iMOVE CRC.
· Targets the $300bn global e-micromobility market.
· Touted as a prime export chance for Australia.
· microFleet, a subsidiary of Electric Vehicles Pty Ltd, provides e-bikes to Australia Post's 2,000+ fleet.
· OneDock: world's first platform for micromobility tracking, docking, charging, and sharing. Compatible with personal and public/corporate light electric vehicles.
· microFleet discussing potential rollout with NYC for 2024.
· Potential deal could see 70,000 OneDocks in New York. NYC's 2022: 216 fires, 147 injuries, and 6 deaths due to battery charging mishaps.
· Global e-micromobility charging market predicted at $67bn by 2030.
· microFleet's goal: 2% market share, equating to $1.35bn.
· Plans to set up 100,000 docking points in Australia and 1 million worldwide by 2030
Contact details:
microFleet CCO Al Reid – 0449 677 922 - al@microfleet.com.au
Jacqueline King, iMOVE Communications Manager, jking@imoveaustralia.com, 0404 045 293
Rajiv Maharaj, newsroom@storyinception.com, 0416 148 541