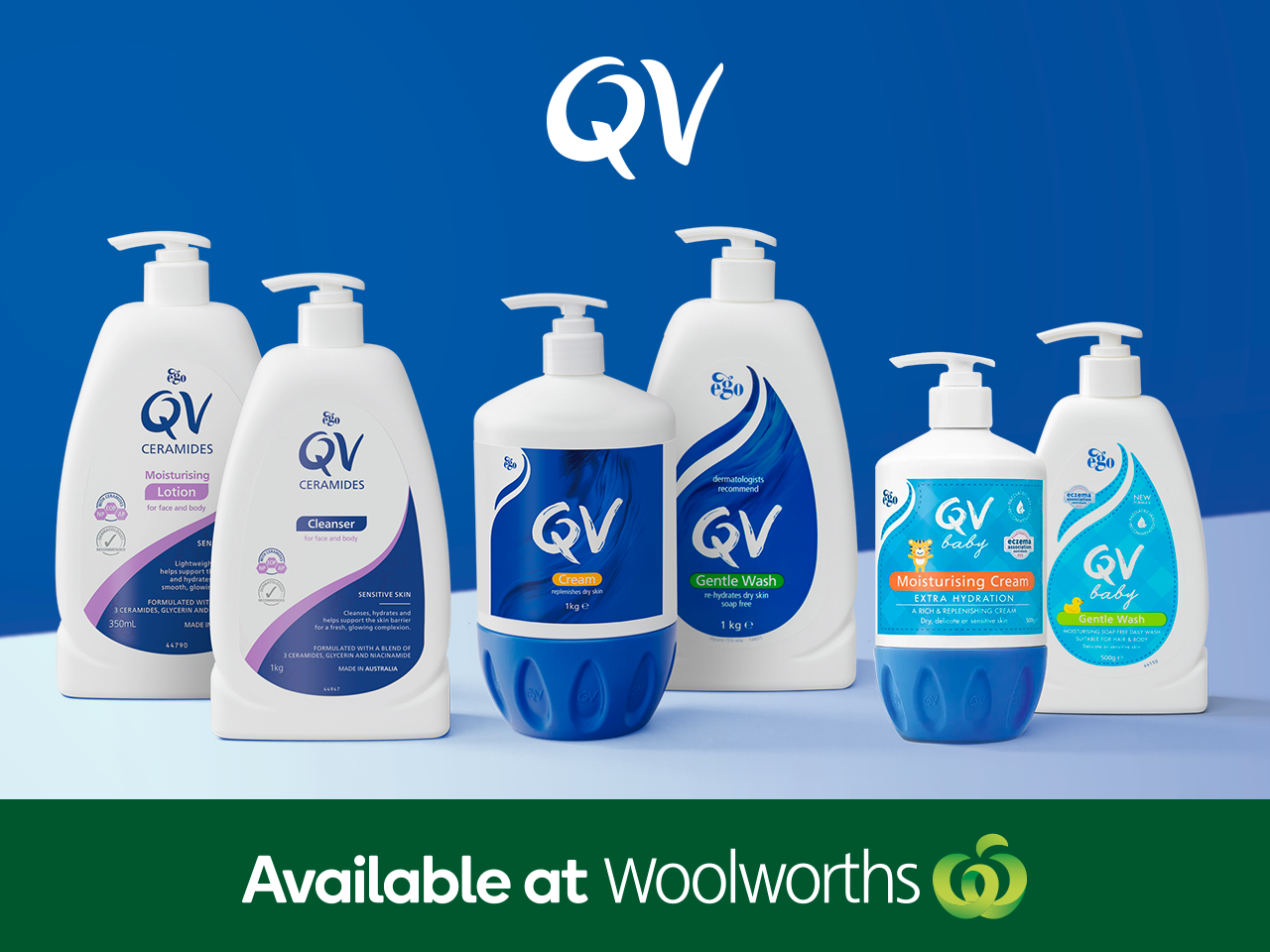 QV Skincare is excited to announce that for the first time, the QV range will be stocked in Woolworths supermarkets nationwide.
From early September, 2023, selected products from the QV Body, QV Ceramides and QV Baby ranges will be stocked in Woolworths and available for purchase in-store and online.
Created by Ego Pharmaceuticals nearly 50 years ago in response to a request from the head dermatologist of Melbourne's iconic Queen Victoria Hospital for Women and Children, QV Skincare has grown into being the #1 recommended sensitive skincare brand by healthcare practitioners in Australia1.
Decades on, the QV brand remains family owned, Australian made and synonymous with quality and innovation; with over 50 QV products now sold in more than 20 nations around the world.
Alan Oppenheim, Ego's Managing Director said "Our goal has always been to help improve the skin health of Australians and people around the world, with products made in our own world-class pharmaceutical plant in Melbourne.
"As a proud Australian company, we are excited to make the QV Skincare range more easily available for Australians by being stocked in Woolworths supermarkets. We hope that consumers will enjoy the ease of now being able to purchase their favourite QV products during their regular grocery shop as well as from their local pharmacy."
Georgie Inch, Woolworths Beauty Category manager said "We're thrilled to be the first supermarket in Australia to offer QV Skincare.
"We know that a large number of Australians identify with having sensitive skin, and are seeking out products that are gentle and help to soothe a range of skin conditions.
"We're always looking at ways to expand our beauty range based on what our customers are telling us, and having a leading skincare brand like QV allows us to do just that.
"QV is a trusted Australian brand, and we're excited to delight our customers with this new, great value range to make it easier for them to pick up as part of their next grocery shop in store or online."
For more information on the QV Skincare range, visit www.qvskincare.com.au
For any media enquiries regarding QV Skincare please contact laura.lock@egopharm.com
1 ACA Research, Sponsored by Ego Pharmaceuticals, OTC Skincare, n = 330 (Pharmacists, GPs and Dermatologists across Australia). June 2021
Contact details:
For any media enquiries regarding QV Skincare please contact laura.lock@egopharm.com