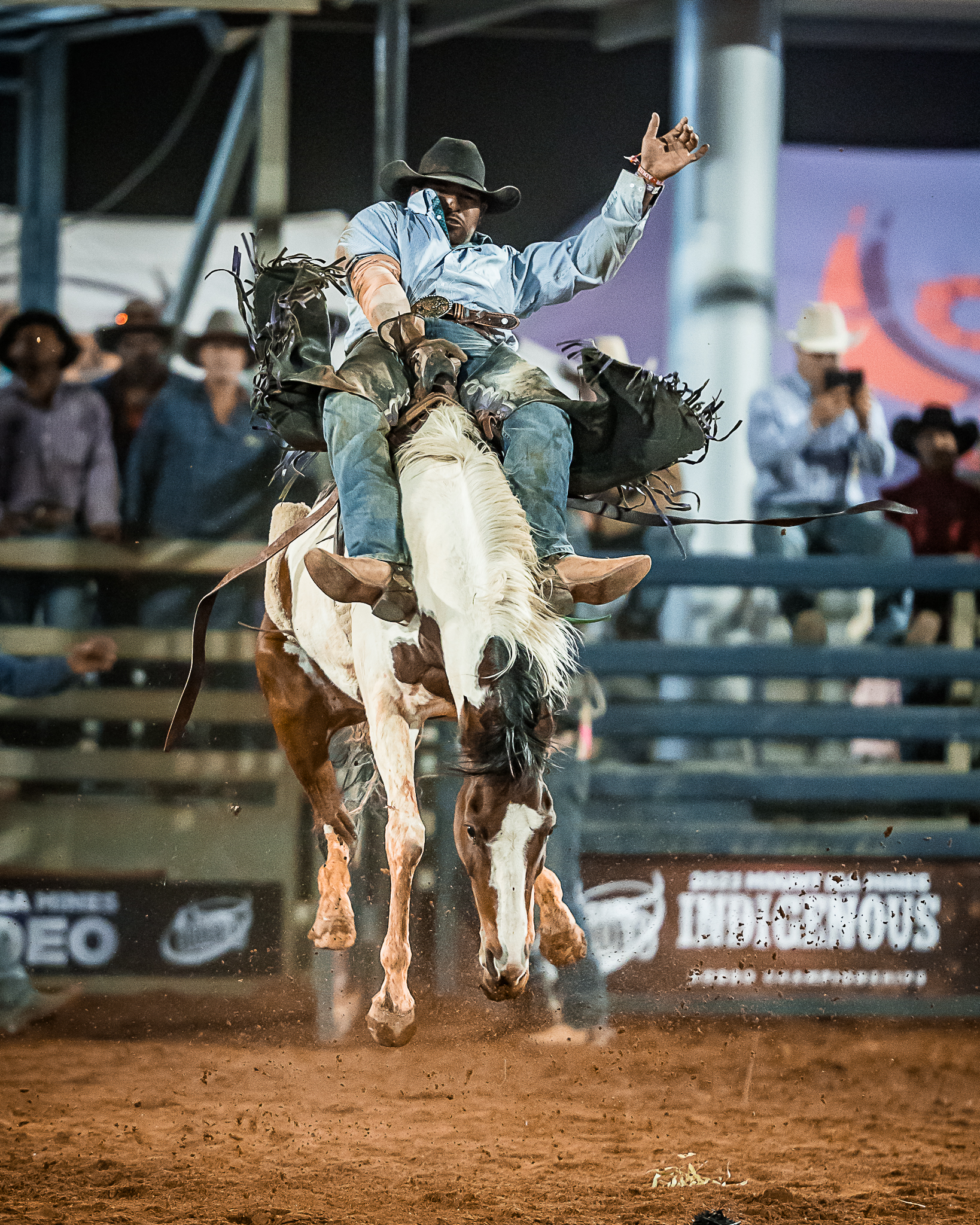 Back to back buckles, record numbers and spectacular rides at
the second annual Mount Isa Mines Indigenous Rodeo Championships
A legend was crowned at the second Mount Isa Mines Indigenous Rodeo Championships, with Northern Territory and Pitta Pitta cowboy Jason Craigie taking back-to-back Bareback Ride buckles, and doubling up to win the Saddle Bronc Ride, while Doomadgee cowboy Peter Jupiter stole the show with a spectacular dispatch from the saddle into the stand!
The buckles were won in front of a record crowd, and against a record number of riders. Last year 100 indigenous riders took part, and this year, thanks to funding from the Queensland Government, the event welcomed 119 nominations across a full program showcasing the skills of Australia's extraordinary Indigenous stockmen and women.
Katherine cowboy, 27-year old Darcy McBean rode Darren Brandenburg's bull 'Dacky' to the eight second buzzer and in doing so became the 2023 Indigenous Bull Ride champion, while Mackay cowgirl Maisey Hetherington won back-to-back buckles in the Breakaway Roping, stopping the clock at 13.4 seconds.
Competition was fierce in the Mini Bulls (11-14 years) resulting in a three way tie for first place, shared by 13-year-old Rockhampton cowboy Riley Ahern, 14-year-old Cloncurry cowboy Bronzon Mara-Skellern, and 12-year-old Murgon cowboy Johnathan Carlo, all on 68 points. In the Mini Bulls (8-10 years), Kaleigha Brennan from Healy in Queensland showed the buckle went to
Bidjara cowboy Matty Ahern scored 69pts in the Junior Steer Ride to take the buckle and Barcaldine cowgirl Emily Ward won the Ladies Barrel Race with a 19.69 sec run.
Jessica Mauboy headlined the rodeo rock concert in the evening, and the Sundowners Kalkutungu Dancers and the spectacular Komet Torres Strait Islander Arts and Culture Dance Group performed the Welcome to Country in what was a powerful evening.
Isa Rodeo Limited CEO, Natalie Flecker was thrilled with the results. "We've witnessed an incredible event here in Mount Isa, and one that doubled in size in just two years, which really defies the norm."
"These Indigenous Rodeo Championships showcase and celebrate the connection between our Indigenous riders and their families to country, and to stock, and it's obvious how proud they are to have this event as a standalone tribute to their own rodeo culture. The future for this event is so exciting," she said.
"Jessica Mauboy summed it up when she said the concert was a gig she would remember forever and that there was a very special connection with the crowd and the country all night."
Rodeo organisers commissioned a spectacular artwork from Cungelella Art that featured across the event posters, merchandise, on shirts and in a fashion parade.
Patrick Cooke, CEO of Mona Aboriginal Corporation said, "This landmark indigenous rodeo event celebrates Indigenous culture and importantly, creates opportunities for Indigenous youth to train and become professional rodeo competitors."
ABOUT MOUNT ISA MINES RODEO
In 1959, a group of people with passion and an intrinsic sense of potential formed the Mount Isa Rotary Rodeo Inc (MIRRI). Their vision was to put the new, remote town of Mount Isa on the map and raise funds for charity organisations in the new city. Through 63 years of whip-cracking vision and dedication, the event has evolved into legendary status. The event is part of the Australian Professional Rodeo Association's (APRA's) national circuit. The event is supported by the Queensland Government, via Tourism and Events Queensland and is the largest in the Southern Hemisphere.
ABOUT MONA ABORIGINAL CORPORATION
The Mount Isa Indigenous Rodeo Championship will be supported by a new volunteer program and accredited certificate program for Indigenous youth from north west and north Queensland communities to participate in prior to and during the event. Mona Aboriginal Corporation will run both programs. Areas will include stock handling and back of house rodeo responsibilities, hospitality, security and event management. Mona Aboriginal Corporation was established in March 2011 with the vision to "Empower our Youth of Today for Tomorrow". It is 100% Indigenous owned and run.
Acknowledging the heritage of Buchanan Park as a ceremonial dancing site, the main arena will be referred to as the Kalkadoon Arena and the traditional owners of this north west region, the Kalkadoon people, will officially open the Rodeo with a Welcome to County and dance performance.
This event is supported by the Queensland Government, via Tourism and Events Queensland
For media enquiries, images, interviews and more please contact Kath Rose | 0416 291 493 | kath@kathrose.com