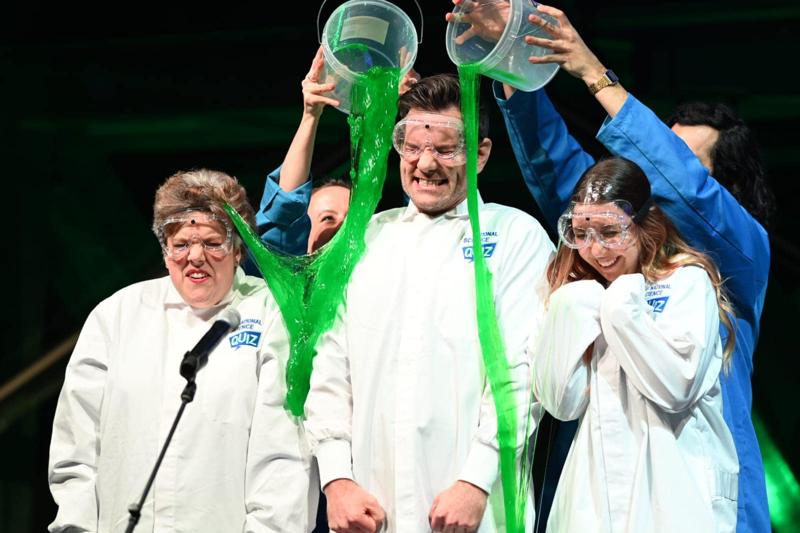 Great National Science Week ENTERTAINMENT stories up for grabs now around Australia
The Drag Experiment: Meet the performers mixing scientific concepts with drag.
Satirical science music 'Road to Reason': album launch at a planetarium.
Blade Runner: what do neuroscientists and bioethics experts think?
An Aussie astronaut, art therapy, deep sea science, DNA sonification – Sydney Science Festival.
Racing robots, seed bombs, an augmented reality sandpit, and more at Festival of Bright Ideas in Hobart.
Street Science on the farm at the Ekka.
'Scab': MicroToons animation brings microbiology to people with autism.
Paint with a UV torch at 'Sea of Light', a light installation at MAGNT.
More on these below and visit ScienceWeek.net.au/events to find more stories in your area.
Scientists, experts, performers and event organisers are available for interview throughout National Science Week.
Direct contact details for each event are below or contact Tanya Ha on tanya@scienceinpublic.com.au or 0404 083 863.
Media centre here. Images for media here.
Individual event details and media contacts
Morning TV weather forecaster Nate Byrne will compete against mathematician and TV presenter Simon Pampena in this year's National Science Quiz moderated by The Weekly host Charlie Pickering.
Not only is Nate Byrne a Bureau of Meteorology-trained meteorologist. He is also a oceanographer with a physics degree and a masters of science communication.
His rival Simon Pampena has presented the TV shows Catalyst on ABC and Outrageous Acts of Science on Discovery Channel.
The winning team will leave victorious and the losing team will be slimed live-on-stage!
Other panellists:
synthetic biologist Paige Erpf
mathematician Marcy Robertson
astrophysicist Rebecca Allen
computer scientist Jon Whittle
Some panellists are available for media interviews.
Sunday 27 August: www.scienceweek.net.au/event/national-science-quiz-3/melbourne
Media enquiries: Emma Horswill, info@nationalsciencequiz.com.au or 0488 786 558.
Scientists in drag battle – Ultimo, NSW
Scientists by day and drag performers by night. Meet the performers mixing scientific concepts with drag. Who will be crowned the 'ultimate drag scientist'?
Hear from host, 'bimbo biologist and flaming homosexual', Dr Naomi Koh Belic, along with:
Radha – culinary scientist
Milton MANgo – a country bloke who cracks a whip (Lee Constable of The Conversation and Scope)
'gaysian empress of Sydney', Dyan Tai with a live music experiment
Diva Attenbra – wildlife biologist at UNSW, drag performer and comedian who can talk about gay animals.
Thursday 17 August: www.scienceweek.net.au/event/the-drag-experiment/ultimo
Media enquiries: Dr Naomi Koh Belic drnaomikohbelic@gmail.com or 0422 213 119.
Satirical science music 'Road to Reason': album launch at Planetarium – Toowong
Songwriter and Science Communicator Nathan Eggins (aka Conspiracy of One) is bringing his signature sciency music to the Sir Thomas Brisbane Planetarium.
Nathan's pop-rock-funk music explores scientific and psychological concepts while highlighting and satirising many forms of pseudoscience, misinformation and cognitive biases.
Nathan and his band will share songs from his new album 'Road to Reason', along with fan favourite science songs like 'We're All Aliens, Baby' and 'The Sound a Duck Makes'.
Hear eclectic and thought-provoking music while seeing the cosmos via the Skydome.
Sunday 20 August: www.scienceweek.net.au/event/planetarium-concert-live-music-in-the-skydome/toowong
Media enquiries: Nathan Eggins, nathan@sentientproductions.com.au or 0402 593 431.
Blade Runner: what do neuroscientists and bioethics experts think? – Acton
Do androids dream of electric sheep? And does Blade Runner keep neuroscientists awake at night?
Join three experts as they discuss the nature of memory, how humans feel emotions, what it means to be human, and how we relate to those who have similar capacities, including those who do not have an organic body. These topics are explored in the 1982 movie Blade Runner.
A screening of Blade Runner at the National Film and Sound Archive will be followed by an expert panel discussion, featuring:
Associate Professor Adrian Carter is a neuroscientist and an ARC Future Fellow at the Monash Bioethics Centre.
Dr John Noel Viana - bioethicist at the Australian National Centre for the Public Awareness of Science (CPAS) at ANU, with an interest in the societal aspects of neuroscience and biotechnology development.
Moderator Dr Anna-Sophie Jurgens is a Lecturer in Popular Entertainment Studies at the CPAS. Her research explores the cultural meanings of science.
The screening will be preceded by a brief introduction on robots in popular culture and on ethical issues raised by embodied artificial intelligence.
Friday 18 August: www.scienceweek.net.au/event/science-art-film-blade-runner/acton
Media enquiries: Dr Anna-Sophie Jurgens, anna-sophie.jurgens@anu.edu.au, 0424 844 642.
Hear from compelling speakers on science's hot topics. Sydney Science Festival is back with events in multiple locations around Sydney and online.
Friday 11 - Saturday 20 August. Multiple events and locations.
Media enquiries: Siân Davies, sian@articulatepr.com.au, 0402 728 462; or Sasha Haughan, sasha@articulatepr.com.au, 0405 006 035
Most speakers are available for media interviews.
Ride the waves in an Antarctic storm and dive into the abyss to uncover the mysteries of the deep aboard the blue-water research vessel, Investigator, without getting your feet wet.
Go for gold: solve Australian Science Olympiad questions.
Make seed bombs to restore backyard biodiversity.
Delve into an augmented reality sandpit to see how information about our environment can help people tackle complex challenges.
Expert talks on what humans and plants have in common.
Pollen, particles and pathogens: what's in the air, and why should you care?
Pick the brains of brain experts.
Racing robots with artifical intelligence.
Plus, Questacon's Science on the Move exhibition, where visitors can turn themselves into a battery, crank up a tornado in a bottle, try at escaping from handcuffs, catch sounds, and see the world through coloured filters.
These are just some of the speakers, activities and displays at the Festival of Bright Ideas, Tasmania's largest public STEM event, at Princes Wharf 1 on Hobart's waterfront.
Friday 18 August: Schools Day: www.scienceweek.net.au/event/festival-of-bright-ideas-schools-day/hobart
Saturday 19 August: www.scienceweek.net.au/event/festival-of-bright-ideas-2/hobart/
Media enquiries: Belinda, Inspiring.Tasmania@utas.edu.au
Street Science presenters share the science behind agriculture through exciting visual demonstrations. Discover the unexpected potential for produce like seaweed and corn in revolutionising our everyday lives.
Fun and interactive demonstrations will have any young scientist engaged before exploring how innovations in agriculture are shaping the future sustainability of our planet.
Saturday 12 – Sunday 20 August: www.scienceweek.net.au/event/street-science-education-stage-at-the-ekka/bowen-hills/
Media enquiries: Dr Anita Milroy, a.milroy@uq.edu.au or 07 3365 2846
From the award-winning makers of Microtoons 'Pimple', comes the new animated cartoon 'Scab'.
People with autism can struggle to engage with science, technology, and art, but when they manage to it can empower them. MicroToons is an animated science cartoon designed to do just that.
MicroToons 'Scab' is based on a short story of cells and nasty microbes, written by microbiologist and 'My Mad Scientist Mummy' children's book author Rina Fu and brought to life by artists with autism under the mentorship of Dr Rina and Red Bird Creative producer Aaron Welch.
MicroToons is a joint effort between Dr Rina, disabilities service provider 4LifeSkills, and animation studio Red Bird Creative. MicroToons 'Scab', a new 3-minute animation, will premiere at a launch event with popcorn, behind-the-scenes insights, and interactive and inclusive science fun for all ages and abilities, including people with physical and intellectual disabilities.
The inaugural MicroToons 'Pimple' - that received eight international awards and screened at over 30 film festivals last year - will also screen.
Friday 25 August. Event details: https://www.scienceweek.net.au/event/microtoons-scab-launch-event/medina
Media enquiries: Dr Rina Fu, hello.microtoons@gmail.com or 0403 139 745.
Scientists and author Rina Fu and producer Aaron Welch are available for media interviews.
Sea of Light invites people to explore how light is produced and perceived. Using a UV torch as a paintbrush, participants can paint and stencil their own voyage or create bioluminescent animals in the Discovery Centre at MAGNT.
Children and families can steer ships that leave glowing paths of light in their wake as they sail across the sea floor or create a floor of fireflies that fade as time steals their lanterns.
Sea of Light brings together magical light and a gentle soundscape to create a unique adventure as part of Darwin Festival and National Science Week.
Tuesday 15 August - Sunday 20 August: www.scienceweek.net.au/event/sea-of-light/the-gardens
Media enquiries: Nicole Ogilvie, Nicole.Ogilvie@magnt.net.au or 08 8999 8264.
Dr Kirsti Abbott, Lucyna Kania and Dr Dan Edwards from the MAGNT science team are available for media interviews.
About National Science Week
National Science Week is Australia's annual opportunity to meet scientists, discuss hot topics, do science and celebrate its cultural and economic impact on society – from art to astrophysics, chemistry to climate change, and forensics to future food.
First held in 1997, National Science Week has become one of Australia's largest festivals. Last year about 1.9 million people participated in more than 1,650 events and activities.
The festival is proudly supported by the Australian Government, CSIRO, the Australian Science Teachers Association, and the ABC.
In 2023 it runs from Saturday 12 to Sunday 20 August. Event details can be found at www.scienceweek.net.au.