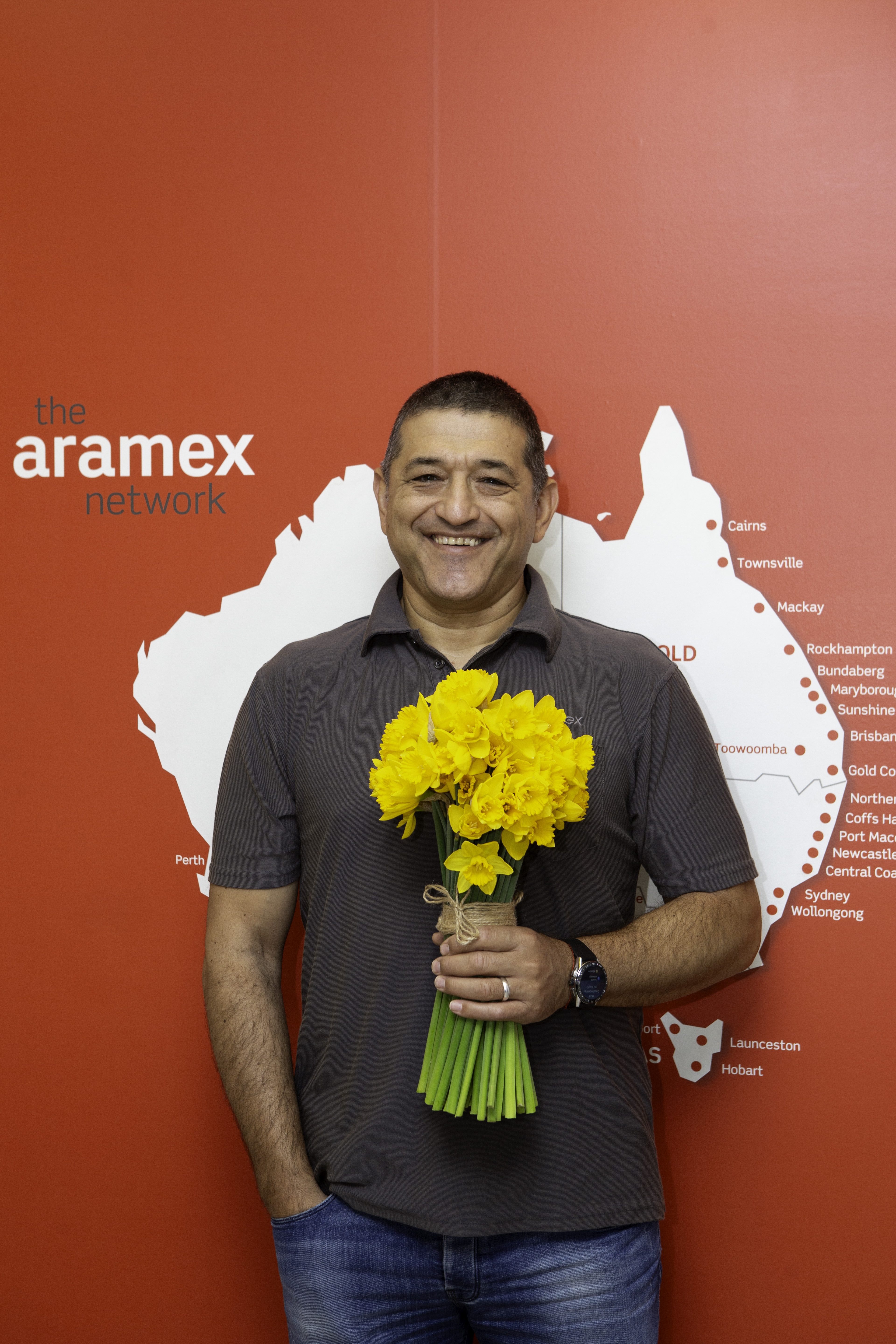 MEDIA RELEASE August 22, 202
CENTRAL COAST BUSINESS DELIVERS FOR DAFFODIL DAY
Central Coast courier Waine Vella has a special motivation to help Cancer Council with its annual spring fundraiser next week.
Daffodil Day (August 31) will be especially poignant for the 43-year-old Aramex courier franchisee who lost his wife Chelsea, aged just 42, to ovarian cancer in March last year.
Mr Vella and their two teenage children were devastated by the loss, which came four years after diagnosis.
"It's been pretty tough but you have to find a way through it," Mr Vella, of Kariong, said.
Aramex Central Coast regional franchisee Louie Dimitrov said he was glad to help Cancer Council ensure thousands of the spring flowers are delivered to the charity's supporters for Daffodil Day.
Having lost his dad to melanoma, Mr Dimitrov is well aware of the terrible toll cancer takes on families and the community.
Aramex's regional vice president (Oceania) Andy van der Velde said the company was absolutely delighted to once again partner with Cancer Council to deliver flowers for Daffodil Day.
"I urge everyone to get behind Daffodil Day and send a message of hope to everyone affected by cancer, or working hard to make it history," Mr van der Velde said.
Cancer Council's Daffodil Day site delivery lead Bobbie Crosland said it was hoped this year's annual fundraiser would generate more than $2.5 million in donations.
"For all that cancer takes, give all you can this Daffodil Day," Ms Crosland said.
"The daffodil is the international symbol of hope for everyone impacted by cancer.
"A big thank you to Aramex for supporting us in delivering our daffodils across NSW.
"Every dollar raised through Daffodil Day helps fund world-class cancer research, saving lives and bringing us closer to a cancer-free future."
Find your nearest Daffodil Day stall: www.daffodilday.com.au/find-a-stall.
Key Facts:
Global delivery powerhouse Aramex is helping Cancer Council deliver flowers for its annual Daffodil Day (August 31) fundraiser
Aramex regional franchisees will deliver thousands of the spring blooms across NSW
Cancer Council hopes to raise more than $2.5 million in donations this Daffodil Day
About us:
Aramex is a global logistics and delivery powerhouse. Serving 29 regions, with more than 1,000 courier franchisees across Australia, we are the courier partner of choice to more than 25,000 customers across the country.
Contact details:
media@aramex.co.nz