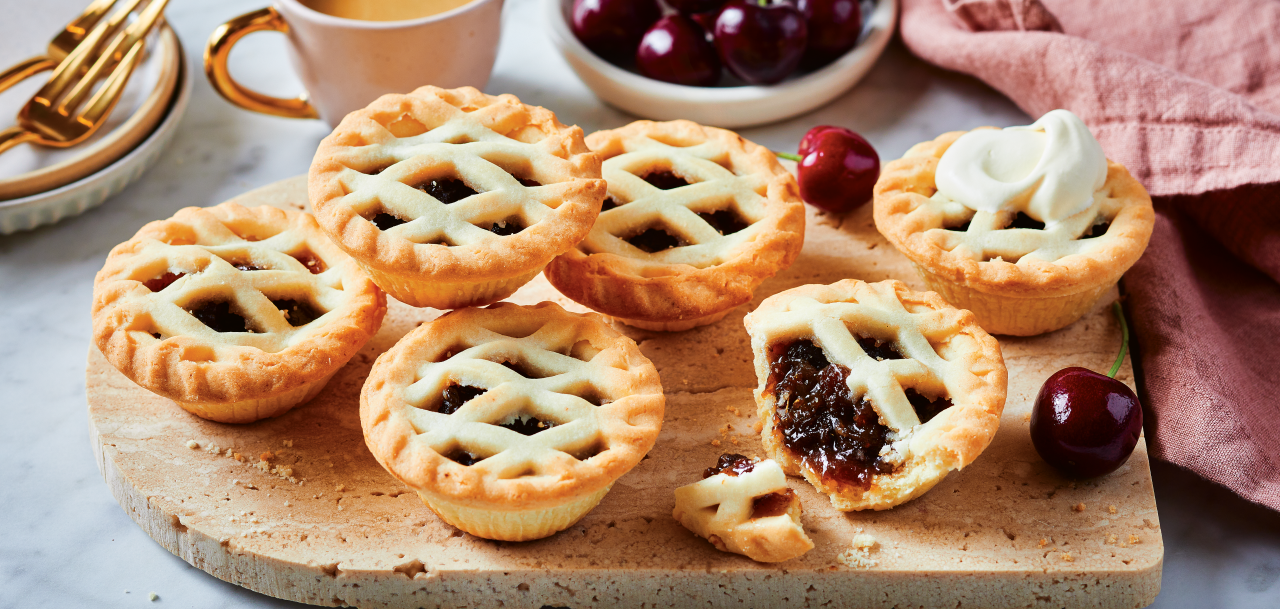 Friday 25 August 2023
COLES GIVES CUSTOMERS A TASTE OF CHRISTMAS EARLY WITH CLASSIC AUSSIE FAVOURITES
Coles customers can start spreading the Christmas joy from Monday, with a diverse range of quality Own Brand products now on offer, suitable for a variety of budgets at a time when Australians are seeking value and ease. ­­­
It wouldn't be Christmas without the classic Coles Fruit Mince Pies and mouth-watering Christmas Pudding and this year, customers can feast their tastebuds on the much-loved staples in new packs.
Now available in a mini 9 pack, Festive Mini Fruit Mince Pies boast an exclusive Christmas tree design, perfect for embellishing the table at any event and melt in your mouth with just two small bites. Mini mince pies will not be without their counterpart, in the regular Fruit Mince Pies 6 pack, the most nostalgic Christmas good that Aussies can't get enough of.
As part of the exciting Christmas range, Coles introduces 20 brand new Own Brand Bakery products that have been carefully crafted by product developers, adding to Coles' largest ever bakery range of 103 Bakery Christmas products – there's something for everyone no matter how they celebrate Christmas.
General Manager Bakery, Kate Roff said "This year we are introducing a mini fruit mince pie 9 pack with an adorable Christmas tree design on top, exclusive to Coles. It doesn't get more festive than that, these delicious morsels are the perfect two bite size and a fantastic addition to jazz up any holiday dessert plate."
Customers will delight in the new Mini Fruit Mince Pies and are expected to purchase more than 10.8 million little pies this Christmas, that's nearly half of the Australian population indulging in the tasty sultanas, apple and citrus flavours this Christmas.
Last year, Coles sold 40% of Fruit Mince Pies before December alongside the all-time favourite Christmas dessert, the Christmas Pudding, which 50% sold before December and over approximately 1 million puddings were snapped up by keen consumers.
Coles has also decked the aisles with the traditional Coles Christmas Pudding, made with juicy vine fruits and hints of citrus, mixed spices and a dash of brandy. Available in both 110-gram and 700-gram packs, the Christmas Pudding is a nostalgic favourite that shoppers relish in each year and can't go past.
Last year, shoppers purchased 50% of Christmas Puddings before December and over one million delicious puddings were bought in total, and the expectation is no different this year, with customers set to delight in the divine, fruity sensation like never before.
"We're so proud of this range and to be offering customers a variety of traditional and new products. We just had to let our customers try them as soon as possible, we know they love to try these in the months leading up to Christmas and this early range can help people stagger their costs leading up to the big day as well," Kate said.
-ends-
For further information, please contact: Coles Media Line (03) 9829 5250 Or media.relations@coles.com.au
Imagery can be downloaded from the link here
MORE HIGHLIGHTS FROM THE RANGE
Coles Festive Matured Christmas Pudding 700g Is perfect for Christmas entertaining, made with traditional ingredients that customers know and love, before being matured for nine months to give it a rich, intense flavour.
Coles Festive Apricot & Peach Pies 6pk Seasonal summer stone fruit and sultana filling, encased in a buttery shortcrust pastry, perfect for elevating any occasion.
Coles Festive Apple & Rhubarb Pies 6pk A classic sweet apple and tart rhubarb fruit filling, finished with a tasty, buttery shortcrust pastry.
Coles Festive Chocolate Pudding 100g A rich and indulgent self-saucing sponge pudding, with delicious chocolate that oozes with flavour every bite.
Coles Festive Salted Caramel Pudding 100g Rich and indulgent, this self-saucing sponge pudding is perfect for those with a sweet tooth and melts in the mouth with each spoonful.
Coles Festive Raspberry & Vanilla Pudding 100g Utterly addictive, this melt in your mouth dessert will treat your tastebuds with a pop of raspberry mixed in with classic vanilla flavours.
Coles Festive Chocolate Pudding 500g A crowd favourite, oozing with rich chocolate, this dish is perfectly accompanied by a scoop of Coles' vanilla bean ice cream.