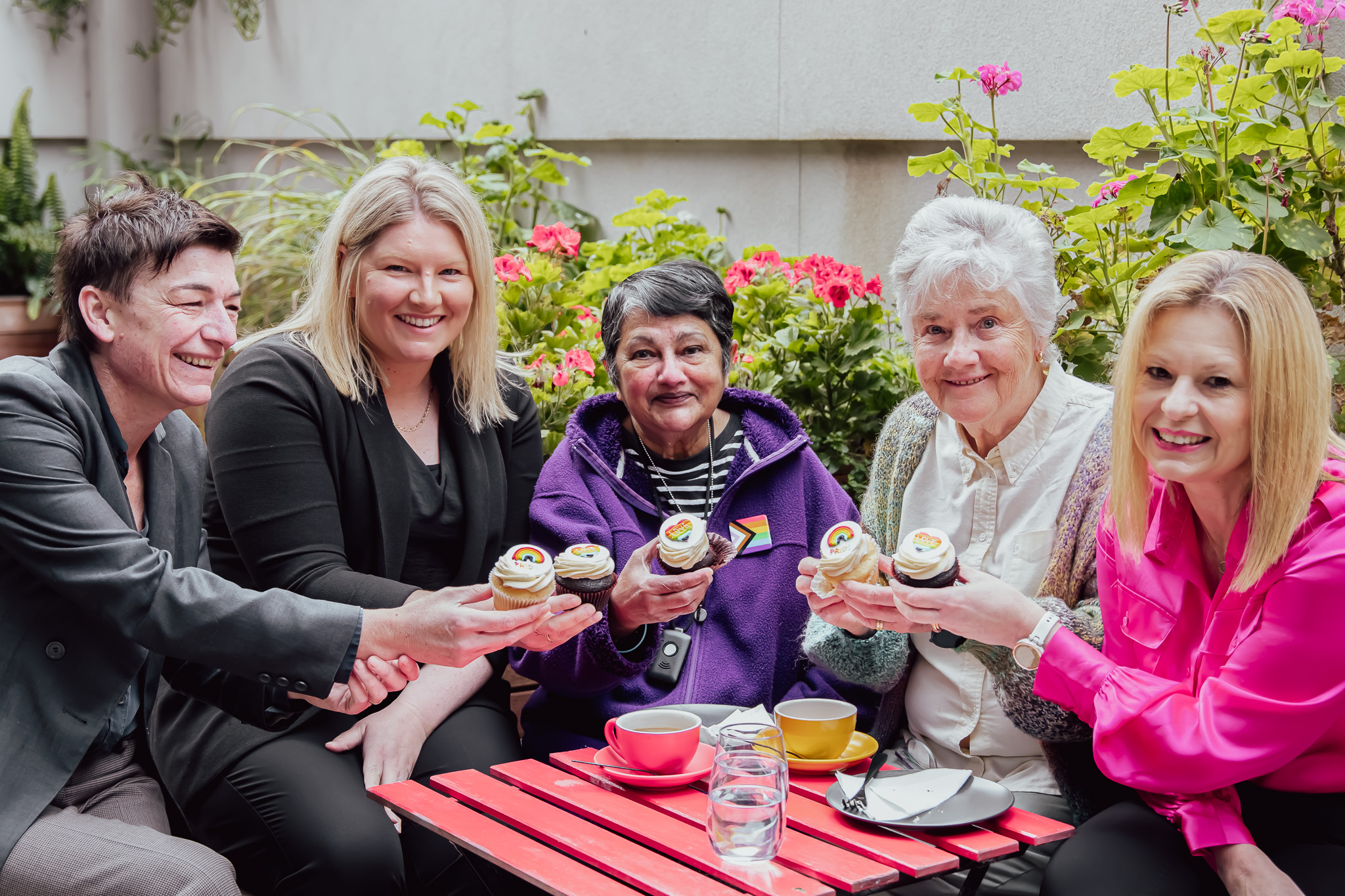 Dementia Australia, Lifeview, and the Victorian Pride Centre are excited to announce the launch of Memory Lane Café – Victorian Pride Centre.
This innovative program will provide a safe and inclusive space for people from LGBTIQ+ communities living with dementia and their carers, by creating a pop-up café in which participants can socialise while enjoying refreshments and entertainment.
Research highlights the prevalence and impact of social isolation and stigma experienced by people living with dementia. The successful Memory Lane Café program led by Dementia Australia, which has been embraced across the country, is changing this narrative.
Dementia Australia National Patron Ita Buttrose AC OBE said for many people living with dementia, attending traditional social functions can be challenging.
"The new Memory Lane Café – Victorian Pride Centre will provide a welcoming, relaxing and fun venue for people living with dementia, and their carers, to meet, interact and foster meaningful connections within the community," Ita said.
"Creating safe and inclusive social environments is tremendously important for all people impacted by dementia.
"I congratulate Lifeview and Victorian Pride Centre for their recognition of the need for this Memory Lane Cafe and their invaluable support in making this initiative a reality."
Dementia Advocate, Anne Tudor OAM, 2021 Victorian Senior of the Year said elders in our LGBTIQ+ community impacted by dementia will be delighted to hear we now have a magnificent, dedicated, safe, space for Memory Lane Cafes, run by Dementia Australia and generously supported by Lifeview and the Victorian Pride Centre.
"It will provide much comfort for members of our community, young and old, to know the Café will be supported by kindred spirits at our Pride Centre."
"By establishing a Memory Lane Café at the Victorian Pride Centre, we recognise and highlight that there are members of our community both living with dementia or caring for someone with dementia," said Justine Dalla Riva, CEO of Victorian Pride Centre.
"As Australia's first purpose-built centre for LGBTIQ+ people, we understand the power of creating spaces where people can share their lived experience and build connections in a welcoming and inclusive environment.
"We're proud to collaborate with Dementia Australia and Lifeview on a project that addresses the barriers LGBTIQ+ individuals face when accessing mainstream spaces and bridges the gap of social isolation for those living with dementia in LGBTIQ+ communities."
Lifeview CEO Samantha Jewell shared her enthusiasm for the initiative.
"Establishing a Memory Lane Café at the Pride Centre has long been a vision for us, especially as a Founding Major Partner of Pride Centre and Rainbow Tick accredited provider of residential aged care," she said.
"We are excited to see this vision come to life, and we welcome people living with dementia and their support persons to join us on this journey."
How to attend the Memory Lane Café – Victorian Pride Centre. The Memory Lane Café – Victorian Pride Centre will commence in September. The event is free to attend, and bookings are essential. Call the National Dementia Helpline on 1800 100 500 or email vic.memorylanecafe@dementia.org.au to find out more or to register your interest in attending.
Dementia Australia is the source of trusted information, education and services for the estimated more than 400,000 Australians living with dementia, and the more than 1.5 million people involved in their care. We advocate for positive change and support vital research. We are here to support people impacted by dementia, and to enable them to live as well as possible. No matter how you are impacted by dementia or who you are, we are here for you.
For support, please contact the National Dementia Helpline on 1800 100 500. An interpreter service is available. The National Dementia Helpline is funded by the Australian Government. People looking for information can also visit dementia.org.au.
Lifeview delivers innovative, award-winning care and wellness through four homes in Melbourne's south-eastern suburbs. With a model that is a world away from the "traditional nursing home model", Lifeview residents are afforded an industry-leading social and lifestyle program, exceptional care and wellness, and delicious and nutritious meals prepared by qualified chefs. Lifeview is pet-friendly, with residents encouraged to bring their beloved pets into the home when they join the community. And as a proudly Rainbow Tick accredited organisation, Lifeview is inclusive and welcoming. Learn more about the Lifeview difference at www.lifeview.com.au
The Victorian Pride Centre is Australia's first purpose-built hub for LGBTIQ+ communities. Our purpose is to connect, support and amplify LGBTIQ+ voices, resources, services and groups so that our communities are cohesive, resilient and thrive. We are home to important resident organisations, vital healthcare services, and inspiring spaces for social connection. Find more about the Pride Centre on our website.
-Ends-
Media contacts: Christine Bolt, Dementia Australia 0400 004 553, christine.bolt@dementia.org.au | Cody Winnell, Lifeview 0499 440 471, cwinnell@lifeview.com.au | Max Hayward, 0425 519 903, Max.Hayward@pridecentre.org.au
When talking or writing about dementia please refer to Dementia-Friendly Language Guidelines.
Contact details:
Christine Bolt, Dementia Australia 0400 004 553 christine.bolt@dementia.org.au

Cody Winnell, Lifeview 0499 440 471, cwinnell@lifeview.com.au

Max Hayward, 0425 519 903, Max.Hayward@pridecentre.org.au