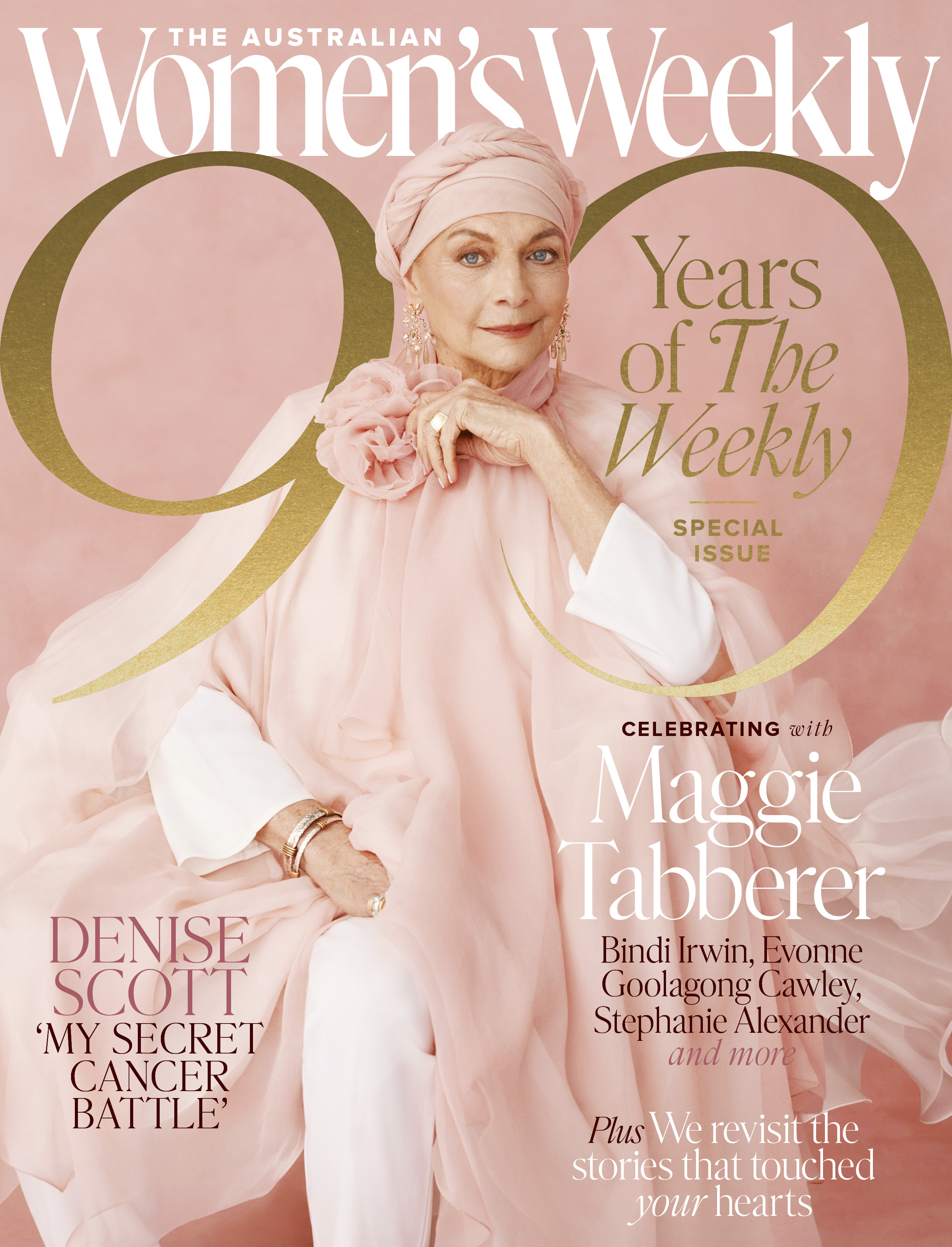 Under Strict Embargo until Thursday 10 August 12.01AM
Beloved comedy legend opens up to the Australian Women's Weekly about how not even chemotherapy could stop her filming her new show
Media Assets here
Unbeknownst to her fans and many in the industry, Australian TV icon, Denise Scott, has been battling breast cancer for over six months, undergoing rounds of exhausting chemotherapy and radiotherapy, while continuing to work 12-hour days on her new ABC series.
Denise has entrusted her story exclusively to The Australian Women's Weekly for whom she writes a popular column. In a moving interview in the magazine's September issue, on sale August 10, she speaks openly about her diagnosis and the agonising choices she faced.
"I learnt the result on a phone consult. It was all just a shock," she confides. "I saw a surgeon and said, 'I can't do any of this. I'm going to Sydney to film!'"
Denise, 68 – the former star of Studio 10 and Winners & Losers, and an award-winning comedian – was days away from starting work on a reimagined ABC production of Mother and Son, the Ruth Cracknell and Garry McDonald comedy classic that ran for six seasons between 1984 and 1994.
Her doctor insisted she'd have to begin chemotherapy immediately, as the type of cancer she had, HER2-positive, was particularly aggressive, but Denise couldn't bear to pull out of the TV production.
"I don't know who first suggested I try to do both, which in hindsight was insane. I think it was me. I was thinking 'I don't want to shut this whole production down,' and also thinking, 'I want to live!'"
Incredibly, she and her partner John decided to move from their home in Melbourne to Sydney, where Denise endured 12-hour filming days, punctuated by doses of chemo.
"On set, there was so much fear of the unknown, feeling sick and thinking, 'I'm not going to get through this next hour,'" she told The Weekly.
Australian Women's Weekly editor-in-chief Nicole Byers, was deeply moved by Denise's brave journey.
"Denise has a long history with The Weekly and we are honoured that she agreed to share this deeply personal story with our audience," she said. "It's impossible not to be touched by the courage and determination she's shown, all while retaining her famous sense of humour."
Denise's treatment is due to continue for another nine months, and she's confident of making a full recovery. "The prognosis has continued to be good," she said. "There's a lot of hope."
The traumatic last few months have, however, made Denise reevaluate her life.
"It's been very humbling, in that I thought I'd be a terrific person in my own health crisis – upbeat, positive, taking it on the chin," she said. "Oh no! I've complained to John all the time."
"I do console myself that at least I've lived a full life that I'm happy with," she reflected. "But, oh, I don't want to go yet. There are things I want to do. I've realised that my work has been who I am, and that perhaps I've been ignoring other parts of life for quite a long time. So I want to rectify that, see more of my grandson. I want to do some gardening. I want to travel. I want to keep doing comedy and writing too, of course. But first, I want to get well."
Please include a link to Denise Scott exclusive interview here also featured in the September issue of the Australian Woman's Weekly, on sale August 10. Mother and Son debuts on August 23 on the ABC.
-ENDS-
For more information:
Marlene Richardson | GasbagPR
0409 888 218
ABOUT DENISE SCOTT
Denise Scot AM was born in 1955 and has been a stalwart of Australian TV for over 30 years, with regular appearances on Spicks and Specks, Good News Week, The Glass House and Have You Been Paying Attention? The mum of two played Trish Gross in Winners & Losers and, in 2019, competed in Dancing with the Stars. She and her partner John live in Melbourne.
About Are Media
Are Media is Australia's leading omnichannel content company for women. Every day we influence, inform, inspire, and connect with six in 10 Australian women across magazine media, digital, video, social, e-commerce, customer review sites, podcasts, events and experiences. Our brands include The Australian Women's Weekly, Better Homes & Gardens, Woman's Day, Marie Claire, TV WEEK, New Idea, Now to Love, Australian Gourmet Traveller, BEAUTY/crew and ELLE that create content Australians love.
Through our Change AREgenda we drive meaningful and positive change for women through legislative change. Be Captivated.
For more information visit aremedia.com.au
Contact details:
Marlene Richardson, GasbagPR 0409 888 218