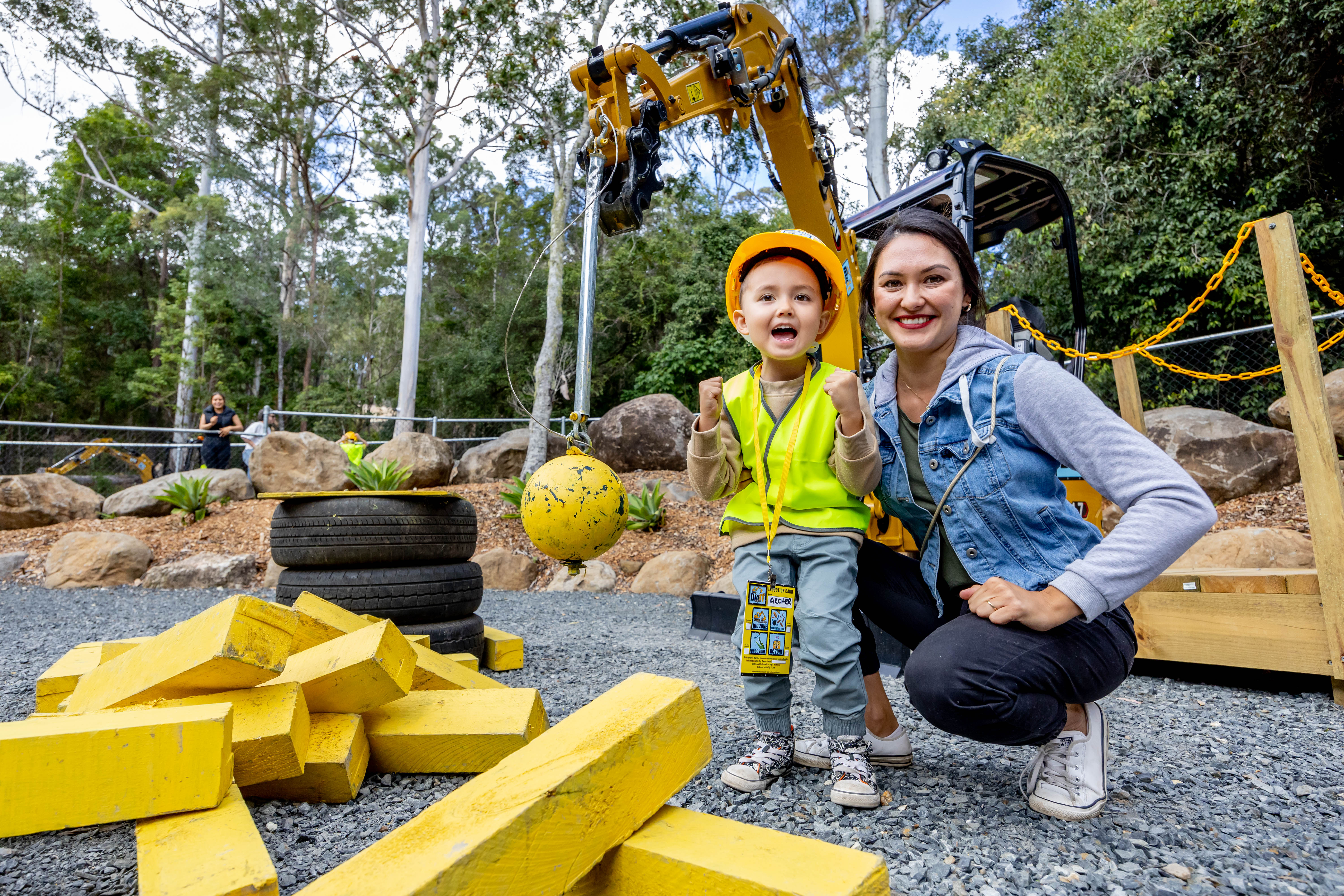 Introducing: Buckets, Chase, Digby, Skittles, Miley, Banger, Rex, Crusher and Tilly!
The nine mini-excavators at Dig It on Tamborine Mountain that have captured the imaginations and hearts of kids across Australia are no longer known as numbers, they all now have names.
After opening like a wrecking ball in May, Dig It, Australia's first ever mini-excavator park just an hour from Brisbane and the Gold Coast in the Scenic Rim, called on construction crazed kids of Australia to name their nine machines, with each namer becoming part of the park's first official Construction Crew! And the kids answered Dig It's call!
"Amazing name suggestions have come in from all over the country," said Dig It co-founder Kate Keegan. "It was such a job to choose the nine names, there were so many fantastic ideas from kids. We want to send a huge Dig It thank you to everyone who sent in suggestions, and those who also added drawings!"
Here's the official names:
The Dig Zone
#1 Buckets Namer: Sally Merrifield
#2 Chase Name: Ben Harvey Ormeau
#3 Digby Namer: Erika Howes
The Demo Zone
#4 Skittles Namer: Bryce Bryer
#5 Miley Namer: Sophie Norman
#6 Banger Namer: Idris Grimsey
The Claw / Croc Zone
#7 Rex Namer: Savannah Brown
#8 Crusher Namer: Keira Pritchard
#9 Tilly Namer: Riley Daly
At Dig It, kids graduate from the sandpit to the driver's seat and operate their own mini-excavator, just like a real construction worker, in an outdoor construction zone on a mountain famous for rocks, and at a place that's legendary for families, Thunderbird Park!
DIG IT has been custom-designed for both children and their parents who love to play (who doesn't?), featuring a range of activities that are fun, educational and engaging, kids learning about the construction industry, earthworks, engineering, building, the importance of safety, and teamwork. And there's not an iPad or Screen anywhere! Starring nine magnificent CAT mini-excavators that have been built right here in Queensland, the DIG IT experience is a two hour, never-to-be-forgotten adventure in the driver's seat - bookings ARE NOW OPEN here
Dig It during the School Holidays
Saturday 16 September to Sunday 1 October – seven days a week
Monday 2 October to Sunday 8 October – Tuesday, Wednesday and Friday, 1030am 1230pm sessions
DIG IT - Australia's first mini excavator park for kids
Thunderbird Park – Tamborine Mountain Road, Tamborine Mountain, Scenic Rim Queensland
2 hour sessions - $45 per participant | BOOKINGS and website here | Call 1800 00 DIGIT
Accommodation and campaign available at Thunderbirds Park HERE
For media enquiries, images and more please contact Kath Rose | 0416 291 493 | kath@kathrose.com