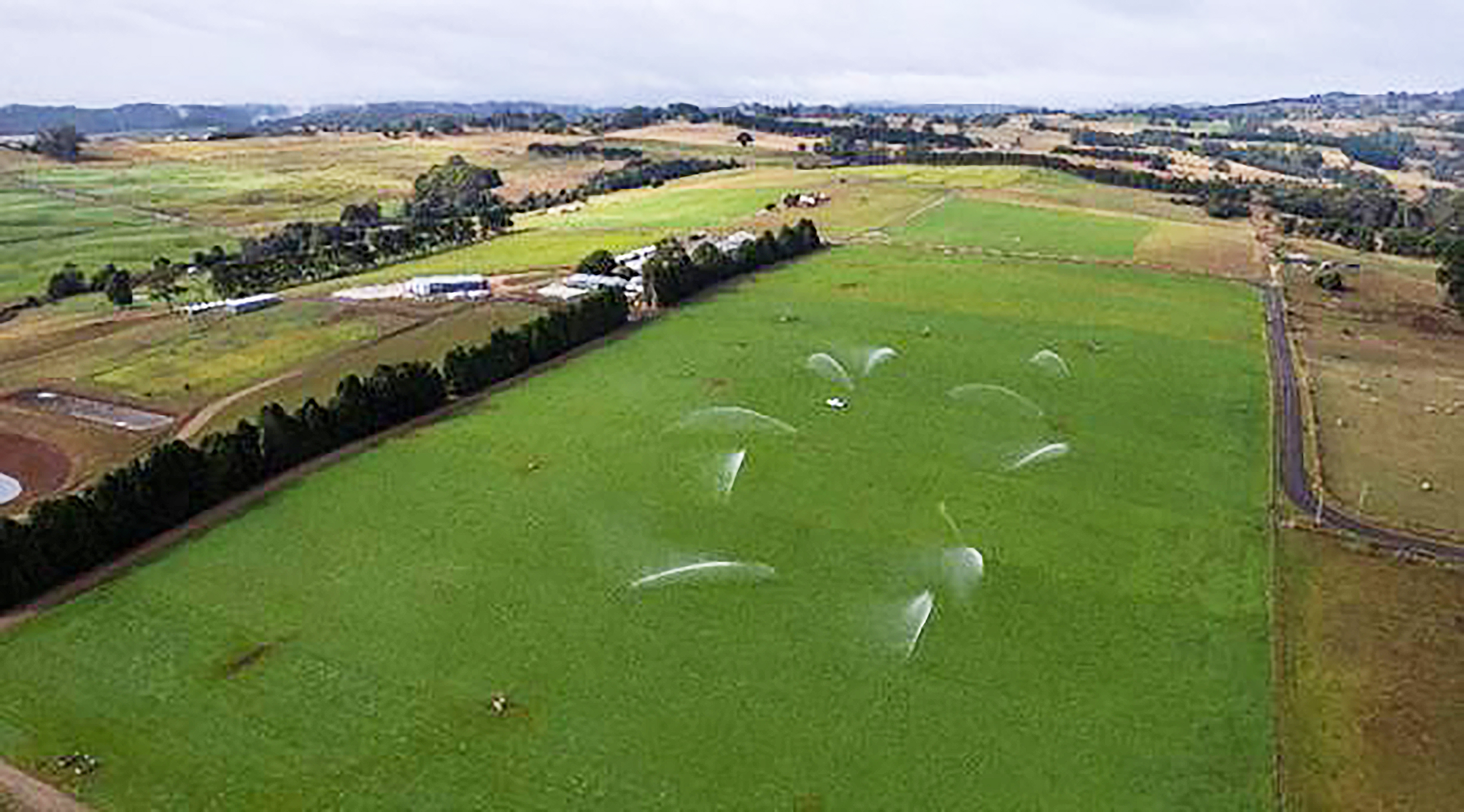 An automated irrigation system from Water Dynamics is helping Tasmania in its goal to lead the nation in research and innovation to support the productivity, sustainability, and future of the dairy industry.
The farmlet system involved in the Tasmanian Institute of Agriculture's (TIA's) TDRF (Tasmanian Dairy Research Facility) at Elliott in Tasmania's north west is among the ongoing projects supported by the Tasmanian Government as part of its target to grow the State's annual farm gate value of agriculture to $10 billion per year by 2050.
"The major scale of the upgrades taking place at TDRF are part of a $7.8 million joint investment by the Tasmanian Government and the University of Tasmania to support the success of TIA research farms," says Water Dynamics' National Operations Manager, Andrew Summerton.
The TDRF upgrade includes a 50-bay rotary dairy, a new 12.5 megalitre effluent dam, and a boost to irrigation water storage capacity in one of the dams, from 24 to 115 megalitres.
The increased water storage capacity is distributed by 11 kilometres of underground pipeline installed by Water Dynamics to irrigate 32 hectares of previously unirrigated land for farmlet trials.
Four farmlets, or 'mini farms' are being established, each with eight 1 ha paddocks to enable the TIA team to test research hypotheses under real farm conditions and ensure the results provide practical solutions for farmers.
"Fine control of irrigation system is essential to the function of the farmlets, so we had to combine a system that was simultaneously capable of extensive water reach over the area, as well as elegantly simple automation system to ensure fingertip control by PC or smartphone," said the Water Dynamics Longford branch.
Based on its extensive experience of ensuring sustainability and productivity in major irrigation areas – including those of Tasmania, Mt Gambier, Mildura, Yarrawonga and the Northern Territory – Water Dynamics employed a Goldtec DREAM 2 system, which is a next-generation central control system. It allows combining various technologies to suit each project's specific need.
"It is an Internet-enabled controller system, so the user can control everything from a PC or Smartphone, which is essential on a widely varying and extensive project such as this," says Andrew. "The automation system can handle multiple irrigation heads installed on the TIA project, enabling the user to manage medium-to-very-large projects with many irrigation lines using a single controller. Such a flexible system – employing user-changeable network definitions – is important to an irrigation system as sophisticated and extensive as the TIA project."
The system installed by Water Dynamics – which is now successfully in service – includes:
11km of PVC and polypipe which needed to be installed to a tight schedule, using the latest technology, including Water Dynamic's latest trenchers based in Tasmania and its

Ritmo plastic welding plant to help ensure larger and more secure infrastructure

A new pump shed and high-efficiency pump from the global Caprari Group, active in 96 countries, including a branch in Australia. Caprari is part of

WATERALIA, a partnership between Caprari and AMBIENTA, one of Europe's largest asset managers entirely focused on environmental sustainability – a factor vital to the TIA project.

187 Toro Perrot PS2 piston-drive sprinklers with a maximum throw of more than 50m and high rotation speeds that can be adjusted as required, between 50 - 120 seconds for a 180° arc which can be adjusted for part circle (30-330°) and full circle (360°) operation. The fully enclosed piston drive system presents a smooth, vibration-free continuous rotation with high reliability and reduced watering time.

43 Netafim control valves operated by the Goldtec control system, through remote terminal Units (RTU) solenoid valve configurations. Solenoid valve advantages including fast response time, lower power consumption, remote operation, extremely fast open and shut times, vertical and horizontal application, and safety external leakage block.

Overall system control capable of handling multiple irrigation lines with flexible and user-changeable network definitions. The system's large pool of irrigation programs each contain the sequence of participating valves, water and fertiliser dosage, operation timing and conditions. Valves can be irrigated individually or in groups defined as library groups or single use groups.
FIFO teams assistance
"This was a complex job," said Andrew. "One of the challenges was the sheer size of the area and being able to co-ordinate work within it to efficiently complete the job in a short timeframe needed by the customer. The project needed to happen time-efficiently in order to secure millions of dollars' worth of government funding, so time was of the essence."
"Fortunately, we had a strong, well-equipped Tasmanian team on the ground and experienced in working in the customer and State regulatory framework. This undoubtedly saved time, and we also had pools of expertise in other Water Dynamics branches which we could draw to bolster resources as needs arose."
In order to complete the job within such a short timeframe – four months to April 22 last year – Water Dynamics' service technicians from its Yarrawonga branch were flown in to assist in moving the project along.
"With site being a two-hour drive from the local Longford branch, we had some staff travelling four hours a day to ensure deadlines were met. Work was fast-tracked to ensure the farm was operational for the start of the milking season in August to enable a five-year research program that has been co-funded by Dairy Australia".
The TIA's $6.5 million Dairy HIGH 2 (high integrity grass-fed herds) project will focus on pasture-based dairy systems and seeks to address industry challenges and opportunities to achieve highly productive and profitable dairy operations that are sustainable into the future. It is a five-year partnership of strategic importance to Australia's dairy industry.
"The research at Elliott has become more relevant over the past 12 months, with high input costs and the need to better understand major nutrients like nitrogen," Dairy Australia Managing Director, Dr David Nation said.
Andrew Summerton said Water Dynamics was greatly assisted in bringing the project to fruition by a close partnership with TIA, plus an extensive experience in major sustainability projects nationally and in Tasmania (including the Macquarie Settlement partnership, which also is fully operational this year).
He said the TIA project will help transform knowledge of agriculture, food production and post-farmgate practices, to the sustainable economic benefit of Tasmania and farmers further afield.
"Sustainable use of water plays an absolutely critical part in ensuring the viability of farming not only in Tasmania, but also throughout Australia and globally.
"Whether we will all have to address water scarcity is no longer a question: it is a given. This applies whether the projects in which we are involved are individual farms or agribusinesses, or farsighted industry projects such as this TIA initiative."
About us:
For more than 30 years, Water Dynamics has been Irrigating Australia. We provide irrigation and water management solutions to homes and gardens, dairy farms, paddocks, broadacre crops, horticulture crops, and football fields across Australia. As the world's driest inhabited continent, irrigation in Australia is vital for the sustainability of our water and food supply, our health, and the long-term sustainability of our export market.
Contact details:
Jack Mallen-Cooper
PR Consultant - Whyte PR
whytepr@whytepr.com.au
(02) 9901 4306