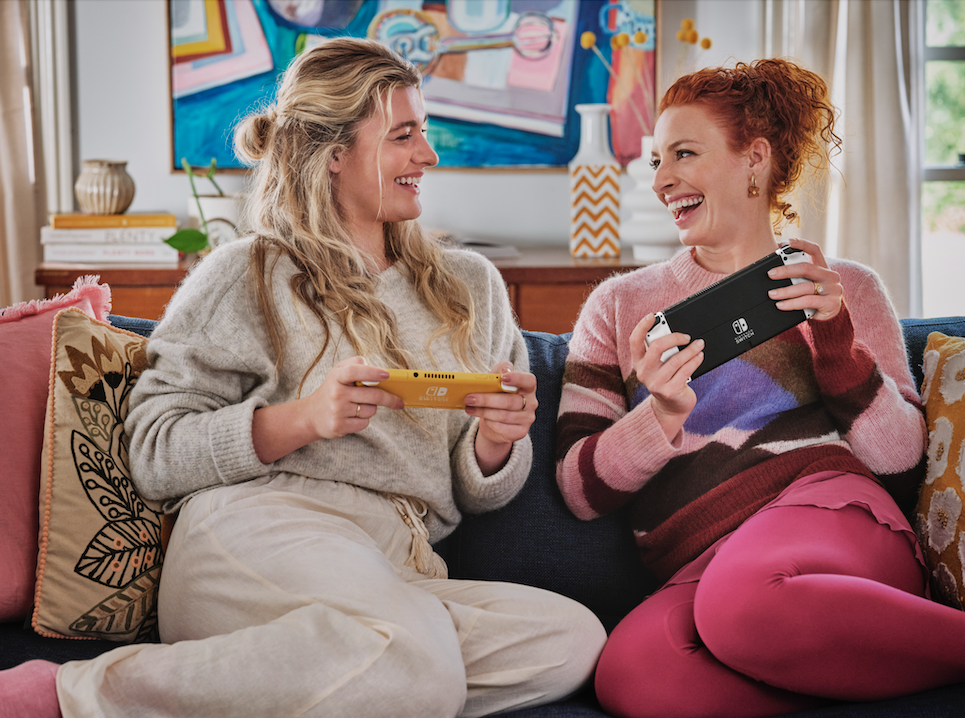 2nd August 2023 - Nintendo Australia has today announced that multi-talented Australian children's entertainer, singer, actress, and dancer, Emma Watkins, is the latest celebrity to appear in a brand campaign for Nintendo Switch.
In the new campaign, Emma shows how Nintendo Switch plays a role in her busy lifestyle, with games such as Ring Fit Adventure, Animal Crossing: New Horizons, and Pikmin 4 providing opportunities to relax and have fun around her work and touring schedule.
An avid fan of Nintendo Switch, Emma says "It's been such a thrill to partner with Nintendo Australia for this campaign and show how these games, and Nintendo Switch, form a part of my home routine and help me to relax and unwind by myself and with family. Sharing the fun with my husband and sister has been great too!"
The commercials also feature Emma's sister, Hayley Watkins, and her husband, Oliver Brian, in supporting roles. The first TV commercial, featuring Ring Fit Adventure and Animal Crossing: New Horizons is out now.
Check out the first Nintendo Switch commercial featuring Emma Watkins and her sister Hayley here: Unwind and connect with Emma and Hayley Watkins.
Assets: Link
Additional Links:
Nintendo Switch website: https://www.nintendo.com.au/nintendo-switch-family
Nintendo Australia website: http://www.nintendo.com.au/
Nintendo Australia Twitter: https://twitter.com/NintendoAUNZ
Nintendo Australia Facebook: https://www.facebook.com/NintendoAUNZ
Nintendo Australia Instagram: https://www.instagram.com/nintendoaunz/
Nintendo AU on YouTube: http://www.youtube.com/nintendoau
About us:
About Emma Watkins
Dancer and filmmaker Emma Watkins began her performance career early from the age of 3, nurturing her love of dance and movement, performing ballet, Irish, hip-hop, tap and contemporary dance. After dancing in productions around Australia, France, India, Canada, China and New Zealand, Emma joined Australian children's entertainment group, The Wiggles.
Emma's passion for movement and body expression expanded to an interest in sign language and raising awareness of Australia's Deaf community since she was young. Ever since, Emma pursued studying sign language, completing her Diploma of Auslan (Australian Sign Language) and currently studying a Diploma in Interpreting at Deaf Connect and her PhD at Macquarie University in Sydney, focusing on the affective, artistic integrations of sign language, dance and film editing.
Further information on Ring Fit Adventure:
Ring Fit Adventure is a unique type of adventure game only available on Nintendo Switch, using real-life exercises to traverse the world and defeat the monsters and minions you meet along the way. Two accessories, the Ring-Con and Leg Strap, precisely measure your real-world actions and turn them into in-game movements. With additional minigames and customisable full-body workout routines, Ring Fit Adventure is a great escape for players of all skill and fitness levels and schedules.
Ring Fit Adventure offers its players challenging and fun workouts that you can do from the comfort of your own home, tracking your progress as you go. The game can be tailored to anyone – whether you're just starting out on your fitness journey or whether you already frequent the gym, you can change the difficulty level to suit you and ensure that you get a sweat on.
Unlike other at-home workout options, Ring Fit Adventure progresses you through a visual world, giving you an immediate result from your hard work, whether that be running faster by lifting your knees up higher or increasing the damage on a minion by completing an exercise perfectly. Throughout the game you'll receive constant tips to help you to complete the exercises correctly to prevent injury as well as tricks on how to lead a healthier lifestyle, with frequent reminders to stay hydrated and check-ins to see how you're feeling.

Further information on Animal Crossing: New Horizons:
Escape to a deserted island and create your own paradise as you explore, create, and customise in the Animal Crossing: New Horizons game. Your island getaway has a wealth of natural resources that can be used to craft everything from tools to creature comforts. You can hunt down insects at the crack of dawn, decorate your paradise throughout the day, or enjoy sunset on the beach while fishing in the ocean. The time of day and season match real life, so each day on your island is a chance to check in and find new surprises all year round.
Show off your island utopia to family and friends—or pack your bags and visit theirs. Whether playing online* or with others beside you**, island living is even better when you can share it. Even without hopping on a flight, you'll meet a cast of charming animal residents bursting with personality. Friendly faces like Tom Nook and Isabelle will lend their services and happily help you grow your budding community. Escape to your island getaway—however, whenever, and wherever you want.
*Internet connection required during online play. To use online services, you must create a Nintendo Account and accept the related agreement. The Nintendo Account Privacy Policy applies. Online play requires paid online membership.
**Additional games, systems and/or accessories may be required for multiplayer mode. Games, systems and some accessories sold separately.
Further information on Pikmin 4:
Meet Pikmin: small, plantlike creatures with distinct abilities that you can grow, pluck, guide, and overpower enemies with! Use your Pikmin's miniature might (and a bit of strategy) to explore this mysterious planet in search of your crew—and treasure.
Together with Pikmin, spirited helpers that might be small in stature but boast strength in numbers, players will explore, hunt for treasure in vast areas, battle wild critters, solve puzzles and rescue the stranded travellers.
Oatchi, the adorable Rescue Pup, will also join the adventure. This dependable companion can smash obstacles, transport heavy objects and carry both the player and a whole host of Pikmin on his back. Oatchi can learn to jump, doggy-paddle, swiftly rush enemies and more.
About Nintendo:
Nintendo Co., Ltd., headquartered in Kyoto, Japan, has created franchises that have become household names worldwide, including Mario™, Donkey Kong™, The Legend of Zelda™, Metroid™, Pokémon™, Animal Crossing™, Pikmin™ and Splatoon™, through its integrated hardware and software products. Nintendo aims to deliver unique, intuitive entertainment experiences for everyone, manufacturing and marketing video game devices such as the Nintendo Switch™ family of systems, developing and operating applications for smart devices, and collaborating with partners on a range of other entertainment initiatives like visual content and theme parks. Nintendo has sold more than 5.5 billion video games and over 800 million hardware units globally. From the launch of the Nintendo Entertainment System™ more than 30 years ago, through today and into the future, Nintendo's continuing mission is to create unique entertainment that puts smiles on the faces of people all over the world. A wholly owned subsidiary, Nintendo Australia Pty. Limited, based in Victoria, serves as headquarters for Nintendo in the Australia and New Zealand regions. For more information about Nintendo, please visit the company's website at https://www.nintendo.com.au/.
Contact details:
For all imagery and media opportunities, please contact tide.pr:
Laura Jarrett, Account Manager, laurajarrett@tidepr.co
Aislinn Powell, Account Manager, aislinnpowell@tidepr.co