Exchange Traded Funds (ETFs) have made it easy for Aussies to invest in a wide range of assets. They are a one-stop shop with low fees and instant diversification. Our comprehensive guide sets out how ETFs can be used as building blocks for a portfolio that will help you achieve your financial goals. Plus, the pros and cons of downsizing your home, five ways to future-proof your career and how financial counsellors can help with money pressures. Pick up your copy of the August issue of Money, out now.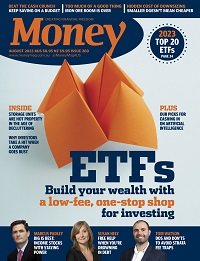 Ten years ago, the Australian ETF industry managed just under $7 billion in funds. Today, funds under management are closer to $143 billion, more than 20 times higher. If you're late to the game, find out why you should be investing in ETFs and how to get started.
In this month's cover story, you'll find:
The top 20 Australian ETFs

How to choose an ETF

The difference between active and passive ETFs

When to build your ETF portfolio
The August issue also features:
Is the grey nomad lifestyle for you?
Being a nomad isn't for everyone. Before you decide to pack up and set off in an RV for months on end, read our checklist on how to prepare financially for the big adventure.
Robots get in on the act
Generative AI is everywhere – including investing. According to the 2023 Investor Index, 20% of investors have already tapped into AI chatbots, such as ChatGPT, for financial advice, while 73% agree AI is able to provide reliable financial advice – or will be able to do so in the future. Of course, the rise of generative AI does come with risks.
Under the influence of fashion
With more than 3000 clients on his books, stylist and influencer Jamie Azzopardi has a team of 13 employees to support him. These days he dresses reality TV stars and models for events such as Afterpay Australian Fashion Week, the entertainment and comic convention Oz Comic-Con and the Melbourne Grand Prix.
Watch out for strata fees when buying an apartment
As the trend towards building high-density homes grows, more Australians are buying into apartments and townhouses. But there are risks that come with buying strata-titled property. Research and due diligence are key.
Top stories from moneymag.com.au:
About us:
About Money magazine
Money is Australia's longest-running, highest-selling and most-read personal finance magazine. Founded in 1999, Money magazine provides credible, independent and easy-to-understand financial information, helping readers to earn more, save more and make the most of their investments.
Money magazine is a Rainmaker Group company.
About Rainmaker Group

The Rainmaker Group was founded in 1992 and has established a reputation as a leading financial services information company in Australia providing market intelligence, industry research, media and publishing, events and consulting services.
Rainmaker produces strategic, tactical, and analytical information about the financial services industry predominantly for superannuation funds, investment managers, financial planners and consumers.
The Rainmaker Group comprises: Rainmaker Information, Financial Standard, FS Aspire CPD, Industry Moves, FS Sustainability and Money magazine.
Contact details:
Julian Clarkstone
P. 02 8234 7514