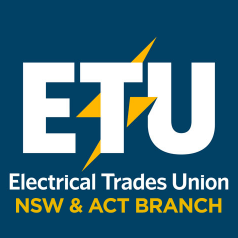 Media alert | 12.01am Thursday 31 August
Evoenergy's failure to offer its workforce a fair pay deal is holding up maintenance work, as Electrical Trade Union members ramp up their industrial campaign with new work bans.
It follows an emphatic rejection by ETU members of the Canberra electricity company's substandard EBA offer. More than 90% of employees participated in the ballot and 73.9% of them voted it down.
The union has implemented rolling switching bans, which will hold up maintenance on poles and wires, and daily work stoppages as members gather outside Evoenergy's Greenway depot for a report back on negotiations.
Who: ETU members and NSW Secretary Allen Hicks rally at Evoenergy depot
When: 7.30 am - 9.30am, Thursday 31 August 2023
Where: Evoenergy depot, Cnr Anketell St & Oakden St, Greenway ACT 2900
Contact: Georgie Moore 0477 779 928 or Peter Moss 0404 895 999
ETU NSW/ACT Secretary, Allen Hicks, said: "It is an indictment on Evoenergy that management has failed for six weeks to come up with an acceptable offer.
"Evoenergy's refusal to come to the table and negotiate a fair deal means that, regrettably, maintenance work on poles and wires will be held up.
"Evoenergy CEO John Knox should listen to workers who have clearly rejected the company's offer which amounts to a cut to real wages.
"The ETU is serious about ensuring Evoenergy workers have pay and conditions that meet the cost of living and are commensurate with their industry peers. The ETU is willing to maintain the pressure for as long as it takes."
Contact details:
Georgie Moore 0477 779 928
Peter Moss 0404 895 999