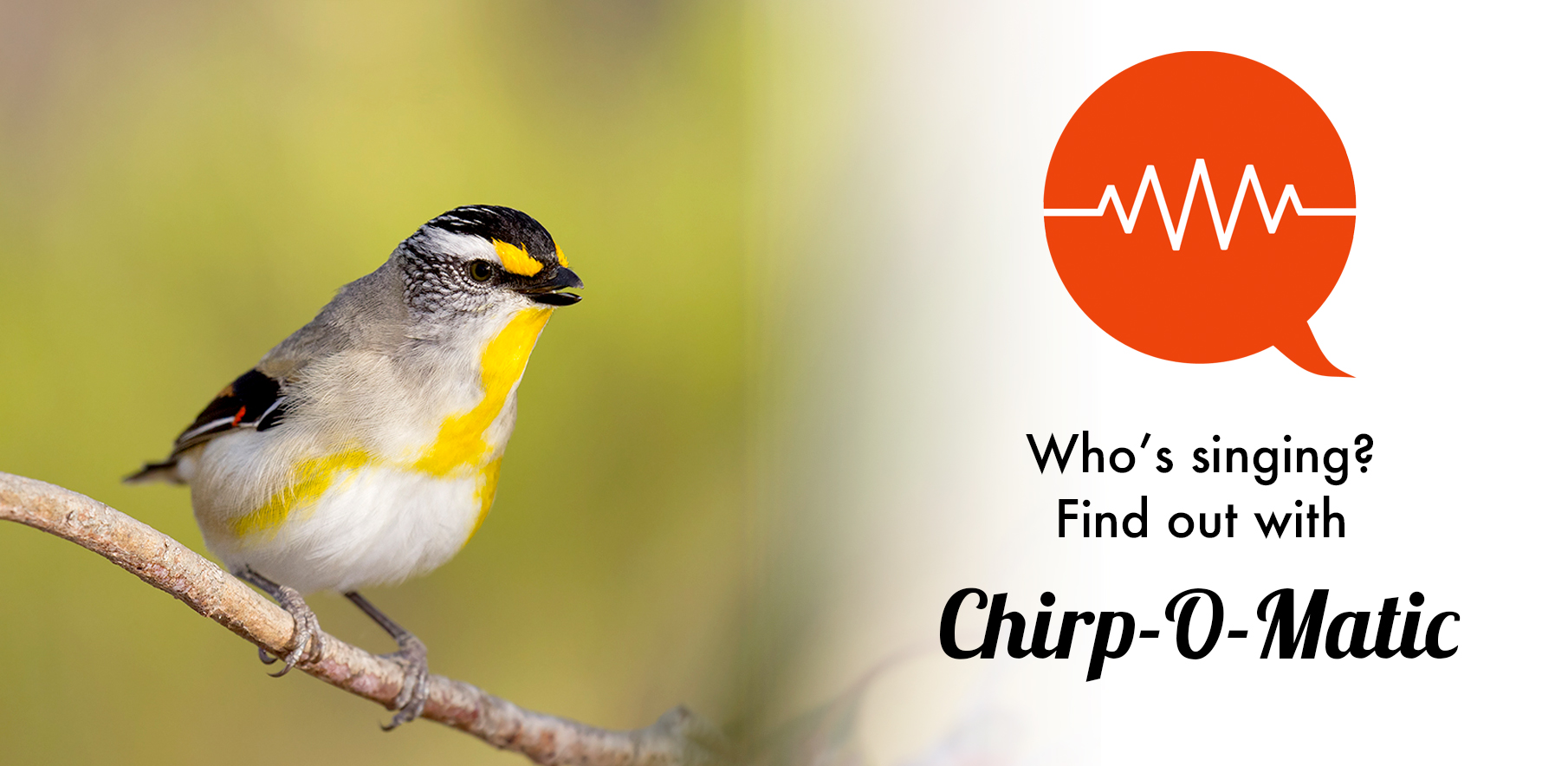 Identifying bird sounds in NSW and Victoria has never been easier

15th August 2023 | Oxford, United Kingdom
UK-based Spiny Software is proud to announce the release of ChirpOMatic Australia, a bird recognition app initially for NSW and Victoria. Intuitive and easy to use, the popular bird song identification app has been a success in Europe and the USA, helping people recognise birds in their backyard or out and about.
First launched in Europe in 2015, ChirpOMatic continues to be the continent's bestselling bird identification app for obvious reasons. Designed for ease of use, 3 simple steps take you from hearing a bird song to identifying the sound and the bird:
One tap opens the app
A second tap records the bird sound for 10 seconds
The app displays the top matches or the exact match
You then have the option of listening to a comparison sound and reading a short bird sound description. It really is that simple, and fun.
Enthusiastic app users rating the app describe it as 'brilliant and ridiculously easy to use', 'amazing', 'reliable' and 'the best bird identifying app there is'.
A welcome addition to Australia, the bird app covers a wide variety of bird sounds, from the short, sharp call of the tiny Weebill to the Brolga's loud trumpeting. In fact, Australia has around 850 species of birds, 45% of them found nowhere else in the world, making ChirpOMatic Australia a must-have for any outdoor lover and smart device user.
Founder Dr. Hilary Lind comments, "We're excited to introduce ChirpOMatic to Australia where bird life is prolific and people are known for their love of the outdoors. We set out to make a bird app that's quick and easy to use with accurate results to help people identify birds in their backyard or out in the bush. Our mission is to make the very best nature apps around, combining our love of birds with cutting-edge mobile technology."
The app's innovative Bird-safe feature makes ChirpOMatic safe to use anywhere, at any time. This built-in feature ensures you can only play bird sound recordings when you keep your device close to your ear without distracting or disturbing the wild birds.
In addition, ChirpOMatic saves your recordings within the app and users can share quality recordings with Spiny Software to help improve the app. Good recordings are shared with Xeno-canto, a website dedicated to sharing wildlife sounds from all over the world.
The jargon-free bird identifier app is available with a free trial for Android devices, and for iOS devices including Apple Watch for a small once-off fee. Excellent customer support ensures a reply within 24 hours. ChirpOMatic Australia can be downloaded from the App Store or Play Store.
About us:
Based in the UK, Spiny Software was founded in 2000 to create intuitive apps that help people learn about the environment in a fun and interactive way. Their innovative bird apps Chirp! and ChirpOMatic have been on Apple's bestselling charts since their launch.
ChirpOMatic is the result of a partnership between biologist Dr. Hilary Lind and computer scientist Dr. Alex Wilson.
Contact details:
For enquiries, contact Dr. Hilary Lind:
Mobile: +44 77 300 36 84
Email: spiny@spinysoftware.com
Website: https://www.spinysoftware.com