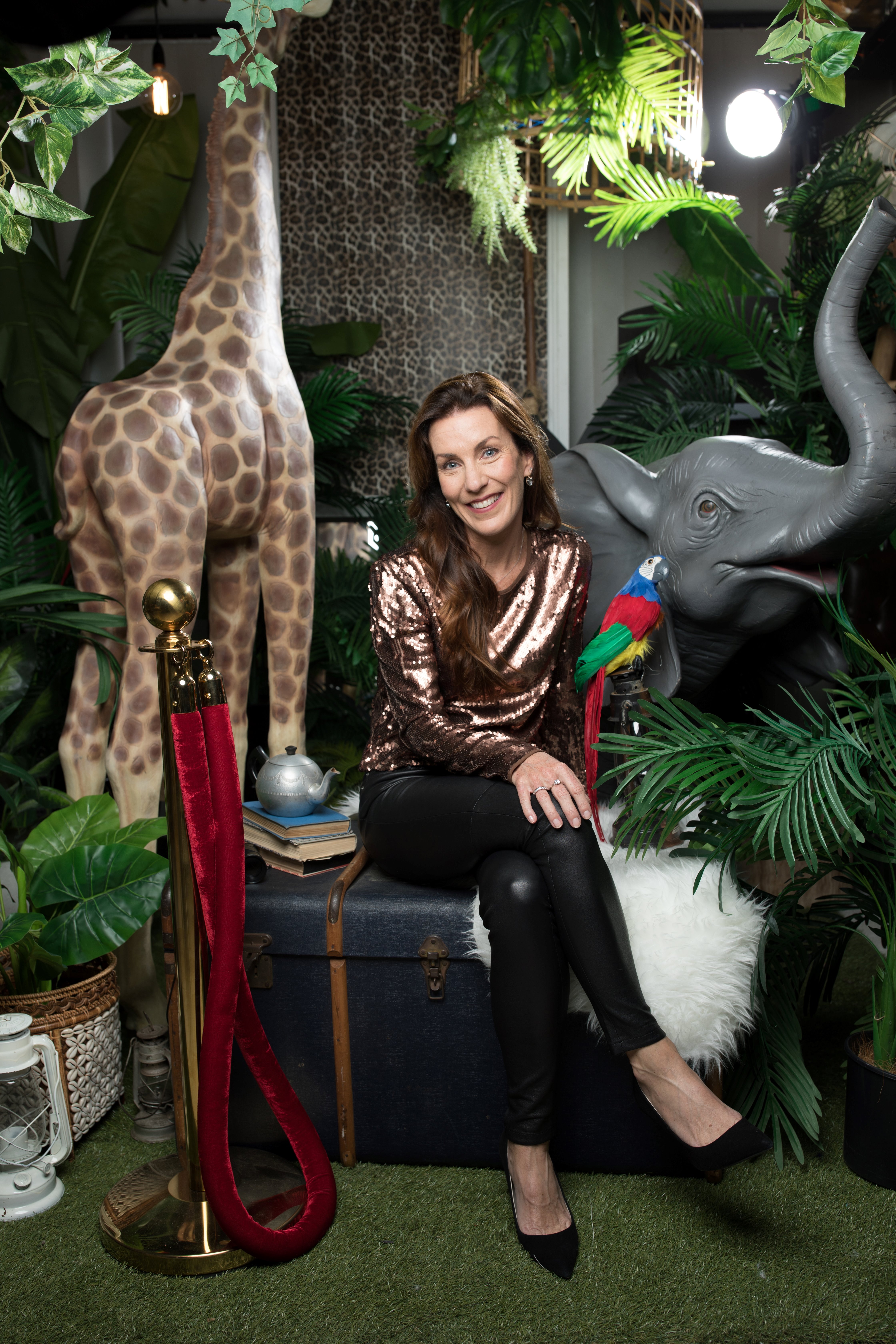 Propped and ready for the next chapter
Introducing The Prop House Collective, Australia's leading event styling, prop hire, visual merchandising and corporate Christmas company, now all under one spectacular roof – and a story of a woman in business who never gave up.
After 35 years in business, Brisbane's Jano Kotzas knows a thing or two about success, and how to keep it happening. This week she has officially merged two of her creative companies in The Prop House and Visual Merchandising Plus (VM+), to create a super-creative hub called The Prop House Collective.
This collaboration marks the beginning of an extraordinary journey, combining award-winning event theming, prop hire, visual merchandising services and commercial Christmas solutions under one roof.
Jano said the merger was a pivotal moment.
"It's time to take our creative endeavours to the next level. With the Olympics here in 2032, the eyes of the world are increasingly on Brisbane, Queensland and Australia, watching every event, how organisations and suppliers create and curate celebrations, and how business is done. We are excited to be a part of this, working in one of the most exciting regions in the world."
Without Jano and her businesses, the Australian events and conferencing industry would not be the powerhouse it currently is, and it would certainly not be as dynamic, as colourful or as well presented.
Over the past 35 years (30 with The Prop House and then Visual Merchandising Plus) she has been involved with the most influential events Brisbane has ever seen. She has created, curated and crafted theming, design, event statements and conferencing experiences for some of the world's most prestigious brands, individual operators and for businesses across the spectrum of industry and has been pivotal in establishing Brisbane on the map as a stunning event venue.
Just some of the names on her client list reflect the level and strength of business she generates: Brisbane Convention & Exhibition Centre, Westfield, Toyota, Treasury Casino, MIRVAC Group, Brisbane Airport Corporation, Business South Bank, Gold Coast Airport, Harbour Town Shopping Centre, Jupiters Casino, The Coffee Club, Queensland Performing Arts Centre, Metro Property Development, Lend Lease, The Myer Centre, Stockwell Development Group, QIC, Gasworks, and Somerville House.
Business success over 35 years does not come easily, and Jano has met many a challenge – as a woman and as a business leader.
In 2011 she faced the January floods when her Montague Road warehouse was inundated, as were so many. While the floods devastated, they also inspired – the Mud Army united to save many businesses including The Prop House. Jano carries this inspiration with her every day.
This was followed by the GFC. Extreme belt-tightening washed over the economy and many clients pulled back budgets. It was a time of learning, business survival and skills adaption for Jano. However, through it all, she has stuck by her childhood dream of building a successful business out of creativity.
Then, when COVID effectively slammed shut the worldwide event industry, and saw the demise of so many event and related companies across the country, Jano kept all 15 full time staff on, with no money coming through the doors, just a belief in tomorrow.
Over this time, she has also welcomed three children into the world and enjoys the support of a wonderful partner; as well as a loyal network of friends. This is the true mark of a successful business woman – the ability to live life with both hats on.
Reflecting on the road to The Prop House Collective, Jano said it took a team, of the right people, and an ability to deliver.
"I believe in building and nurturing real relationships in business, so don't cross people, be honest, pay what you owe, remember names, and be real," she said. "Secondly, delivery in business is vital - do what you say you are going to do every time, take responsibility for your work and employ the right people!"
"And thirdly, creativity is our currency - more heads around a design are better than one and ultimately make a better result, always believe in WOW and go that little bit further!"
THE PROP HOUSE COLLECTIVE
1135 Stanley Street East, Coorparoo
The Prop House - Brisbane prop hire and event theming
The Prop House Collective – A Short History
1995: The Prop House was officially established in McLachlan St, Fortitude Valley. This was also the year that TPH styled the first large-scale themed event to be held at Brisbane Convention and Exhibition Centre.
1998: The Prop House grew and relocated to Merivale St. This is where Jano merged her first business "Jano Themist Extraordinaire" and The Prop House together.
1999 & 2004: The Prop House was enlisted to design and style two major historical suburb launches in Brisbane. North Lakes and Portside Wharf in Hamilton.
2005: The ever-growing company relocated to its third home at Cordelia St Church.
2010: After many happy and successful years in South Brisbane, The Prop House found its 4th home in Vulture Street, Woolloongabba.
2011: The year of the floods. Devastatingly, thousands of homes and businesses were impacted by the intensity of the flooding, including The Prop House. Luckily, our team and community pulled together, spending months rebuilding the damages caused throughout our warehouse and showroom.
2012: A special year; a new business was born in-house. VM+ joined The Prop House family as its Visual Merchandising sister. Experts in curating innovative retail displays and activations, it wasn't long before VM+ and The Prop House snowballed into its own creative powerhouse, merging the worlds of events and retail.
2013: The Prop House designed and installed the famous Queen St Mall's Christmas decorations for families and shoppers to enjoy.
2015: The Prop House celebrated 20 years in business. To commemorate this landmark the Colour Book was printed.
2018: Noticing a gap in the market for luxe Christmas foliage and decorations in SE QLD, Christmas Decorations Brisbane was established. An online customer platform as well as a seasonal showroom for the festive months. Within the same year, The Prop House styled the Athlete's Village for the 2018 Commonwealth Games at the Gold Coast.
2022: Moving leaps and bounds, The Prop House and it's sisters VM+ and Christmas Decorations Brisbane out grew its Vulture St home and settled into its biggest premises yet (1500m2) in the heart of Coorparoo.
2023: The Prop House and VM+ combined, becoming Brisbane's ultimate powerhouse for Events, Activations and Christmas – THE PROP HOUSE COLLECTIVE was born.
For more media information, please contact Kath Rose on 0416 291 493 or email kath@kathrose.com