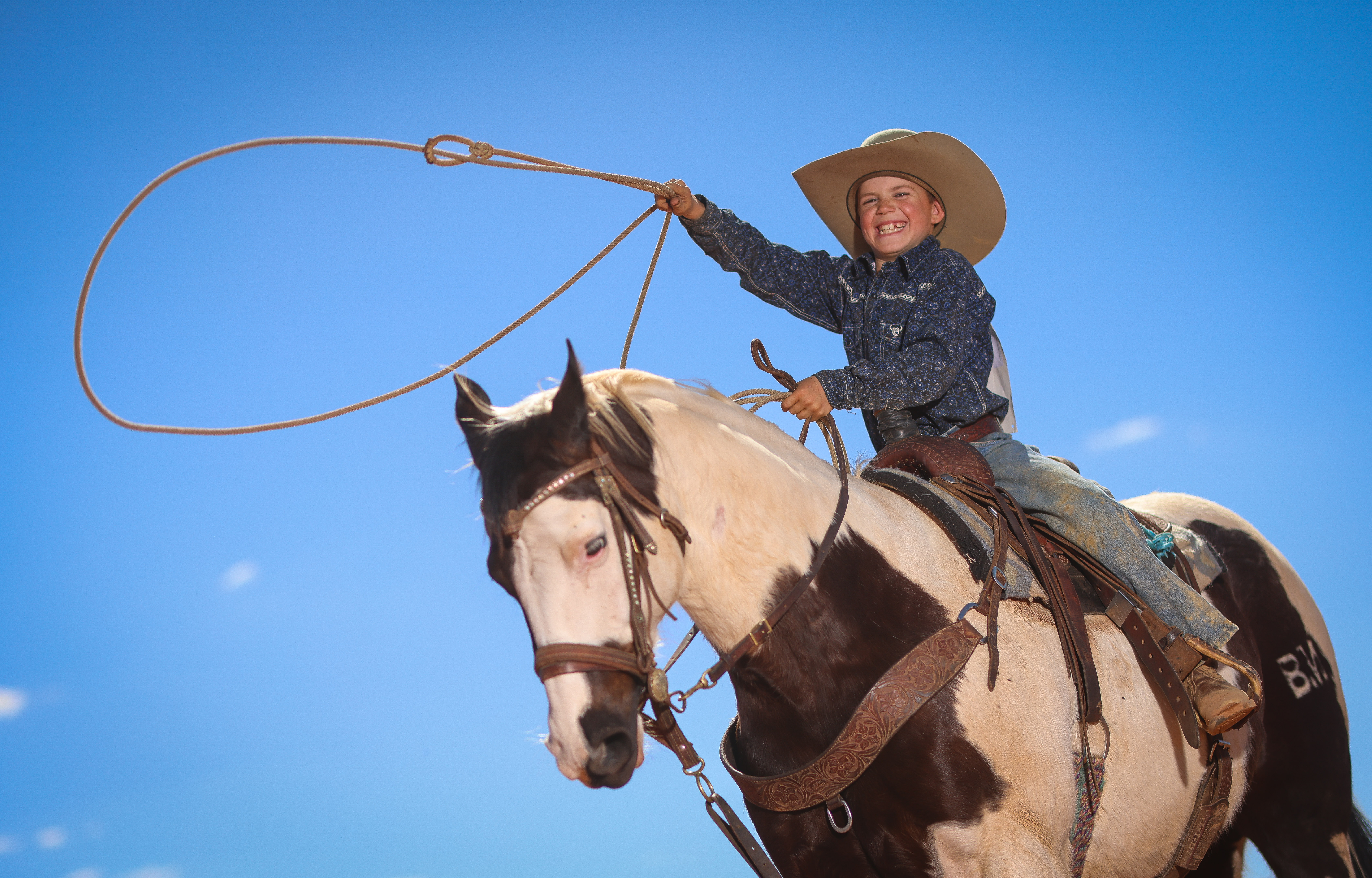 Fast and furious buckle battle crowns new rodeo champions at the 2023 Mount Isa Mines Rodeo as crowds set new records
There's a new rodeo champion in town. Eighteen-year-old Calliope cowboy Boston Leather has etched his name into the record books this weekend by winning the 2023 Mount Isa Mines Rodeo Open Bull Ride. He was the only cowboy to score in all three rounds in the marquee event at the legendary rodeo, and walks away with a buckle that's revered around the world.
Outstanding Sarina cowboy Toby Hale was named 2023 Mount Isa Mines Rodeo All-Round Cowboy and famed Emerald rider Leanne Caban for the second year in a row was named the Mount Isa Mines Rodeo All-Round Cowgirl.
Victorian cowboy Jarrod McKane made the 2,400km trip from his home in Wodonga, Victoria to Mount Isa with one goal – to win the Open Bareback Bronc Ride after he came third last year. And he did! The southern success continued with Benalla cowboy David Stacey winning the Open Saddle Bronc Ride from Rockhampton's Jordan Iker who placed second last year.
It took the legend Leanne Caban from Emerald to put Queensland back on the podium. Against a record number of 98 entries, she took the buckle in the Open Ladies Barrel Race. Brigalow cowgirl Jane Ryan continued the maroon sweep, taking out the Open Ladies Breakaway Roping and Emerald cowboy William Sloan took the Open Steer Wrestling buckle.
Against a record number of junior entries this year, young Rockhampton rider Matty Ahearn established himself as a cowboy to watch, winning the Junior Bull Ride, in his new age group, after winning the Mini Bulls (11 to 14 years) last year. 13-year-old Hughenden barrel racer Heidi Middleton, won the Junior Barrel Race, on her 12 year old gelding Ben.
Fresh from representing Australia at the World Youth Rodeo Championships in Texas, Cloncurry's Cade Ferguson won the Junior Steer Ride, after coming third last year, and super talented Emerald cowboy Jayden Kenny won the Junior Breakaway Roping. In a wonderful nod to the rodeo family, Hanrahan brothers Garrett and Kardah from Western Queensland shared third place!
Mini Bull rider Wylie Roots from northwest Queensland put the rodeo world on notice, winning back-to-back buckles in the Mini Bulls (8-10 years). Coming second and third respectively were two more outstanding little cowboys in Tommy Murphy from Cloncurry and Austin Mawhinney from Tansey. In the next age group, 11-14 years, young Northern Territory cowboy Sam Daley took the title. Give these boys a few years and they'll be superstars.
Then the NSW riders kicked in with Tamworth cowboy Logan Penfold taking the Open Rope & Tie, while the Open Team Roping event was won by Kai Clark from Wallabadah and Benjamin Smith from Moonbi. FULL RESULTS BELOW.
This year was one for the record books at Mount Isa Mines Rodeo with a record number of entries registered, the most in its 64 year history; the highest number of junior and female entries ever, a record attendance at the Mount Isa Mines Indigenous Rodeo Championships, and the largest Saturday on record. That's how to rodeo!
In a wonderful rodeo moment, 92-year-old Cootamundra cowboy, Bob Holder, the certified Oldest Competing Cowboy in the World returned to Mount Isa after having been unwell in 2022. He competed in the Over 55s Team Roping and made more rodeo history successfully making his head catch, but as a team, no time recorded.
"Wow! There is one word to describe this year's rodeo …. electrifying! The voices of rodeo have never seen a crowd as big as that we had on Saturday afternoon and boy did they want to be there to cheer on our champions in the open finals, a first for our Saturday night program. We can't wait to do it all again in 365 days," said Natalie Flecker, CEO Isa Rodeo Limited.
Outside the arena, the rodeo rock lineup featured Jessica Mauboy on stage at the Mount Isa Mines Indigenous Rodeo Championships, and then Aussie rock royalty The Angels, rodeo favourite Luke Geiger, The Screaming Jets and O'SHEA, Furnace and the Fundamentals, and the one and only Darryl Braithwaite stared in the Isa Street Festival.
Rodeo is bringing the bucks – both in the famous arena and in terms of economic benefit. Statistics released by Tourism and Events Queensland found that in 2022, Mount Isa Mines Rodeo generated overnight visitor expenditure of $10.0 million for Queensland. The event was responsible for more than 33,000 visitor nights in Mount Isa.
It's official, rodeo is incredible! See you all next year!
RESULTS
2023 Mount Isa Mines Rodeo All Around Cowgirl LEANNE CABAN
2023 Mount Isa Mines Rodeo All Around Cowboy TOBY HALE
Open Bull Ride
Boston Leather 246.50pts

Beau Willis 161pts

Jackson Gray 157pts
Open Bareback Ride
Jarrod McKane 159pts
Brendon Crawley 158pts
David Worsfold 151.50pts
Open Saddle Bronc Ride
David Stacey 158.50pts

Jordan Iker 150.50pts

Lachie Sheppard 149pts
Open Steer Wrestling
William Sloan 11.15sec

Ben Terry 11.95sec

Terry Evison 12.10sec
Open Ladies Barrel Race
Leanne Caban 35.039sec
Wendy Caban 35.122sec
Amy Eckford 35.834sec
Open Ladies Breakaway Roping
Jane Ryan 6.95sec
Lauren Smith 7.05sec
Kylie Hancock 7.10sec
Junior Bull Ride
Matty Ahern 154pts
Billy Bowker 136pts
Sam Daley 73pts
Junior Steer Ride
1st Cade Ferguson 129pts
2nd Cooper Mitchell 128pts
2nd Dallon Finch 128pts
Junior Breakaway Roping
Jayden Kenny 3.30sec
Jett Leahy 3.45sec
Garrett Hanrahan & Kardah Hanrahan
Junior Team Roping
Joseph Foxlee (Head) 18.10sec
Brad Freund (Head) 29.10sec
Luke Leys (Heel) 7.50sec
Lacey Hoskins (Heel) 14.50sec
Jackson Dixson (Heel) 18.50sec
Junior Barrel Race
Heidi Middleton 34.915sec
Cade Ferguson 34.986sec
Tyra Spring 35.148sec
Mini Bull 8-10 years
Wylie Roots 66pts

Tommy Murphy 62pts

Austin Mawhinney 61pts
Mini Bulls 11-14 years
Sam Daley 73pts
Bronzon Mara Skelton 71pts
Dylan Starr 70pts
Over 40s Bull Ride
David Mawhinney 72pts

Scott Miners 64pts

Mark Douglas 63pts
Over 55s Team Roping
Robert McPhee / Pat McCarthy 11.65sec
Local Station Buckjump
Travis Bandy 137pts
Tom Durkin 135pts
2nd Division Bareback Ride
Ben Fogarty 125pts
Isaac Leclair 122pts
Beau Walpole 62pts
2nd Division Saddle Bronc Ride
Ken Coleman 133pts
Travis Bandy 129pts
Callum Clement 128pts
2nd Division Bull Ride
James Stockdale 144pts
Cooper Mitchell 77.50pts
Levi Ward 75pts
Mount Isa Rodeo Festival 2024: 3rd to 13th August
Mount Isa Mines Indigenous Rodeo Championship, Thursday 8th August 2024
Mount Isa Mines Rodeo, 9th , 10th, 11th August 2024
Website: Isarodeo.com.au
This event is supported by the Queensland Government, via Tourism and Events Queensland.
The Queensland Government is the Principal Partner of the Mount Isa Mines Indigenous Rodeo Championships.
ABOUT MOUNT ISA MINES RODEO
In 1959, a group of people with passion and an intrinsic sense of potential formed the Mount Isa Rotary Rodeo Inc (MIRRI). Their vision was to put the new, remote town of Mount Isa on the map and raise funds for charity organisations in the new city. Through 63 years of whip-cracking vision and dedication, the event has evolved into legendary status. The event is part of the Australian Professional Rodeo Association's (APRA's) national circuit. The event is supported by the Queensland Government, via Tourism and Events Queensland and is the largest in the Southern Hemisphere. The rodeo schedule includes the Bull Ride (Open, Over 40s, 2nd & Junior Division), Saddle Bronc (Open & 2nd Division), Bareback (Open & 2nd Division), Rope & Tie (Open), Steer Wrestling, Team Roping, Ladies Barrel Race, Ladies Breakaway Roping and Mini Bull Rides.
For media enquiries, images, interviews and more please contact Kath Rose | 0416 291 493 | kath@kathrose.com