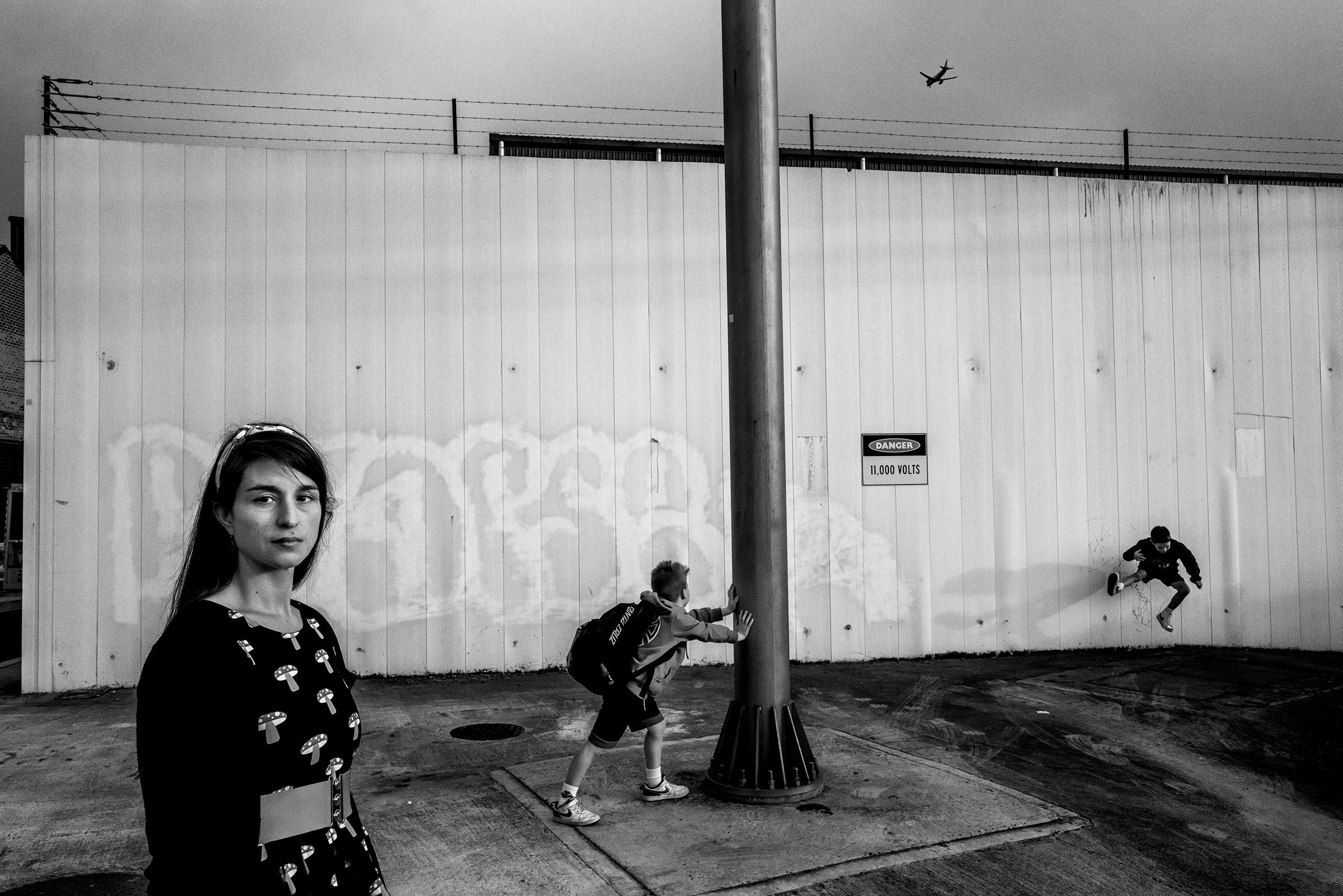 An adult towel fight, the hybrid solar eclipse and renting in Sydney are just some of the subjects featured in the shortlisted images for one of Australia's biggest photography competitions.
Twenty-eight finalists were selected from 1169 entries nationwide for the City of Sydney's yearly Australian Life photography competition and exhibition.
Now in its 21st year, the contest displays images that capture vivid snapshots of life in Australia, including:
On the way to Inspections:

a family captured seeking their ninth rental in 13 years.

Young mums:

Young women head home after their mothers' group picnic

Towel fight 2:

Adult swimmers start an impromptu towel fight under the Iron Cove bridge

Rodeo Fair, Mount Isa:

Local teenagers enjoy the festivities of the Mount Isa Rodeo

Approaching Totality

: A lady views the celestial alignment moments before a hybrid eclipse

Richie Finger (Cindy Pastel):

A legendary drag queen stands in the doorway of their home.
"These images embrace the diversity of Australian life as well as reflecting key moments from the last 12 months, from the anxiety of the housing crisis to a celebration of people coming together across the country," Lord Mayor of Sydney, Clover Moore AO said.
"I'm incredibly proud of the talent and range of entries we are privileged to receive each year as well as the ability to collate and record this stunning collection.
"It's wonderful that we can share this beautiful collection when we host the public exhibition of the finalists this year of photos for the first time at Customs House Square. Those stepping off the ferry at Circular Quay will be met with snapshots of incredible images from around the country."
The finalist images were captured by a mix of amateur and professional photographers from every Australian state in the running to win the competition's $10,000 cash prize.
Every image will be displayed in an outdoor exhibition at Customs House Square from 14 September 14 to 8 October, and the winner will be revealed during the opening.
A gallery of all Australian Life finalist images can be viewed online, with an option to vote for a People's Choice winner.
An OM System professional pack, valued at over $2,300, will be presented to the people's choice winner at
the closing of the exhibition.
Last year's competition winner, Matthew Abbott, Awesome Black's Travis De Vries, documentary photographer Sandy Edwards, and prominent Australian photographer Liz Ham make up the judging panel for this year.
"It is such a joy to be once again working on this fabulous exhibition," said Sandy Edwards, curator of the Australian Life exhibition.
"It's so wonderful to see this combination of talented amateurs and well-known photographers and photojournalists as they allow us to view their Australia."
Australian Life is part of the City of Sydney's Art & About program, presenting events and temporary art projects in unusual spaces throughout the city.
For media enquiries, contact Nicky Breen
Phone 0436 599 861 or email nbreen@cityofsydney.nsw.gov.au
For interviews with Lord Mayor Clover Moore, contact Zoe Delamare.
Phone 0477 263 615 or email zdelamare@cityofsydney.nsw.gov.au
For more stories, visit City of Sydney News
Restrictions: The City of Sydney provides access to this publicly distributed image for editorial purposes only and remains the copyright owner. No archiving, commercial use or third party distribution is permitted without prior written consent. When using content for editorial purposes, you must include the following image credit adjacent to the content: "Photographer's Name / City of Sydney"