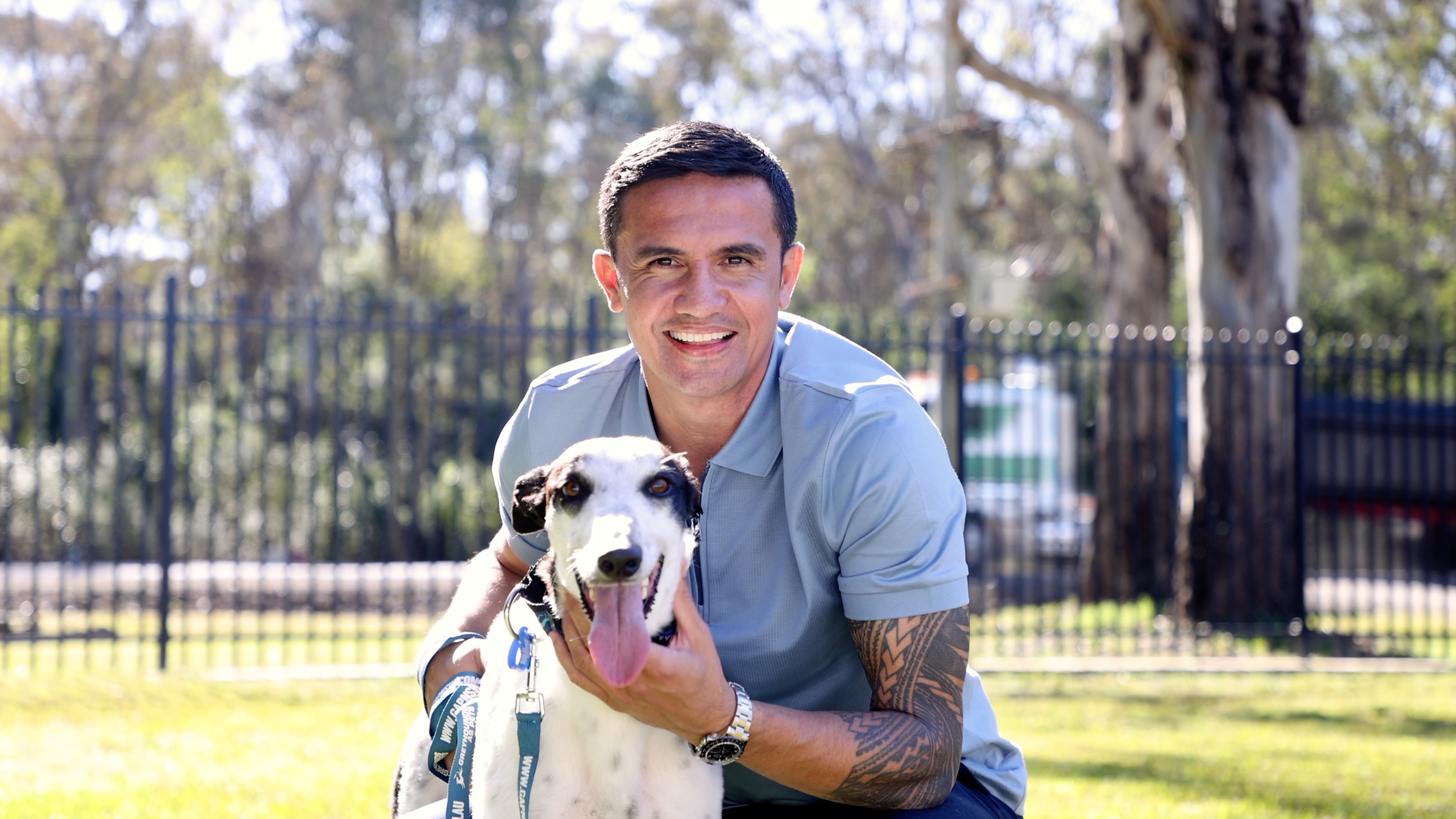 Australian football superstar Tim Cahill will host the biggest greyhound adoption day ever held this Sunday in Sydney.
Cahill, who starred with Everton in the Premier League between 2004-2012, and who in his 108 appearances for the Australian National team became the nation's leading male goalscorer with a tally of 50, is also an ambassador for the Greyhounds as Pets NSW (GAP) organisation.
Cahill - who became GAP's inaugural ambassador back in 2019 - didn't just want to be a supporter in name alone, he demanded "a seat at the table" to have some influence on the workings of GAP, and also adopted his own greyhound, Luna Moana or Lumo as she is known. She is enjoying life on the farm at Cahill's parents' property in Northern NSW.
Whenever he is back in Australia, Cahill heads home to visit his family and Lumo, and he has just returned to Sydney after making that trip this week. He also always makes a point of attending GAP events whenever he returns home.
So, with Cahill back in Australia to coincide with the Women's World Cup, it was decided that he should host a Winter Adoption Day at Gough Whitlam Park – just around the corner from where he grew up and played his junior football – at Earlwood this Sunday, August 13.
And not just any Adoption Day, with GAP hoping to find new homes for around 60 greyhounds on the day.
"It's always fantastic to be back home, to see my family and friends, to catch up with Lumo, and this time to watch as the country gets swept up in the euphoria around the Matildas," he said.
"And while the Women's World Cup has been an amazing success, I'm also very much looking forward to another big event this Sunday when Greyhounds As Pets host what will be their biggest greyhound adoption day ever held.
"I am so proud to have been in the role of ambassador for Greyhounds As Pets over the past four years, and to see how far the program - and rehoming of retired racing dogs - has come in that time is astonishing.
"When I came on board back in 2019 I could see the vision and giant strides the industry wanted to take, and to be able to see so many rehoming pathways available now - including into the United States – and to see that we have gone from just over 700 dogs rehomed in 2018-19 to this past year finding homes for 2,202 dogs, that is remarkable, and for me it is greatly rewarding to be able to promote and endorse the programs which are now in place.
"I urge everyone to come along on Sunday and see what wonderful animals greyhounds truly are, and you never know, like I did, you could fall in love and find yourself adding another member to your family."
In July 2019, soon after Cahill agreed to be a GAP ambassador - along with the retired greyhounds – he was the star attraction at an adoption day in Rose Bay, where more than 500 people attended.
While it was on a much smaller scale that this weekend's event, on that occasion 17 greyhounds found new families. The biggest GAPNSW adoption day on record was back in 2018 when 41 greyhounds were rehomed as part of the National Adoption Day.
"We are delighted and honoured to have one of Australia's greatest sportspeople, not only as an ambassador, but to be joining us on Sunday for what will be a special day," Greyhound Racing NSW (GRNSW) Chief Executive Officer Rob Macaulay said. GAPNSW is the not-for-profit charity arm of GRNSW.
"I was fortunate to be one of the 75,000 at the ground last Monday night to watch the Matildas defeat Denmark in the World Cup, and there is a genuine electric buzz around football in Australia right now, and hopefully on Sunday morning at Earlwood we can all be rejoicing with Tim in a Matildas' quarter-final victory over France.
"Judging by pre-event applications we are looking forward to a big crowd on Sunday, and we will have 60 greyhounds at the park, all ready to become members of someone's family.
"We repeatedly extol the virtues of our beautiful animals and what incredible pets they make, and I know that Tim and his family will echo those sentiments. Hopefully after Sunday's event, another 60 families will do similar."
Tim Cahill will be available on the day and chat about his experience with adoption and greyhounds, as well as football, and pose for photos and sign some autographs.
It will be a huge family event with a sausage sizzle, soccer darts game, an ice cream van, food trucks, a jumping castle, a coffee truck, face painting, and a DJ.
And there will also be Tim Cahill autographed football merchandise to be won throughout the day.
The Adoption Day begins at 10am at Gough Whitlam Park, Bayview Ave in Earlwood.
Contact details:
Michael Cowley: mcowley@grnsw.com.au