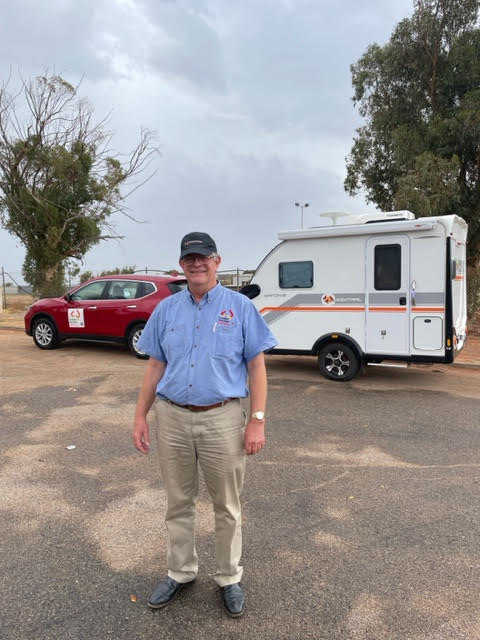 MINGENEW, August 7 2023 (Frontier Services) – Eight years on from serving in the Australian Army, Rev David Jackson is providing a unique kind of care to communities affected by Cyclone Seroja in the Mid West of Western Australia.
Working as a Disaster Recovery Bush Chaplain for Frontier Services, a national charity supporting people in remote communities, David Jackson describes the chronic challenges faced by many in the aftermath of natural disasters.
"Some people deal very comfortably with disaster and grow through it, but there are other people who really struggle and it impacts their sense of well-being - their sense of who they are."
Speaking of the people he has connected with, David describes a common unease as many struggle to find their footing.
"Their life has been so totally traumatized by an event or impacted in such a severe way that they can't return to what they were doing before the disaster."
"That's really hard in a community where there are very few resources they can actually turn to - to be able to talk to somebody and really reorganize their thinking around what life is now going to be like post-disaster."
Mental health is a growing concern in isolated parts of the country, where people's psychological wellbeing is most at threat and yet critical health services are least accessible. Disasters like Cyclone Seroja only compound this issue.
Through his time as a Senior Army Chaplain, David has extensive experience in mental health first aid which he employs in his role with Frontier Services. He collaborates with local organisations alongside fellow Bush Chaplain Rev Ric Payne to identify people who might be struggling, before reaching out to offer a vital physical presence.
"We aren't pushy, we just make ourselves available. More and more we've been noticing that people are reaching out to us. They know that, number one, there is confidentiality. They can trust what they tell us is not going to be shared with anybody else."
Disaster Recovery Bush Chaplains David Jackson and Ric Payne will be attending the Mingenew Midwest Expo this Wednesday (9th August 2023) and welcome anyone to join them for a chat.
Key Facts:
The mental health consequences of natural disasters like Cyclone Seroja last years beyond the initial event.
There is a severe undersupply of services needed to address this growing health issue.
David Jackson travels to remote communities and properties, providing a physical presence and access to a broader network of support.
About us:
Frontier Services has been standing alongside people in the bush through the joys and struggles of life for over 110 years. Since the beginning, we've been turning up in far away places offering practical, pastoral and spiritual support.
Contact details:
Justin Ackland - National Communications Manager - justina@frontierservices.org