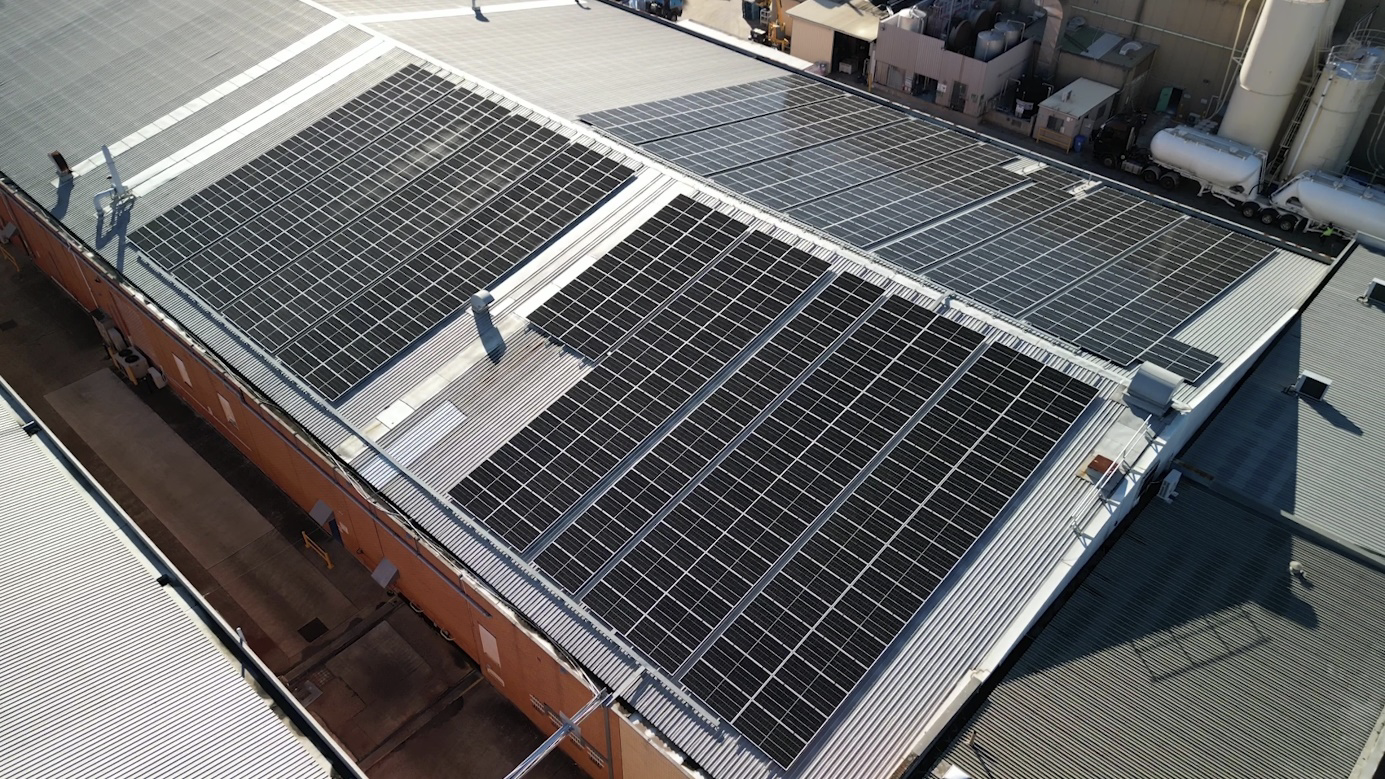 Local manufacturing operations now even more environmentally sustainable as cutting-edge solar panels installed
Sydney, Australia, 8 August 2023: Fresenius Medical Care, the world's leading provider of products and services for individuals with renal diseases, proudly announced the introduction of renewable solar energy at their plant in Smithfield, with an event on Friday 7th July.
The event, attended by Dr. Hugh McDermott, State Member for New South Wales, marked Fresenius Medical Care's commitment to environmental stewardship and their role as pioneers in sustainable healthcare manufacturing.
The facility in Sydney's Western Suburbs integrates cutting-edge sustainable practices into its production operations to minimize environmental impact and prioritizes the long-term wellbeing of patients and the local community. The installation of 537 Risen 540W solar panels, supported by 3x 50kW and 1x 110kW Sungrow inverters, now takes the organization closer to reaching its global emissions targets. The 290kW solar system is expected to avoid 342 tonnes of CO2 emissions per year, equivalent to the carbon sequestered by planting 64,871 trees. Moreover, the system will provide 84% of the plant's energy needs, resulting in a 52% reduction in grid consumption and avoiding 7,222 long-haul flights worth of emissions annually.
"As a leading global provider of renal health products and services, Fresenius Medical Care has a special responsibility to its patients, which includes a firm focus on environmental sustainability," states John Amiradaki, General Manager, Manufacturing & Supply Chain at Fresenius Australia. "At Fresenius Medical Care, we understand that manufacturing excellence goes hand in hand with environmental responsibility. That's why we have embraced the power of renewable energy to drive our operations forward."
"At Fresenius Medical Care ANZ, we are committed to making a positive impact on the environment while delivering life-changing medical care," says Greg Kozma, General Manager Australia and New Zealand, Care Enablement. "By utilizing solar power, we reduce our carbon footprint and help take our organisation towards its global climate goals."
Fresenius Medical Care continuously explores innovative technologies and eco-friendly practices to minimize waste, conserve resources, and reduce its ecological impact. The organization's commitment to sustainability future-proofs its manufacturing operations for generations to come.
## ENDS ##
About us:
ABOUT FRESENIUS MEDICAL CARE
Fresenius Medical Care is the world's leading provider of products and services for individuals with renal diseases of which around 3.8 million patients worldwide regularly undergo dialysis treatment. Through its network of 4,153 dialysis clinics, Fresenius Medical Care provides dialysis treatments for approximately 345,000 patients around the globe. Fresenius Medical Care is also the leading provider of dialysis products such as dialysis machines or dialyzers. Along with its core business, the Renal Care Continuum, the Company focuses on expanding in complementary areas and in the field of critical care. Fresenius Medical Care is listed on the Frankfurt Stock Exchange (FME) and on the New York Stock Exchange (FMS).
For more information, please visit the company's website: www.freseniusmedicalcare.asia
DISCLAIMER
This release contains forward-looking statements that are subject to various risks and uncertainties. Actual results could differ materially from those described in these forward-looking statements due to various factors, including, but not limited to, changes in business, economic and competitive conditions, legal changes, regulatory approvals, impacts related to the COVID-19 pandemic results of clinical studies, foreign exchange rate fluctuations, uncertainties in litigation or investigative proceedings, and the availability of financing. These and other risks and uncertainties are detailed in Fresenius Medical Care AG & Co. KGaA's reports filed with the U.S. Securities and Exchange Commission. Fresenius Medical Care AG & Co. KGaA does not undertake any responsibility to update the forward-looking statements in this release.
Contact details:
Helen Skazas - Marketing Manager ANZ
Ph: 02 9466 8000
Fresenius Medical Care ANZ
Lv3, 78 Waterloo Rd
Macquarie Park, NSW 2113, Australia