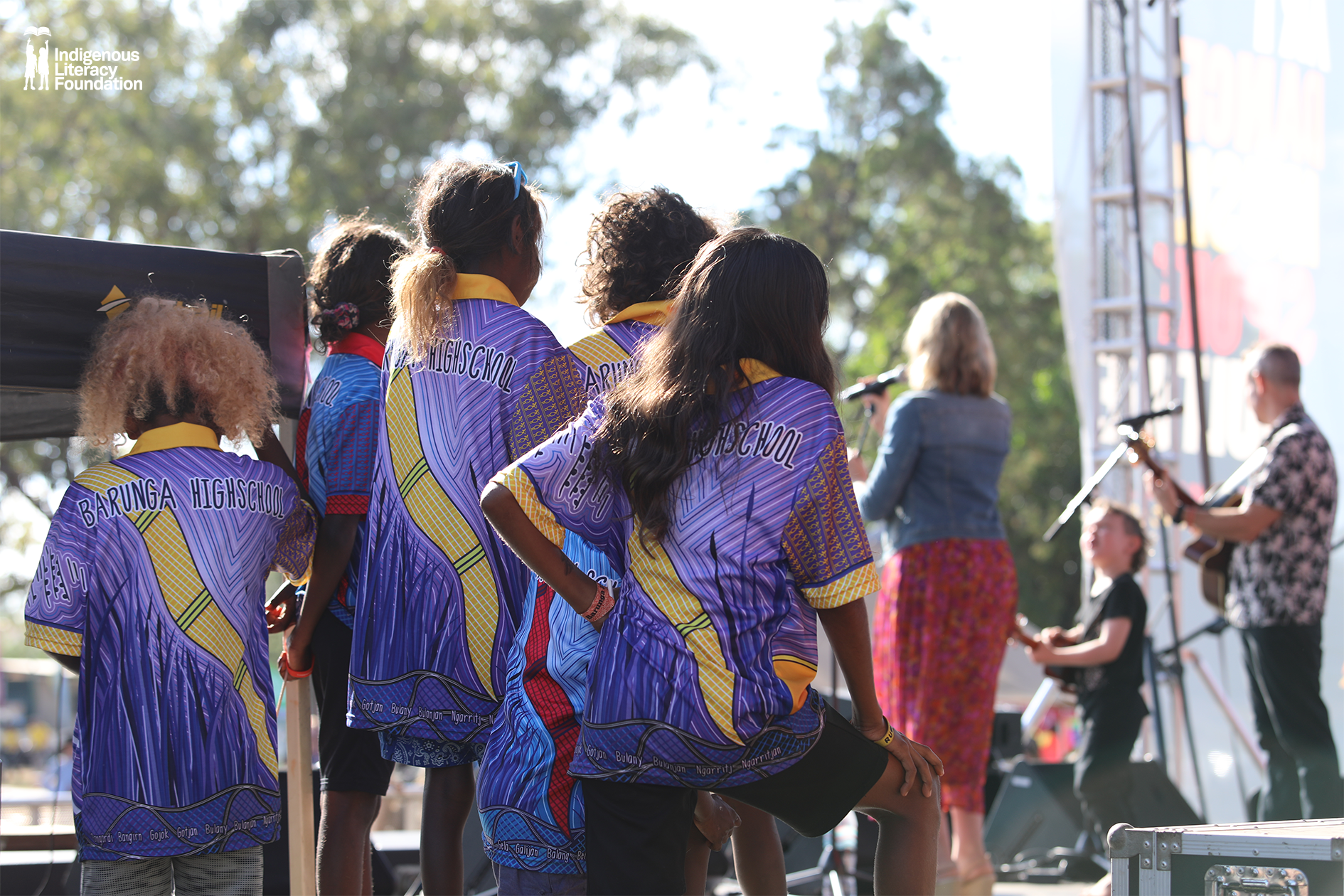 "For me, literacy is enhanced through the power of music," ILF Ambassador Jessica Mauboy.
The Indigenous Literacy Foundation (ILF) collaborates with the Sydney Opera House to celebrate First Nations peoples' Stories, Cultures and Languages with a visually and musically exciting Indigenous Literacy Day (ILD) FILM and LIVESTREAM, featuring ILF Ambassadors Jessica Mauboy, Gregg Dreise, Justine Clarke, Josh Pyke and children from Barunga Remote Community School on Wednesday 6 September.
ILF Ambassador Jessica Mauboy says, "I communicate, share stories and emotions through my music, and this has been reinforced throughout my life - it was very much part of my childhood. I love that the ILF supports remote Communities to share their stories in ways they want, including in songbooks and I can't wait to celebrate Indigenous Literacy Day again this year with more songs and more languages!"
The 15-minute FILM
At 10:30am AEST, a 15-minute FILM will be available through the Opera House's Digital Creative Learning program free to schools, organisations and the general public. Audiences will join a virtual flight to Barunga in the Northern Territory, Rubibi (Broome) in north Western Australia and Weipa on the Cape York Peninsula in Queensland to hear three joyful stories and learn some new words in Kriol, Yawuru and Thaynakwith!
This year's feature story is Shordi Krik, a delightful children's songbook, published by the ILF and launched at the Barunga Festival in June. The story was written and illustrated by the Barunga Remote Community School children, and ILF Lifetime Ambassador Justine Clarke helped transform it into a gorgeous song. Barunga School Principal, Malcolm Hales says, "Once you hear the lyrics and the song, it stays in your head. I can't be more proud of the young children who have worked on this."
ILF Lifetime Ambassador, Justine Clarke says, "The Barunga Community holds a special place in my heart, as does this joyful song, now published as a beautiful book. I have been singing and performing with the Barunga school kids since 2017. They speak and sing in multiple languages, including Kriol. This song, Shordi Krik (Shorty Creek) is written by the children about their local creek where they play and fish". Included on the back cover of the book is a QR code to the song on digital streaming services, released through ABC Music.
In Rubibi and Weipa audiences will delight in hearing and seeing how stories have morphed from ideas into beautifully published ILF bilingual books titled Country Tells Us When… and We Look, We Find written and illustrated by Community, preserving cultural knowledge, informed and passed down from Elders.
The LIVESTREAM
After the film, audiences will be invited to stay online for a 45-minute LIVESTREAM performance at the Sydney Opera House with co-hosts Justine Clarke and Gregg Dreise and special guests Jessica Mauboy and the children from Barunga Remote Community School.
Jess Mauboy will have kids singing and moving like a 'kyembal', the kids from Barunga Remote Community School will perform Shordi Krik with Justine Clarke and Josh Pyke will have everyone busking to Words Make the World Go Around.
ILF CEO Ben Bowen says, "Literacy through song and music plays an integral role for learning about Stories, Cultures and Languages. With Jessica Mauboy singing a song in Kriol, and Justine Clarke, Josh Pyke and the Busking For Change Ambassadors, Aodhan, Tilly Thomas and others singing Words Make the Word Go Around with the chorus in Kriol, I guarantee at the end of the performance, audiences will be singing words in language too!"
2023 is the second year of UNESCO's Decade of Indigenous Languages. Indigenous Literacy Day promotes and celebrates the revitalisation and preservation of Aboriginal and Torres Strait Islander languages now and for future generations of Indigenous children.
Stuart Buchanan, Sydney Opera House Head of Screen, says, "Last financial year Sydney Opera House delivered 76 Digital Creative Learning events, engaging more than 250,000 students from over 3,800 schools. Our collaboration with Indigenous Literacy Foundation on this event helps us to continue delivering enriching educational content that platforms the unique stories and knowledge of First Nations peoples and cultures."
How to get involved:
This year, for the first time ever, Indigenous Literacy Day will be livestreamed from the Sydney Opera House website. At 10.30am (AEST) the 15-minute FILM premieres, followed by 45-minute LIVESTREAM. Note: If people are running late or tune in slightly after 10:30 am (AEST), audiences can either continue to watch live from where the stream is at, or pull back the timeline to the start at the beginning. The entire one-hour stream will be available to watch On Demand from 11.30am (AEST) onwards.
Register for FREE here: https://www.sydneyoperahouse.com/schools/digital-creative-learning/indigenous-literacy-day
ILD 2023 is sponsored by Lendlease and supported by Studio Gilay
Visit the ILF website for other ways to get involved and celebrate Indigenous Literacy Day.
Key Facts:
About Indigenous Literacy Day

Indigenous Literacy Day was conceived by the Indigenous Literacy Foundation 12 years ago to celebrate First Nations peoples' rich and diverse Stories, Cultures and Languages.
About us:
About the Indigenous Literacy Foundation
The Indigenous Literacy Foundation (ILF) is a national charity working with remote Aboriginal and Torres Strait Islander Communities across Australia. They are Community-led, responding to requests from remote Communities for culturally relevant books, including early learning board books, resources, and programs to support Communities to create and publish their stories in languages of their choice. Ilf.org.au
About Indigenous Literacy Day
Indigenous Literacy Day was conceived by the Indigenous Literacy Foundation 12 years ago to celebrate First Nations peoples' rich and diverse Stories, Cultures and Languages.
Don't forget to tag @IndigenousLiteracyFoundation on Facebook and Instagram, and @IndigenousLF on Twitter. Please use the hashtags #ILD2023, #IndigenousLiteracy and #ReadingOpensDoors
About the Sydney Opera House's Children, Families and Creative Learning program
The program includes Creative Learning educational experiences for primary and secondary students onsite and online; performances from the best Australian and international theatre-makers; and the innovative Creative Leadership in Learning (CLIL) a three-year program that embeds creativity into schools. The new Centre for Creativity expands the breadth of year-round participatory performances, workshops and installations to engage people of all ages.
Contact details:
Jackie Evans ILF Publicist
0407 776 222