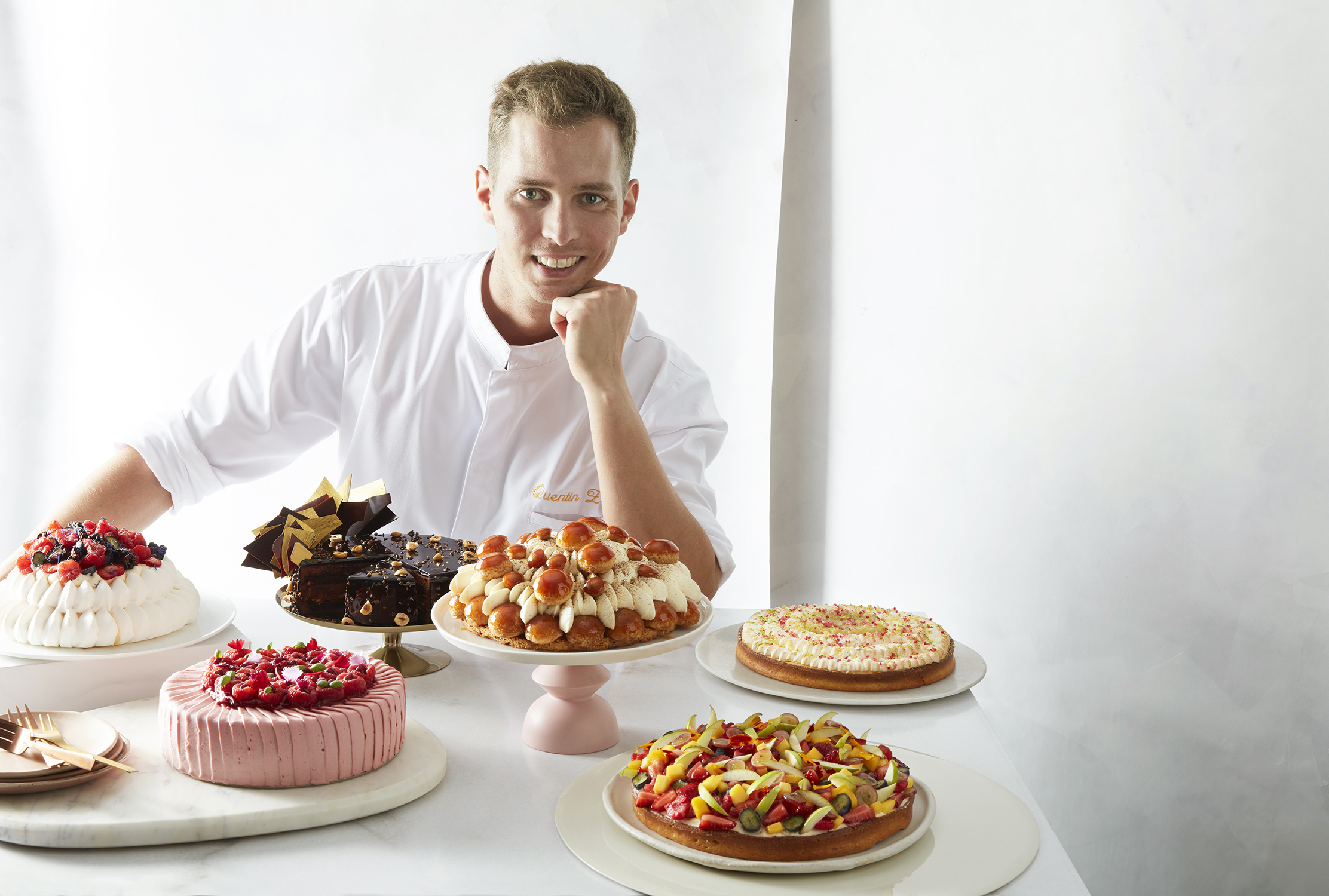 Featuring an array of meticulously curated confections, this collection offers a cake for every occasion. From the iconic mixed berry Pavlova, showcasing a flawlessly crisp exterior and a heavenly soft meringue, to the sophisticated French Saint Honoré—a regal crown-like dessert with a revered tradition—each creation is a testament to Chef Quentin Zerr's extraordinary talent.
Discover the intricate beauty of the Framboisier, where layers of delicate sponge cake intertwine with raspberries, embraced by a velvety Chantilly cream that elegantly envelops the sides. For those seeking a more avant-garde experience, the Chocolate Cake awaits, boasting a harmonious blend of chocolate and hazelnut, adorned with captivating gold chocolate shards. The seemingly simple yet undeniably divine Seasonal Fruit Tart combines flaky and buttery pastry, topped with luscious almond frangipane and a vibrant array of seasonal fruits—an exquisite complement to any afternoon tea. Lastly, the Lemon Meringue Tart tantalizes the taste buds with its airy and indulgent texture, crowned with native Australian finger lime, providing a zesty burst with every delightful bite.
The "Art of Cake" Collection seamlessly blends French techniques with Australian flavours, resulting in a symphony of taste sensations. Chef Quentin Zerr's unparalleled expertise has birthed a delectable assortment of cakes that captivate the senses and leave a lasting impression.
Four Seasons Hotel Sydney will inspire you with our love for quality, provenance, and the simplest of indulgences, making any event truly unforgettable. Whether you are celebrating a special occasion or seeking to elevate your everyday moments, these artisan cakes will undoubtedly "take the cake."
To place an order, please visit https://four-seasons-hotel-sydney.myshopify.com/pages/cakes
About us:
About Four Seasons Hotel Sydney:
Located in the heart of Sydney, Four Seasons Hotel Sydney is a luxurious urban oasis renowned for its exceptional service, breathtaking views, and unparalleled culinary experiences. With its commitment to excellence, the hotel offers guests a memorable stay, whether for business or pleasure.
Contact details:
Press Contact:
Erin Oliver
Marketing & Communications Manager
+61 435 925 349