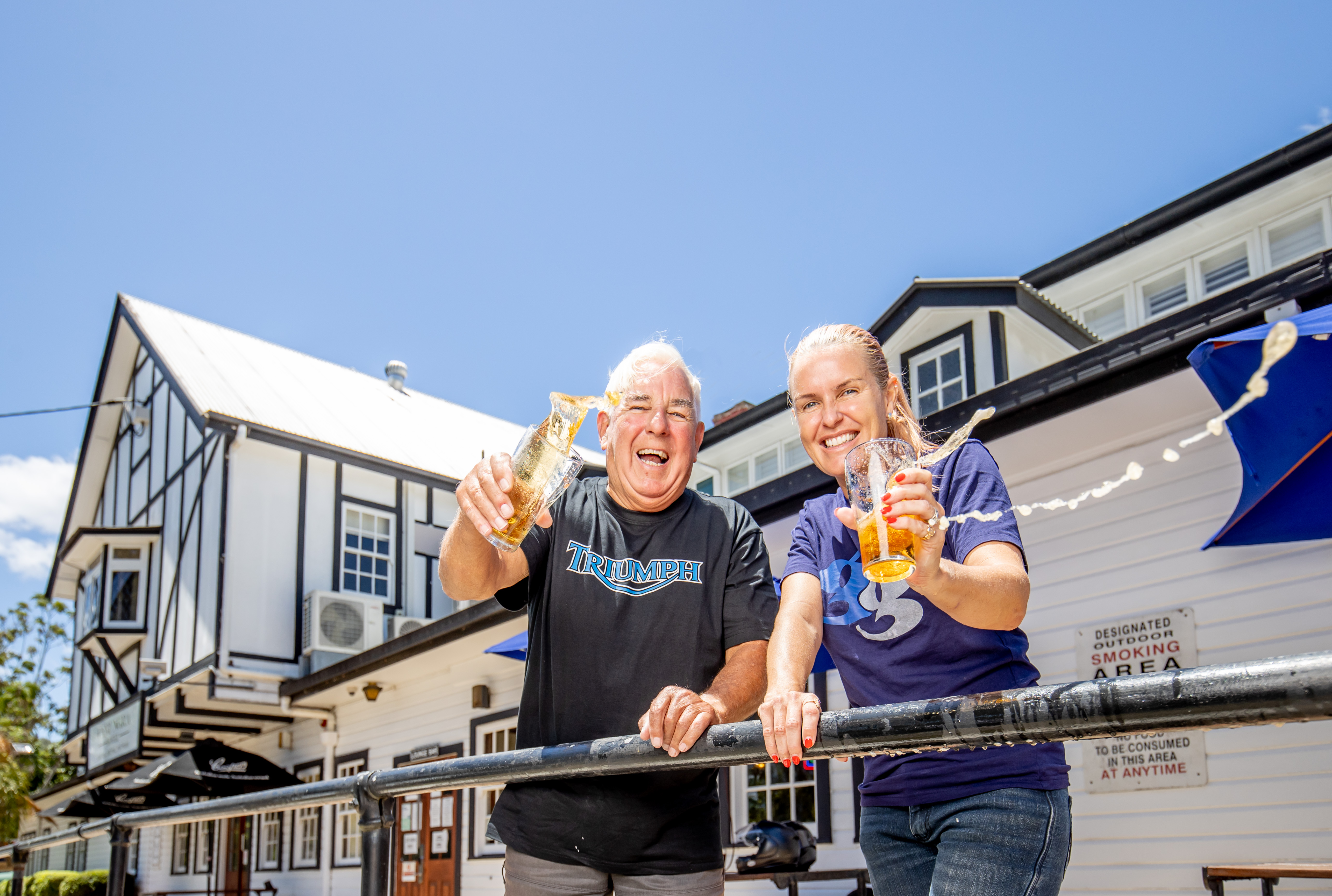 How to have the Best Dad's Day Country Pub Lunch in the Scenic Rim
A Father's Day pub lunch is the Dad equivalent of a Mother's Day High Tea, trading bruschetta for burgers, sandwiches for parmys, and a flute of bubbles for a pint of locally brewed beer; introducing the Guy Tea, Scenic Rim style!
Here's how to treat Dad to boutique breweries, heritage hotspots, and pubs with a view, right in the heart of one of the greatest places on earth, the Scenic Rim (this beats socks and jocks any day)!
Images here
The Roadvale Hotel – The region's one and only gastro-pub
A classic pub's front bar welcomes you with a nod of nostalgia as you discover everything this foodie fest has to offer. A decked-out cocktail bar, old school champagne glasses, wooden floors and fireplaces and a dog-friendly beer garden are only just the beginning. The hotel is home to acclaimed chef and local flavour champion, Dan Groneberg and is officially the Scenic Rim's first gastro-pub! For a true 'Guy Tea' with all the trimmings, book a table sooner rather than later for this Father's Day – you won't regret it!
Address: 320 Roadvale Road, Roadvale QLD 4309
Website: https://www.theroadvalehotel.com.au/
The Canungra Hotel – A parmy-lovers paradise
If your Dad loves himself a chicken parmy, then you'll win the favourite child award this year at the Canungra Hotel! There's six different gourmet parmigiana on the menu, plus pub staples and selections from the sea, this pub at the base of Mt Tamborine is surrounded by plenty of stuff to, including the Scenic Rim Wine Trail and plenty of Lamington National Park hikes. Our tip - do the hike before lunch!
Address: 18 Kidston St, Canungra QLD 4275
Website: https://www.canungrahotel.com.au/
Scenic Rim Brewery – Bespoke boutique beers
For the family full of 18+ family members, this family-owned brewery is the way to go. It's located in the picturesque town of Mount Alford, just past Boonah, and has a Ginger Extra Dry beer that's worth the trip alone. Owners Mike and Wendy brew a superb range of beers, and you know that they had fun with names like Shazza, Digga, Fat Man, Giddy Gout, Rippa Rita and PharQue. Pair them with giant pretzels, a range of European gourmet hotdogs, croquettes, and more!
Address: 898 Reckumpilla Street, Mount Alford QLD 4310
Website: https://www.scenicrimbrewery.com.au/
Fortitude Brewing, Mt Tamborine – the ultimate mountain hoppiness!
A trip to Fortitude Brewing Company is like mixing the best of both words: a modern, urban-style brewery combined with all the surrounds of Mt Tamborine. Fortitude Brewing is famous for its gourmet pizzas, cheese platters and beer tasting paddles – perfect for a Father's Day Guy Tea!
Address: 165 Long Rd, Tamborine Mountain QLD 4271
Website: https://fortitudebrewing.com.au/
The Dugandan Hotel – Pulling pints since 1886
"The Dugie" as the locals know it, is the quintessential Australian country pub. Just five minutes outside Boonah, the Dugie serves up traditional pub fare, hearty country classics and icy cold beers. It even overlooks the cricket pitch – can it get any more country than that?! With a charming deck and outdoor area under huge trees, let the afternoon hours melt away this Father's Day.
Address: Cnr Mt French and Boonah Rathdowney Roads, Dugandan
Website: https://www.dugandanhotel.com.au/
The Royal Hotel, Harrisville – almost 150 years of history
The Royal Hotel began life in 1875 as the Harrisville Inn, and originally serviced the local cotton and beef industries as one of the first hotels in the region. With a beer garden that overlooks Normanby Gully and views of the Great Dividing Range, it's a cracking Father's Day pub. Bonus: there is a free camping area for overnight stays if you want to make a weekend trip of things.
Address: 1 Wholey Dr, Harrisville QLD 4307
Website: https://www.royalhotelharrisville.com.au/
The Australian Hotel, Boonah – prices that will make you feel its 1888 again
Another traditional country pub, The Australian Hotel was built in 1888 and is a favourite of locals and visitors alike. Here's a tip – with pub lunches around the $20 mark, it's the perfect spot to pop in on a day trip and if you need to keep Father's Day costs down.
Address: 32 High St, Boonah QLD 4310
Website: https://www.australianhotelboonah.com.au/
The Beaudesert Hotel – Beauy's best
One of Beaudesert's most historic and established dining venues, The Beaudesert Hotel, known as The Beauy, underwent an extensive renovation in 2015, and is now modern and cool inside, while keeping it's classic country pub status – like many Dads 😉! The Hotel also offers a 150-seat dining room, great bar areas, a gaming room with 24 of some of the most recent gaming machines and a courtesy bus service.
Address: 80 Brisbane Street, Beaudesert 4285 Queensland
Website: https://beaudeserthotel.com.au/
The Royal Hotel, Kalbar – Lunch fit for a King
A spot that has become known as a "foodie haven," the Royal Hotel is just one hour from Brisbane. Be sure to book ahead for this friendly country pub, especially for Father's Day. The menu boasts standard and local providence, with steaks, local vegetables, and pizza, as well as a broad range of café-style food. Pies, curries, lamb shanks, calamari, fish and fresh salads often feature on the menu, which all change with the season.
Address: Corner George and Edward St Kalbar,
Website: http://www.royalhotelkalbar.com.au/
The Bearded Dragon Tavern – 110 acres of bliss
If Dad likes his lunch with a view, head to The Bearded Dragon Tavern. On 110 picturesque acres with sweeping views across The Ferndale Stud Farm at Tamborine, it serves up a true-blue Aussie experience. With 15 local and imported beers on tap, classic pub meals and views to wow your socks off; this pub is the perfect place for a spot of Guy Tea this Father's Day.
Address: 2-22 Tamborine Mountain Rd, Tamborine QLD 4270
Website: http://www.beardeddragon.com.au/hinterland-dining-getaway.php
The 'Rathy' – simple and stunning
A central feature of the Rathdowney township since the 1900s, The Rathy serves up pure country heartiness paired with an ice-cold beer. With casual garden patios, a pool table, views of the range, and a flavour-filled menu, it's a great spot for Father's Day. Consider hiring some bikes before your lunch and work up an appetite with a ride around the local area.
Address: 4287/73 Collins St, Rathdowney QLD 4287
Website: https://www.rathdowney.org.au/gallery-categories/first-gallery/26-hotels-motels.html
FOR MORE FABULOUS FATHER'S DAY IDEAS, VISIT THE SCENIC RIM! Find out all you need at visitscenicrim.com.au
For media opportunities, imagery and more, please contact Kath Rose on kath@kathrose.com or 0416 291 493
ABOUT THE SCENIC RIM: In a major international coup, the Scenic Rim was named by global travel authority Lonely Planet as one of the hottest destinations to visit in 2022! Just an hour from Brisbane and 30 minutes from the heart of the Gold Coast, the Scenic Rim stretches from Canungra to The Lost World, Beaudesert to Boonah, Tamborine Mountain to Kalbar and is home to the ancient World Heritage-listed Gondwana Rainforests, six historic national parks, charming towns and villages, adventure parks, farm stays, craft breweries, boutique wineries, ecolodges, tantalising gourmet experiences, world class camping and glamping and breathtaking spaces in between. It's a region of more than 4,200 square kilometres of rich volcanic soil surrounded by ancient mountains and home to thousands of farmers and food creators, more than 30,000ha of parkland, plus three dams - Lake Moogerah, Lake Maroon and Wyaralong Dam.
Contact details:
Kath Rose
0416 291 493
kath@kathrose.com