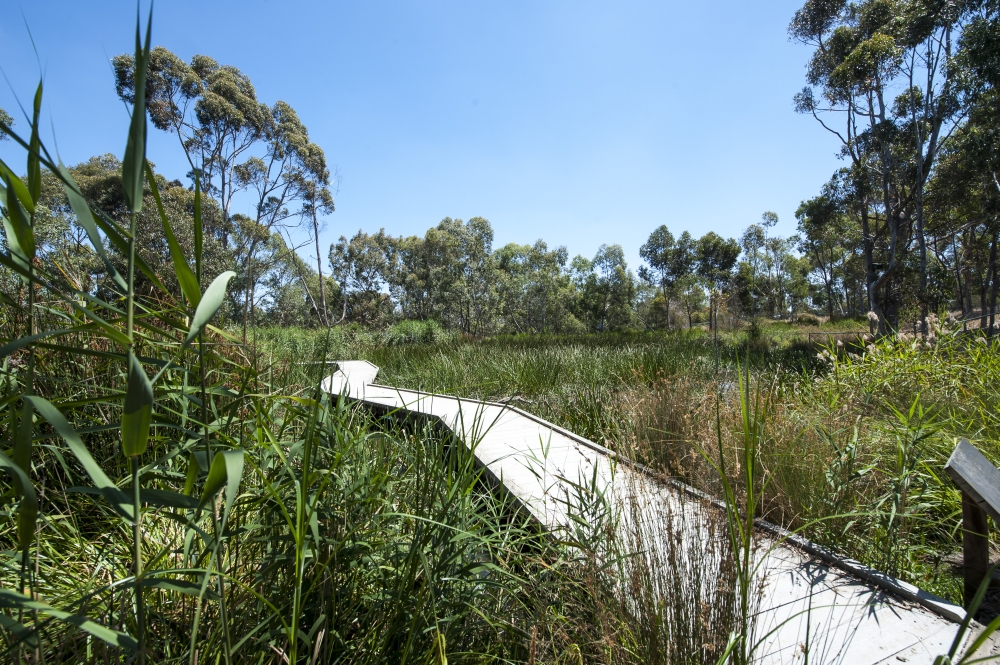 A significant milestone in La Trobe University's commitment to combat climate change, promote sustainability and drive positive environmental impact was finalised yesterday afternoon (31 July 2023) with the launch of the University's inaugural green bond offering.
A green bond is a borrowing instrument issued to finance new and refinance existing eligible green assets. This bond is issued under the International Capital Market Association (ICMA) green bond principles and allows investors to acquire a green bond, financing a range of activities.
This green bond issuance, which is valued at AUD $175 million, will be used exclusively to fund a diverse range of eligible eco-friendly projects and initiatives in areas such as renewable energy, green building, sustainable water and waste management and terrestrial and aquatic biodiversity conservation.
La Trobe's Chief Operating Officer Mark Smith said that the launch of the University's first green bond offering and the initiatives it will fund marked a pivotal moment in the University's environmental journey.
"La Trobe University is already deeply committed to environmental sustainability, with an investment of $75 million to become carbon neutral and secure Climate Active certification as an institution by 2029," Mr Smith said.
"The launch today of our inaugural green bond offering further demonstrates La Trobe's mission to create a more sustainable future for generations to come."
By issuing the green bond, La Trobe will not only raise capital, but will also create a transparent and accountable framework for tracking the utilisation of funds. The University will provide regular updates to bondholders and stakeholders about the progress of the projects funded through this initiative.
"Investors in our green bond will have the opportunity to be part of a sustainable investment portfolio that aligns with their own environmental and social values," Mr Smith said.
"Furthermore, the green bond offering demonstrates La Trobe's dedication to corporate responsibility and reinforces our position as a responsible and forward-thinking institution."
La Trobe engaged National Australia Bank (NAB) as its lead underwriter for the green bond offering.
NAB Group Executive, Corporate and Institutional Bank, David Gall said NAB was proud to support La Trobe University with achieving its sustainability goals.
"Having been at the forefront of the development of green, social, sustainable and sustainability-linked financing solutions, NAB recognises the important role we play in supporting our customers through product innovation and environmental financing.
"By consciously choosing to finance their activities through this green bond, La Trobe University is highlighting the need to reduce emissions and address climate change. We're proud to be partnering with La Trobe University in their transition to net zero," David said.
Key areas of focus will include:
Renewable Energy

: Investment in the development and expansion of renewable energy sources such as solar, wind, and hydro power to reduce La Trobe's carbon footprint and transition towards cleaner energy alternatives.

Energy Efficiency

: Implementation of energy-efficient technologies and practices across the University's facilities and operations to minimise energy consumption and decrease greenhouse gas emissions.

Green Building

: Funding for the construction and improvement of eco-conscious infrastructure, including green buildings, electric vehicle charging stations, and sustainable transportation initiatives.

Sustainable Water and Waste Management

: Sustainable infrastructure for clean and/or drinking water for distribution, water conservation projects and water and wastewater treatments and recycling facilities, to foster a circular economy.

Terrestrial and Aquatic Biodiversity conservation

;

Nangak Tamboree Wildlife Sanctuary

Revegetation and revegetating the Darebin Creek frontage.
Read more about La Trobe University's commitment to environmental sustainability.
Contact details:
Claire Bowers
03 9479 2315 / 0437 279 903