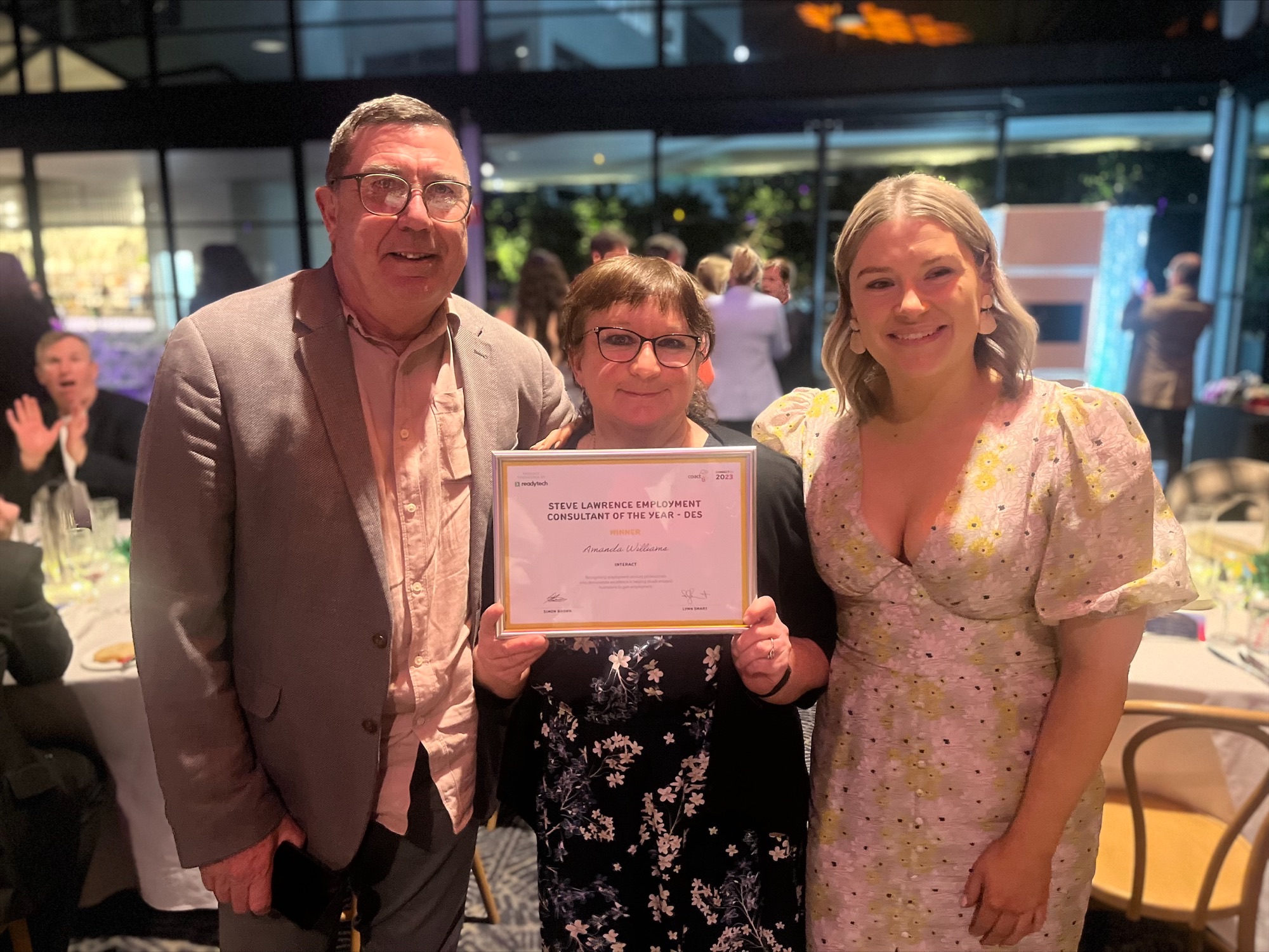 A Launceston Disability Employment Service worker has taken out a national award for her outstanding service to people with disability and their employers.
Amanda Williams who is a Workforce Partner with Interact Australia won the prestigious Steve Lawrence Award at CoAct's annual conference for employment services. Named after the founder of CoAct, the award recognises employment services professionals who demonstrate excellence in helping disadvantaged Australians to gain employment. 
"We are so proud of Amanda and the recognition of her hard work," said Interact Australia Acting CEO, Jamie Bardon. "Amanda's commitment to supporting participants through their unique challenges is truly remarkable. Not only does she go above and beyond to understand their needs but she also has a special ability to put employers at ease when hiring someone with a disability."
Ms. Williams has been in the role for the past five years and is passionate about helping people with disabilities to stay in work. She provides support to manage barriers, helps participants to identify strategies to manage their workload, and assists with ergonomic setups and workplace modifications or assistive technologies.
"To go into a workplace and see a participant doing their role with confidence and a smile on their face is an incredible moment," said Ms. Williams. "People will constantly surprise you with their strength and determination."
Ms. Williams' dedication to providing personalised support has left a lasting impression on employers, leading to increased retention rates of people with disability in their roles in the Launceston region.
"Amanda was recognised for her support and coaching that has made a real difference in participants' work and life," said Mr. Bardon. "Employers have praised her level of compassion, empathy and professionalism. She is dedicated to supporting sustainable employment options by working with both participant and employer to meet their needs."
Interact Australia is part of the IntoWork Group a leading national provider of Employment, Skills, Education and Support services.
Contact details:
Media contact: Eilish Massie 0448771045