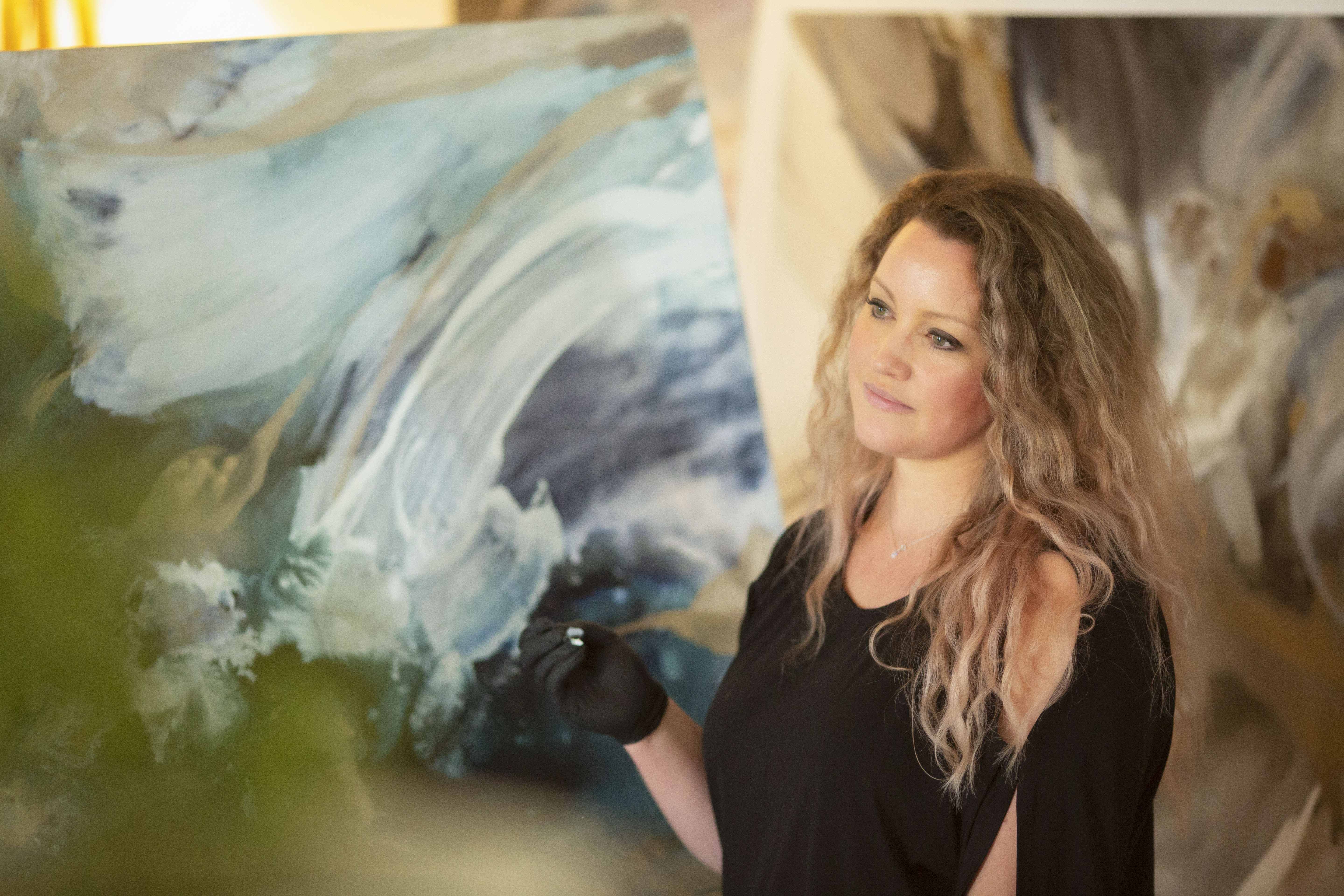 In a world where advanced technology threatens to diminish our creative minds and impact our mental well-being, one extraordinary artist is taking a stand. Angela Miller, a visionary artist and advocate for the transformative power of creativity, is on a mission to combat the negative effects of technology by reigniting the flame of imagination through her captivating artwork and online courses.
As technology continues to advance at an unprecedented pace, our minds are being subtly shaped and moulded by its influence. The monotony of our daily routines and an overreliance on technology have left us feeling disconnected from our innate creative brilliance. But Angela Miller believes that art is the antidote to this modern affliction.
As a former university art teacher, Angela's innovative approach goes beyond traditional art classes. With a deep understanding of the human spirit, she uses art as a form of meditation and therapy. By tapping into the power of intuition and embracing the language of the heart, Angela guides participants on a transformative journey of self-discovery, emotional healing, and rejuvenation in a safe and supportive environment – in their own home, with her expert guidance.
Interestingly, Angela never knows what she's going to paint when she starts. She just starts with the colour and style that feels right in that very moment and as she transforms each canvas into a masterpiece, the intuitive style she teaches becomes apparent.
Art has long been recognised as a therapeutic medium for unlocking the depths of human emotions and restoring balance to our lives. Studies have shown that the creative process triggers a surge of happiness hormones, including dopamine, serotonin, and endorphins, which elevate mood, boost self-worth, and counteract the effects of stress and anxiety. It's a holistic approach that keeps our minds and bodies in harmony.
Speaking on her experience, Angela said, "Art has been my saving grace during the most challenging years of my life, and I felt compelled to share it with others who may be struggling too. It's not about the finished product, but the journey of self-discovery that art can take you on when used as a tool to heal and empower, especially when life may feel difficult."
Angela Miller, with her passionate and inspiring demeanour, has captivated the hearts of thousands. Her online art courses have become a refuge for individuals seeking to rekindle their creative spirits and combat the mental impacts of technology overload and overcome life's challenges. By embracing Angela's intuitive art and expression, participants not only find solace but also discover a renewed sense of purpose and joy.
"I have even had students tell me that it has improved their relationships with their partners as a result of finding confidence in themselves with a hobby they love that lifts their mood." Angela proudly explains.
"Through my courses, I strive to help individuals reconnect with their innate creative brilliance, and in doing so, reclaim their balance and well-being." Angela concludes.
Angela's online courses start from as little as $10 AUD for her "Art to Heal a Heart" course making it accessible to anyone who would like to try. She also offers a monthly subscription package that allows self-paced learning and connecting to her community each week with video calls to support one another and provide handy tips and guidance.
For more information on Angela Miller and her intuitive art courses, please visit her website at angemillerart.com.au
Key Facts:
Creativity and solving problems increases happy hormones such as dopamine, serotonin and endorphins.
With the accessibility of advanced tech such as AI dominating how we live our everyday lives, creativity and solution finding are skills that we don't need to engage as much as we used to.
Without these happy hormones being produced as often, mental health issues like depression and anxiety will continue to rise.

Ange

la

Miller

- is an experienced ex university art teacher. She now runs self-paced online art courses available to anyone globally for as little as $10 AUD
These courses are positively impacting students mental health and relationships and

Ange

believes art is the answer to continue to engage our brains to produce the balance of hormones we need to live life enjoyably
About us:
Angela Miller is a visionary artist located on the Central Coast, NSW and an advocate for creativity, and healer of hearts. Through her captivating artwork and transformative online art courses, she empowers individuals to combat the negative effects of advanced technology and reconnect with their innate creative brilliance. Angela's mission is to spread the joy, love, and healing that art can bring to our lives.
Contact details:
Dani Tillett
The Ripe Idea
info@theripeidea.com