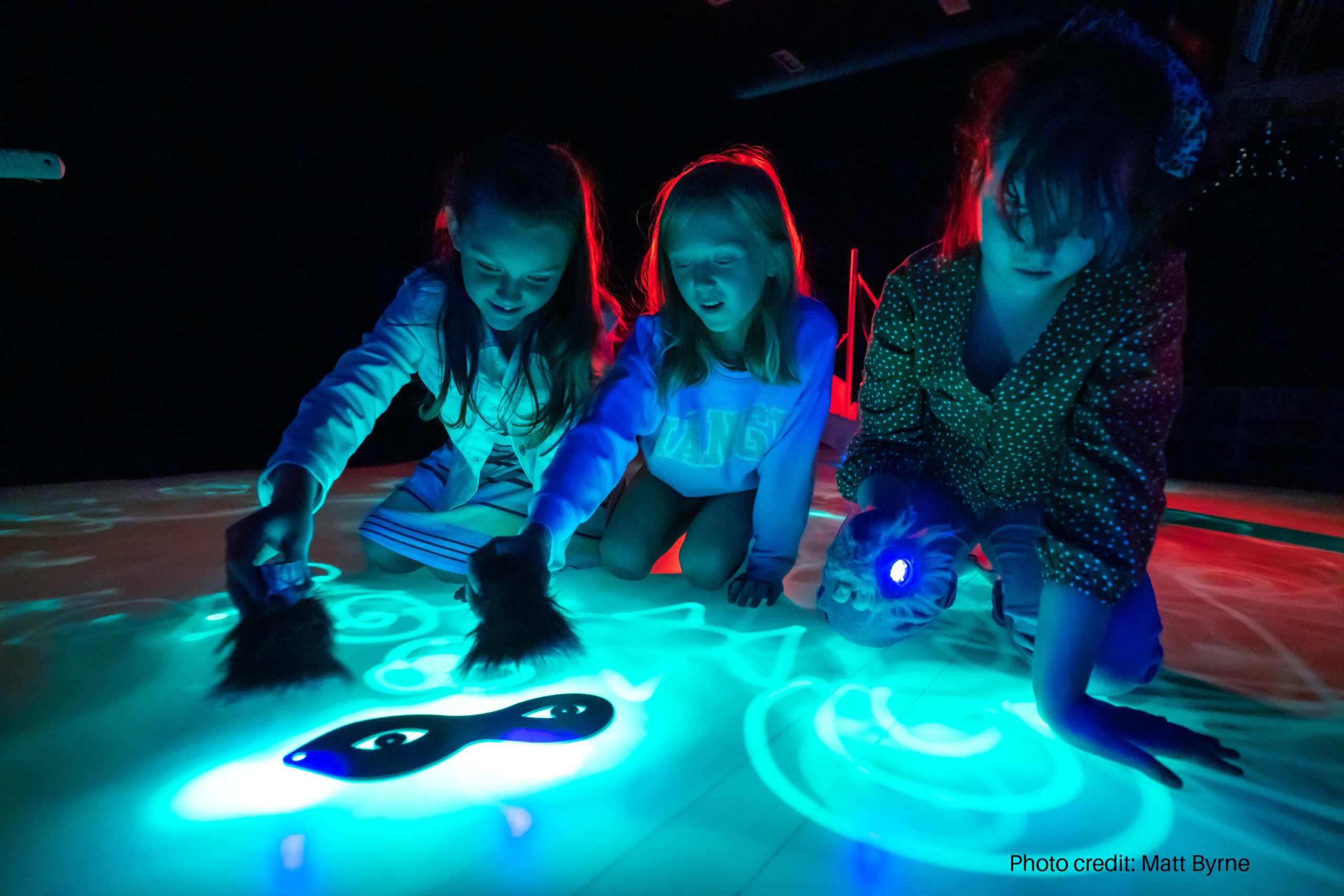 Paint with a UV torch at 'Sea of Light', a light installation at MAGNT.
A health lab on wheels and AI 'time machine' shows impact of disease – Darwin, Daly River, and Tiwi Islands.
Young Territorians compete to take the best micro-photos.
How did megafauna-filled Alcoota lose its giant birds, wombats and marsupial lions, and become Australia's red centre?
Limurr dharr djiwarr: learning on Country.
Kooo-koo-kaa-kaa, croak, screeee… What is Australia's favourite animal sound?
More on these highlights below.
Scientists, experts and event organisers are available for interview throughout National Science Week.
Read on for direct contact details for each event, or contact Tanya Ha – tanya@scienceinpublic.com.au or 0404 083 863.
Visit ScienceWeek.net.au/events to find more stories in your area.
Media centre here. Images for media here.
Sea of Light invites people to explore how light is produced and perceived. Using a UV torch as a paintbrush, participants can paint and stencil their own voyage or create bioluminescent animals in the Discovery Centre at MAGNT.
Children and families can steer ships that leave glowing paths of light in their wake as they sail across the sea floor or create a floor of fireflies that fade as time steals their lanterns.
Sea of Light brings together magical light and a gentle soundscape to create a unique adventure as part of Darwin Festival and National Science Week.
Tuesday 15 August - Sunday 20 August: www.scienceweek.net.au/event/sea-of-light/the-gardens
Media enquiries: Nicole Ogilvie, Nicole.Ogilvie@magnt.net.au or 08 8999 8264.
Dr Kirsti Abbott, Lucyna Kania and Dr Dan Edwards from the MAGNT science team are available for media interviews.
Chronic diseases – such as diabetes and heart disease – cause suffering for thousands of Australians.
The Menzies HealthLAB – a clinic on wheels – lets people see heart and kidney ultrasounds, hear their heart beating, and try on 'alcohol goggles' that mimic raised blood alcohol levels.
An award-winning interactive Time Machine app completes the picture – literally – by showing how those choices affect appearance.
HealthLAB will travel to locations around Darwin and to the remote communities of Naiuyu and Wurrumiyanga, giving locals the opportunity to talk to a range of scientists and health professionals about the science behind the inner workings of the human body, the technology behind the equipment we use, and future careers in science.
Media enquiries: HealthLAB, healthlab@menzies.edu.au or 08 8946 8541
Discover the tiny wonders of the Territory with 60 smartphone microscope converters, 30 remote and rural schools and libraries, and hundreds of science-curious students.
SCOPE is a photomicrography (the art of taking photos through a microscope) competition, giving Territorians the opportunity to explore the tiniest details of the Territory.
The smartphone microscope converters will be distributed to remote and rural schools and libraries, giving kids the opportunity to explore the world of minutia around them and share their experiences with the whole of the Northern Territory.
The competition is running in early primary, upper primary and secondary school categories, with selection of the best photos will be displayed online and in an exhibition at the NT Science Week Awards at George Brown Botanical Gardens in Darwin.
Monday 14 - Sunday 20 August: www.scienceweek.net.au/event/scope-science-can-open-peoples-eyes-3/
Media enquiries: Sarah Sutcliffe, sarah.sutcliffe@cdu.edu.au or 0498 578 030.
Alcoota was once home to the gigantic thunder bird Dromornis stirtoni, the the large leopard-sized Alcoota Marsupial Lion Wakaleo alcootense, and the huge wombat-like diprotodontoids Kolopsis torus and Plaisiodon centralis.
How did this once megafauna-filled landscape become Australia's red centre? How have animals coped with the great drying of Australia over the past 10 million years?
Ask a palaeontologist about the changes to the land and animals of Central Australia.
Dr Adam Yates from the Museum and Art Gallery of the Northern Territory will explain origin of Australia's red centre and detail the now-extinct megafauna uncovered in central Australia's most significant fossil site, Alcoota.
Wednesday 16 August: www.scienceweek.net.au/event/megafauna-at-yulara/yulara
Media enquiries: Linda Harper, Voyages Indigenous Tourism Australia, linda.harper@voyages.com.au or 0456 010 750.
Limurr dharr djiwarr: learning on Country– Galiwin'ku
Learn from Traditional Owners about specific innovations that allowed Yolŋu people to thrive for millenia, and new technologies that will take us into the future.
First Nations people are Australia's first scientists and engineers. Limurr dharr djiwarr will give students the opportunity to hear stories from Traditional Owners and knowledge holders about the innovations of Yolŋu people in North East Arnhem Land from pre-colonisation to settlement. And local Rangers will teach students about how emerging technologies support their work.
Students will recreate fire torches to transport embers and construct hunting spears and fish traps. These activities will then be contrasted by visits to the local solar and diesel power stations, supported by Power & Water staff, with students engaging in the construction of solar powered devices.
The local Rangers will host tours of their facilities to teach students about how emerging technologies support the work they are doing to conserve and manage their Country, including drones, GPS, side-by-side vehicles and biosecurity apps.
Monday 14 August - Friday 18 August: www.scienceweek.net.au/event/limurr-dharr-djiwarr/galiwin-ku
Media enquiries: Isaac Jansens, Shepherdson College, isaac.jansens@education.nt.gov.au or 0474 860 765.
Do you love the summer night sounds of cicadas? Are you intrigued by the lyrebird's mimicry or the mating croaks of frisky frogs?
The search is on to find our most-loved Aussie animal sound. This National Science Week, ABC Science wants people to go online to eavesdrop on the animal kingdom, explore the wonder and science of bioacoustics, and vote for their favourite call of the wild.
Twenty-eight different animal sounds have been selected by ABC's resident nature-lovers in consultation with scientists so that people can get to know our local tweets, howls, bellows, barks, chirps, croaks and calls, and vote for their favourites.
Monday 31 July – Friday 18 August: www.abc.net.au/sounds.
Media enquiries: Laura Boland, laura@scienceinpublic.com.au or 0408 166 426.
National Science Week is Australia's annual opportunity to meet scientists, discuss hot topics, do science and celebrate its cultural and economic impact on society – from art to astrophysics, chemistry to climate change, and forensics to future food.
First held in 1997, National Science Week has become one of Australia's largest festivals. Last year about 1.9 million people participated in more than 1,650 events and activities.
The festival is proudly supported by the Australian Government, CSIRO, the Australian Science Teachers Association, and the ABC.
In 2023 it runs from Saturday 12 to Sunday 20 August. Event details can be found at www.scienceweek.net.au.