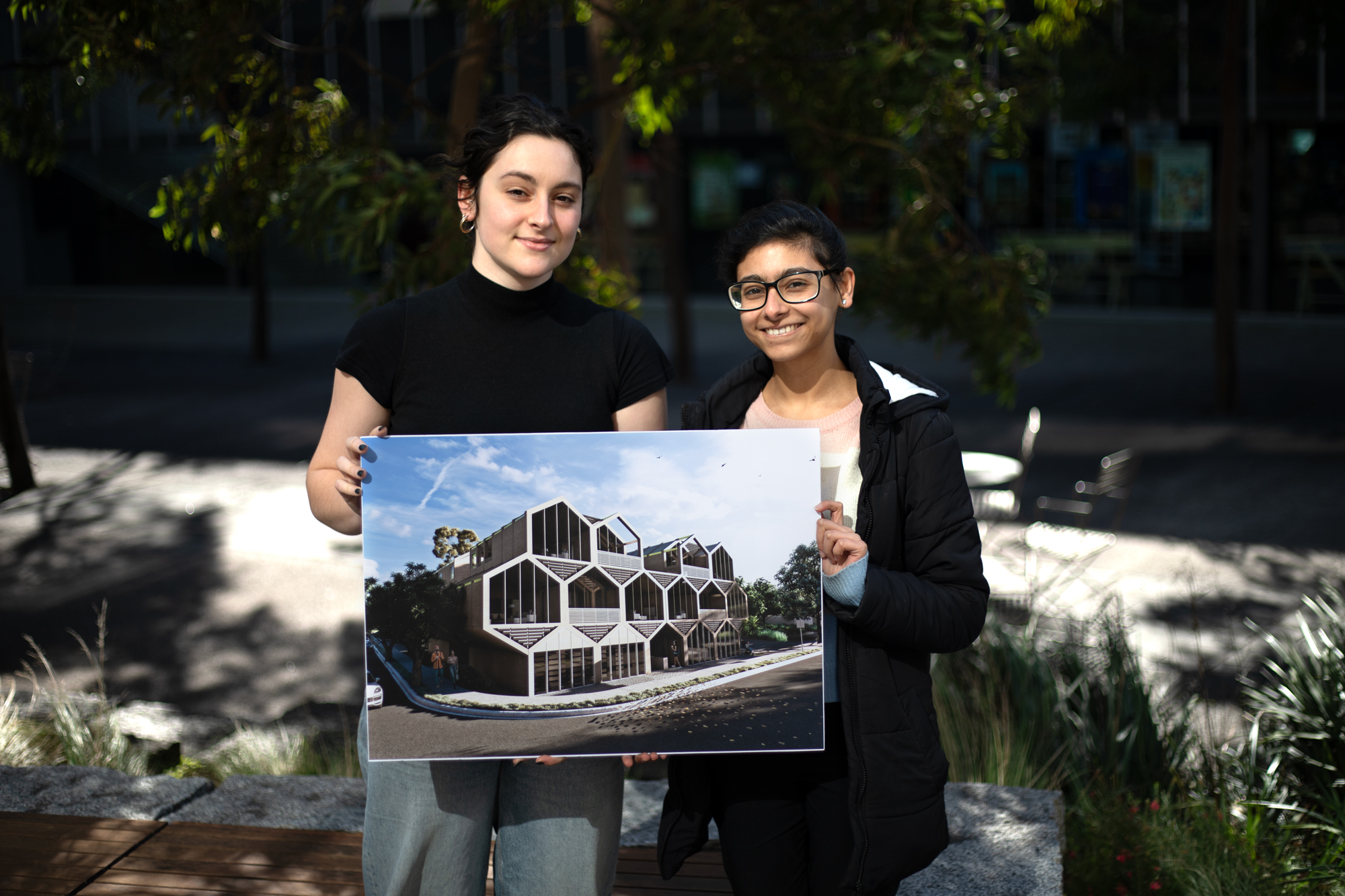 A team from Monash University has won the People's Choice Award at a major Australian design competition thanks to its unique beehive-inspired proposal for a site in East Malvern, Melbourne.


The awards for the 2023 Fleetwood Challenge Cup were announced at the prefabAUS conference on 22 August 2023.


The Hexad Studio team from Monash University drew inspiration from the natural world and bees for the three-dimensional, hexagonal modules that are at the heart of their design. The design was developed with input from Sumitomo Forestry Australia, who are developing the chosen site location at Waverley Road in East Malvern.


The Hexa-Cell Residence aims to showcase innovative, cost-effective and sustainable architecture. Comprising one, two and three-bedroom apartments, Hexa-Cell also hosts shared facilities on the ground floor, fostering community among residents and local inhabitants alike.
Notably, the modules are incredibly adaptable; and residents can customise their living spaces, adding or removing modules as required.


Team lead, Olivia Basilec, said the award is a significant achievement for the team.


"It's very exciting for our team, Hexad Studio, to be awarded the People's Choice Award at this major Australian design competition. It highlights the passion and effort we each gave the project. Modular building and prefabrication are still so under utilised in Australia, so this competition was a great opportunity for us to learn more about the potential for real world applications," said Ms Basilec.


Proudly established by modular building specialist Fleetwood Australia and prefabrication industry body prefabAUS, the Fleetwood Challenge Cup is now into its fourth year and provides teams with an opportunity to demonstrate the value and versatility of prefabrication and modular building to find innovative solutions unmatched by traditional construction.


The 2023 event focuses on a theme of "Building for the Future; NOW" and attracted 14 cross-disciplinary teams from universities across Australia, including Curtin University, Monash University and Western Sydney University. The teams were asked to design innovative properties featuring commercial and residential elements.
-ENDS-
Monash University's Hexad Studio


MEDIA ENQUIRIES
Monash University
T: +61 3 9903 4840 E: media@monash.edu
For more Monash media stories, visit our news and events site