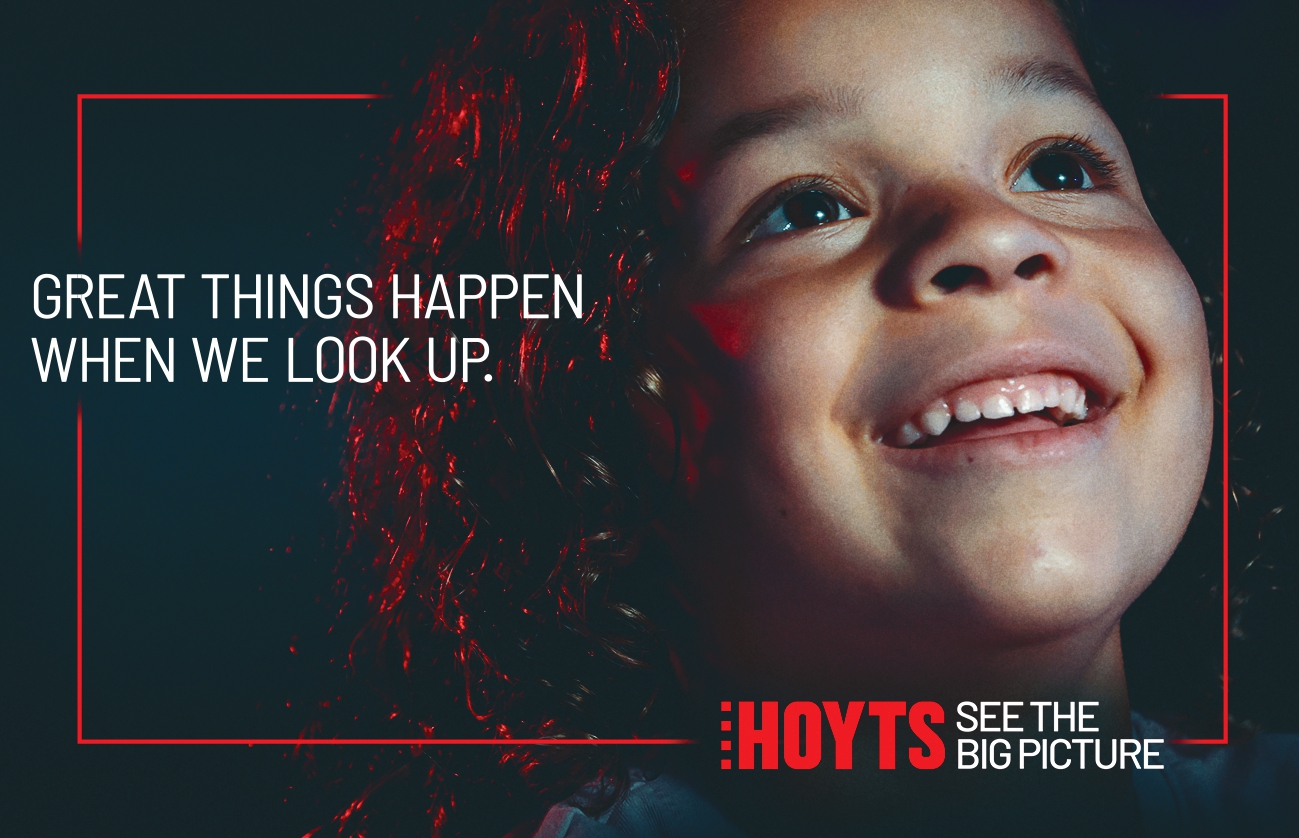 Media release For Immediate Release
HOYTS launches new brand positioning See the Big Picture
With over 113 years of delivering a world-class cinema experience, HOYTS launches a new brand positioning, See the Big Picture.
More than just a refreshed look and tagline, the branding is at the heart of its people and company vision. HOYTS' investment into state-of-the-art big screens, impressive surround sound, extra comfy recliner chairs, immersive D-BOX seats, and outstanding in-cinema dining are testament to why movie lovers experience more than just a movie at HOYTS.
To capture the excitement of going to the cinema and the essence of why cinema is still thriving, HOYTS has worked with creative agency Today the Brave and production company MOFA on its new See the Big Picture campaign, said HOYTS' Director of Sales, Marketing and Content Stephanie Mills.
"People have access to a huge amount of content on different sized screens but nothing compares to the experience of seeing a movie on the big screen at the cinema," Stephanie said.
"Sitting distracted in front of your TV, behind a tiny phone screen, or a laptop just doesn't compare to seeing a new release in a cinema.
"See the Big Picture reminds people of the magic of the movies; an escape from reality that provides emotional experiences that you just can't get at home."
The campaign has launched on HOYTS' own channels. Introducing the new brand positioning to market are four videos shot by Nick Kelly of production company MOFA, with a Hollywood inspired visual representation of the branding.
Building on the 'See the Big Picture' concept, the videos only show a portion of the action, encapsulated on the small screens they are being viewed on.
These videos are reminders of the unique ways we experience movies when viewed in the cinema, and the intensity of emotions we feel which can't be replicated on any other screen, device or setting.
"We know that cinema is so much more than just a screen and we're passionate about delivering big experiences for our guests, so they can see the big picture too."
HOYTS' recent investment including award-winning D-BOX Motion Recliners installed in fourteen additional locations across Australia, as well as huge Xtremescreens, extra-comfy recliner seating, and HOYTS LUX in-cinema dining provide guests with ample cinema experiences that are testament to the new brand positioning.
Find out more at hoyts.com.au/experiences/see-the-big-picture
Follow HOYTS Australia on Facebook, Instagram, Twitter, TikTok and LinkedIn.
-ENDS-
Key Facts:
About HOYTS
Since opening the doors of its first cinema in 1909, HOYTS has gone on to become one of the world's leading entertainment companies, with more than 490 screens and over 59,000 seats across the network. Today, HOYTS is the largest single-brand movie exhibitor in Australia and New Zealand.
Contact details:
Karen Black
Soda Communications
E: karen.black@sodacommunications.com.au T: 0406 383 186
Chriss Mannix
Soda Communications
E: Chriss@sodacommunications.com.au T: 0418 408 035