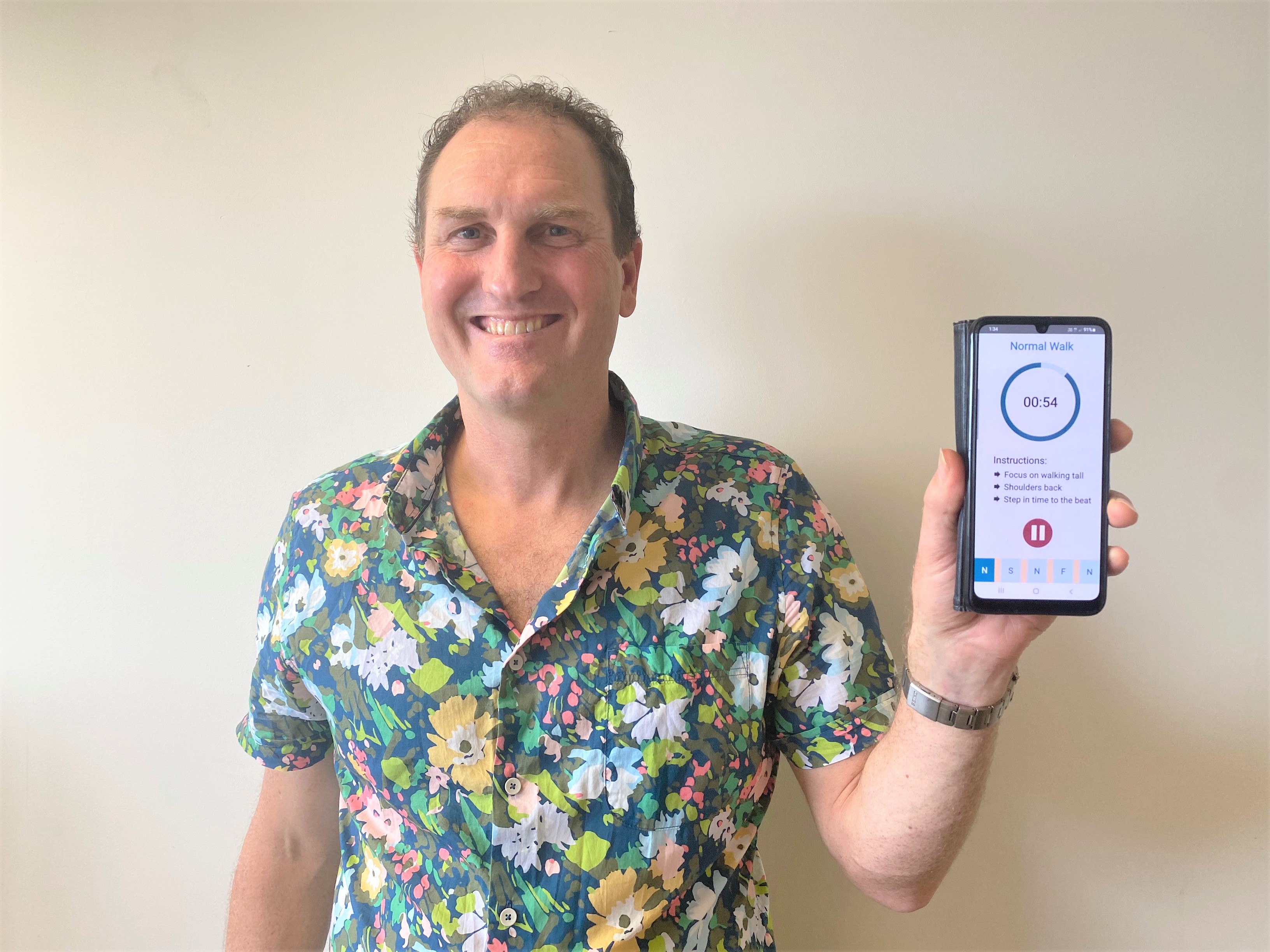 A new app, co-designed by people with Parkinson's Disease, has been launched to help those living with the condition learn to walk better and for longer.
A team led by UNSW Sydney biomedical engineer Dr Matthew A Brodie developed the Walking Tall app following a clinical trial funded by Shake It Up Australia Foundation and the Michael J Fox Foundation for Parkinson's Research.
Part of the trial utilised the app's gait re-training tool which now allows users to set their own training time and pace before delivering a rhythmic metronomic beat for three different walking speeds that is designed to trigger movement.
The app, which is free to download from the iOS and Android stores, also includes useful instructions such as 'walk tall', 'shoulders back' and 'focus on big steps', as well as providing encouragement via audio commentary.
While the majority of people take walking for granted, those with Parkinson's Disease (PD) can find it a major challenge given the fact nerve cells deep in their brain responsible for planning and controlling body movement do not fully function.
Gait dysfunction
Subsequently, people with PD often find their gait becomes impaired, their coordination decreases and step length can be severely affected.
Gait dysfunction can therefore impact negatively on quality of life and independence and leads to falls in around 70 per cent of those with PD.
An estimated 10 million people worldwide live with PD, including around 150,000 in Australia alone.
"Parkinson's is a big problem in Australia and it's exciting to see these new diagnostic tools and interventions coming online," says Shake It Up Australia Foundation CEO Vicki Miller.
Dr Brodie's research was conducted at Neuroscience Research Australia's state-of-the-art facilities in Sydney, and direct comments and suggestions from people with PD were then key to development of the app.
"Those who live with Parkinson's Disease have to think about every single step they take. We asked them how much mental effort it takes for them to walk, and often they would say 100 per cent," he says.
"With the metronome beat of the app the aim is to replace the need to think about walking and help with the timing of their steps.
"This app can give people confidence and also a sense of achievement that they can be empowered and do something for themselves to help their own condition.
"My goal in terms of my research is to have an impact now, not an impact in 10 years' time. And I believe this app can help people with Parkinson's Disease all around the world right now."
In the clinical trials, which featured 62 people with PD, half were able to use a version of the app to help train their gait, while the others followed an existing walking program known as the Otago Exercise Program (OEP).
After 13 weeks, and after analysis of self-reported feedback from those involved in the trial, it was found that those following the traditional OEP training were exercising for around only 60 minutes per week on average, while those using the app trained for 150 minutes.
The full report of the trial, including analysis of an associated biomedical device which is currently being carried out by a blinded statistician ahead of approval by a clinical trial advisory board, will be published in a relevant journal in due course.
In the meantime, researchers have separately developed the app further and hope to provide people with PD immediate benefits based on the positive feedback of those who used it during the trial.
It now features specific training sessions split into five different walks, plus rest periods, with users guided to try to walk at slow and fast speeds, as well as a normal pace.
Metronome helps stabilise gait
"We're training them in gait adaptability. Sometimes they also need to visualise a walking style because often people with PD suffer from hypokinesia where their movements are not actually as big as they feel they are," says Dr Brodie, who has subsequently created a spin-off company called Walking Tall Health.
"So we are encouraging them to take exaggerated steps, which will actually be more like regular steps.
"The feedback we got from the trials is that the people who used the app really liked the simple metronome beat via their phone that helped to stabilise their gait.
"The app lowers the barriers for people with PD to train themselves to walk. We say to them that doing as little as six minutes a day, three days a week, will still help.
"And what we have found is that once people become engaged, and they find they are getting the benefits, then they actually want to do more. All they have to do is tap one button on their smartphone and they can start exercising, even just up and down the corridor in their home.
"For someone with Parkinson's Disease whose goal might only to be able to walk to their letter box every day, that can really help them.
"We also give them audio encouragement in the app and you can even 'earn' a gold cup if you complete the training over a number of days. All of that is another motivator for people."
Walking Tall Health's chief science officer, Dr Martin Ostrowski, himself lives with Parkinson's Disease.
And he says: "It's all about listening to what people need and keeping it simple and building trust. The app targets consistency of walking and lowers the barriers to effective training.
"We have seen that using this app for just few minutes every day to retrain gait can make a big difference. The more people that try our app and then give feedback, the better we will make the next app version.
"I have used the app myself and it is so easy. It gives me that beat that means I am able to walk without using all of that mental effort. People without Parkinson's might not realise because that just comes naturally to them.
"I use the app about once a day for 10-15 minutes, walking roughly 1km around the block, but in as little as six minutes people with Parkinson's Disease can get a benefit.
"Michael J Fox has said Parkinson's is the gift that keeps on taking. But I think an app like this empowers people living with Parkinson's to have some control over helping themselves and realising they can still have a long and productive life."
A Tyree Institute of Health Engineering (Tyree IHealthE) Catalyst Grant was also instrumental in helping to develop the app further following the initial clinical trials.
"Walking Tall Health addresses a significant unmet need experienced by people with PD and aligns with the Tyree IHealthE's vision of translating pioneering MedTech innovation," says Tyree IHealthE's Dr Ian Goon, Head of Strategy and Innovation.
Walking Tall Health is now one of the industry partners of the $12 million ARC Research Hub for Connected Sensors for Health, led by UNSW Scientia Professor Chun Wang.
He said: "The smartphone app provides an enjoyable tool to help people with PD to walk to the beat of music, increase their confidence and walking speed, and improve their gait.
"With further development currently underway by Walking Tall Health in partnership with the ARC Research Hub for Connected Sensors for Health, this technology will bring significant benefit to people with Parkinsonian gait worldwide."
**********
For more information, or to speak with Dr Matthew Brodie, please contact:
Neil Martin, News & Content Coordinator, UNSW Sydney
n.martin@unsw.edu.au
Key Facts:
UNSW biomedical engineers have developed new software that trains people with Parkinson's to improve their gait.
Contact details:
Neil Martin, News & Content Coordinator, UNSW Sydney
n.martin@unsw.edu.au