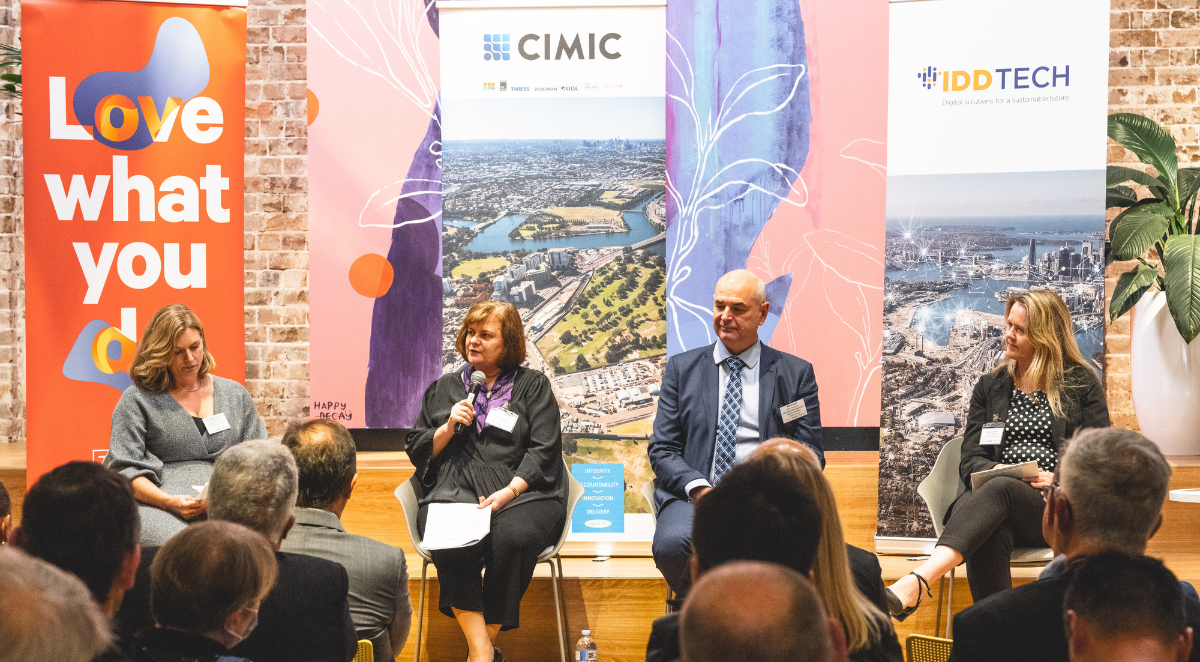 A new partnership is bringing together the brightest minds in academia and technology to advance innovation, sustainability and productivity in infrastructure delivery and services.
Torrens University Australia and CIMIC Group's software development company, IDD Tech, have launched a research and innovation partnership that will bring together Torrens University's entrepreneurial research and innovation leaders and IDD Tech's expertise in integrated digital delivery software solutions for the infrastructure, resources and services sectors. The partnership will generate opportunities for academics, PhD candidates and industry specialists to share knowledge and collaborate on applied research projects.
The partnership was launched in July 2023, with attendees including Torrens University Australia's Vice-Chancellor Professor Alwyn Louw.
"The partnership framework enriches research, development, and commercialisation at Torrens University Australia by bringing academic insights and industry know-how together," said Professor Louw.
CIMIC Group is an engineering-led construction, mining, services and infrastructure development leader.
CIMIC Group's Executive Chairman Juan Santamaria said the partnership would foster the exchange of ideas and skills, and support innovations through the research and development phases into implementation.
"Our shared priorities include developing our people, and using data and technologies to design, build and operate better. We are focused on digital solutions that safely improve productivity and achieve better ESG outcomes for our communities."
Torrens University Australia's Deputy Vice-Chancellor Research Professor Kerry London, who led the initiative for the university, said the partnership was responding to rapid changes in digital technology that are impacting both the infrastructure and higher education sector.
"The partnership will provide access to major projects for testing and trials, and we can fast track practical solutions for advancing sustainability," said Professor London.
"Our priorities around diversity and inclusion, knowledge sharing, mentoring and collaboration will surface new ideas, drive innovation and deliver initiatives that accurately target the infrastructure sector's current and future challenges".
The partnership's four collaboration areas include:
• Knowledge creation – supporting applied research projects
• Innovation studio – establishing an international ideas network
• Workforce training – codesigning research-based and customised training
• Knowledge transfer – sharing research outcomes.
ISO 27001 certified, IDD Tech's software development and services deliver proven products, digital connectivity, information security, and innovation – to improve lifecycle performance and outcomes. Its products and services are at work on more than 200 projects throughout Australasia.
About us:
About Torrens University Australia
Australia's fastest-growing university, Torrens University Australia is a private higher education provider with an initial 165 students enrolled in 2014 to over 19,000 students in 2023. Torrens University brings a careers-focused and global perspective to Australian higher education and a credible industry-immersive difference. Torrens University Australia is the only university in Australia and New Zealand, and one of four globally, to be a Certified B Corporation, meaning we are committed to the highest standards of verified social and environmental performance, public transparency, and legal accountability to balance profit and purpose.
We are a young university with core research areas of strength in sustainable development, housing and health, health sciences, health policy, human resource management, ecotourism, and computing sciences. Our research endeavours have gained substantial recognition, thanks to the contributions of our five interdisciplinary Research Centres. Among all Australian universities, Torrens University boasts the highest Field Weighted Citation Impact score, a notable achievement that contributes to our growing global reputation.
Our dedicated researchers are driven to creatively address society's challenges, actively engaging with those who will be affected by their discoveries. Students and staff from across the institution work collectively to design and execute studies that will create positive and enduring change towards a better world. Our partners across industries, governments and communities find us beneficial to work with as we craft teams together around the world who are devoted to high quality impactful research.
Contact details:
Professor Kerry London, Deputy Vice-Chancellor – Research | 0427 415 032