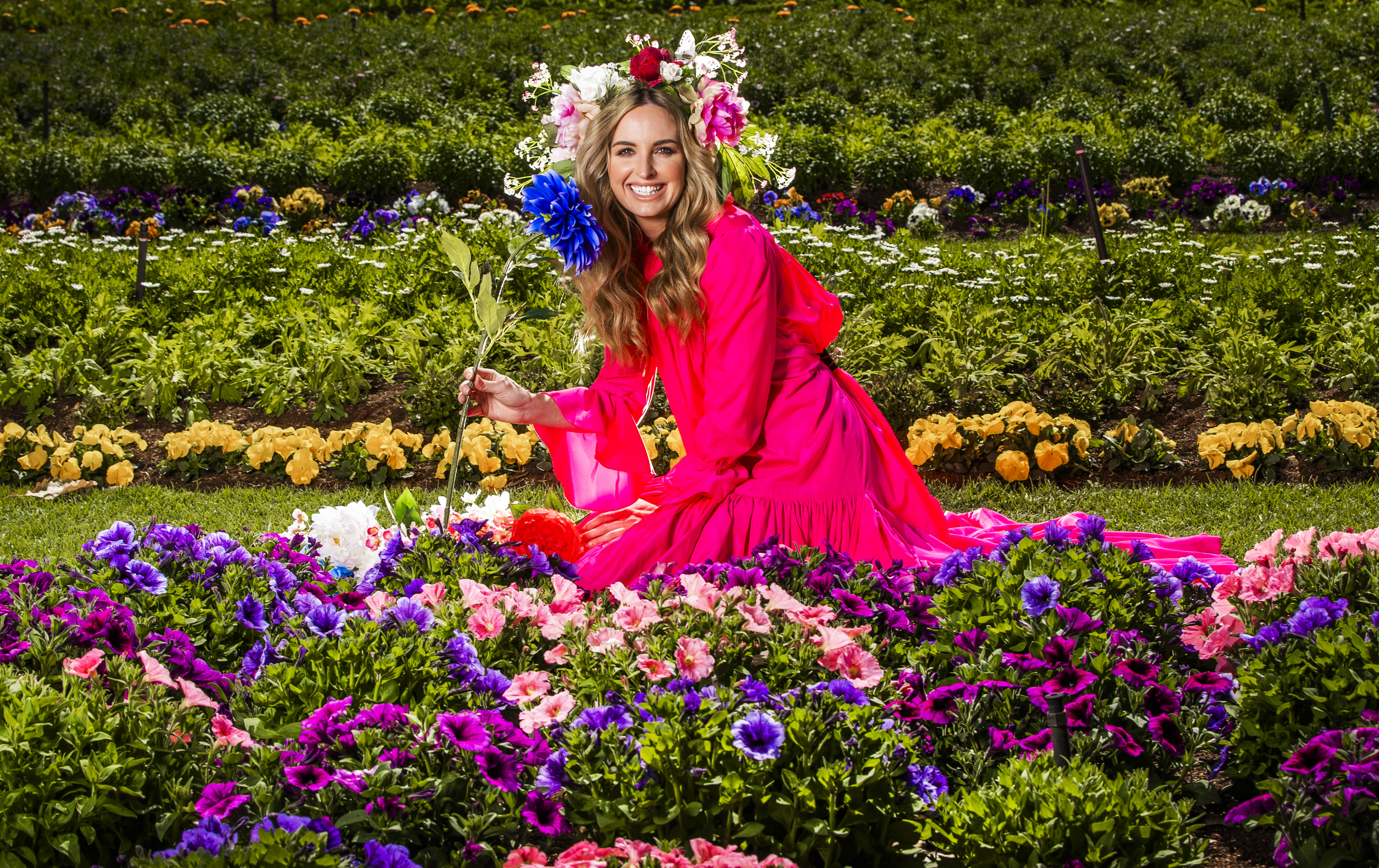 Here's the secrets to the perfect petal headdress so you can unleash your Boho Mojo at the Toowoomba Carnival of Flowers in September
Put away those tiny tiaras and bejewelled circlets because it is officially the golden age of the Flower Crown.
From donning the heads of Frida Kahlo and Karlie Kloss, Elizabeth Taylor and Lorde, Ophelia and Marie-Antoinette, the ancient Greeks, Hawaiians and 1960s flower children, the timeless floral headdress is TIMELESS.
Flower Crowns are the preferred dress code at the Toowoomba Carnival of Flowers, and are a must-have for the popular Festival of Food and Wine from 8 to 10 September in Queens Park. This is a three day celebration of the best in regional produce and Australian music and will feature Jon Stevens, Eurogliders, Hoodoo Gurus, Sneaky Sound System, Budjerah and other leading and local sound-makers, with foodie queen, Justine Schofield hosting farm to fork sessions and Flower Crown making a standout experience!
So, in anticipation of the famous all-of-September floral celebration, their flower crown makers have created a foolproof eight-step look to rock your inner boho.
Directions for a floraltastic Flower Crown (aka Eights Steps to Boho Mojo):
Step 1: Purchase green covered floral wire from your local florist. Take your wire and wrap it around your head to establish the size for your crown, leaving about half an inch of wiggle room because you're going to pack it with a bunch of greenery. Secure with floral tape. A big sigh and major smile.
Step 2: Cut a number of small two-inch pieces of florist wire and set aside to use when attaching large floral pieces to your crown base. It's all about the planning, petals.
Step 3: Once you've measured your head and secured your wire base, use some greenery (vines are recommended) to wrap around the entire base of the wire ensuring to cover up all wire – weave around and secure by twisting wire together and secure with floral tape. Remember, strong foundations make for a lasting Flower Crown… just like life!
Step 4: Pick your florals. Choose a mix of large and small flowers, and make sure to pick some un-flowered greenery too (if you have flowers with individual leaves on the stems near the bloom, you'll need to trim those leaves off to access the stem and secure to the crown base). Go on, get creative – colour block, mash it up, go for curated or crazy.
Step 5: Attach your small floral pieces to your flower crown base using floral tape – baby's breath is perfect for this and is easy to source. Map out the look and feel of your crown, allowing space for your floral pieces. Trust us, it's worth the work.
Step 6: Now for those statement floral pieces (spray roses and chrysanthemums are perfect mid-sized flower fillers) – ensure when you're cutting your floral that you do not cut the entire stem off, as you need as much stem as possible to build off when it comes to the statement floral pieces. Weave a small piece of wire (cut earlier) around the base and down the stem of the flower and attach to the crown (secure as needed with floral tape – this also ensures there are no stray wires that may prod your head!). Repeat until all of your floral pieces are attached, ensuring that the flowers face outwards. Tip: Overlap the flowers and greenery just enough to hide the wire crown base, and any thick piece of floral tape. Almost there.
Step 7: Take a step back, admire your creation and take a snap – don't forget to share on Instagram and tag @toowoombacarnivalflowers and #TCOF. Go you!!
Step 8: You're ready to rock your flower crown skills at Toowoomba Carnival of Flowers, so crown your clever head and get blooming at www.tcof.com.au
Flower crown top tip – how to make your flower crown last as long as possible?
Trim about an inch off the bottom of each flower then put them in a vase of water for at least an hour, adding flower food (if they came with it). That way, the blooms are well hydrated before you begin building your crown.
Toowoomba Carnival of Flowers' Festival of Food & Wine 2023
Friday 8 September from 4pm to 10pm
Steph Strings
Budjerah
Sneaky Sound System
Saturday 9 September from 11am to 10pm
Hamilton Band
Chocolate Starfish
Hoodoo Gurus
Sunday 10 September from 11am to 8pm
Dreams Show – Fleetwood Mac & Stevie Nicks
Eurogliders
Jon Stevens
Famed Masterchef Foodie Justine Schofield leads the Farm to Fork demonstrations. Queens Park will become home to The Tasting Room and see bars serving sips from 4Brothers Brewery, Pechey Distilling Co and Burleigh Brewing, as well as the BBQ Pityard from Paddock Butchery, the sellout Botanical Society area, and more than 35 food and wine stalls. Flower Crown making stations return, with the floral displays again a feature.
The internationally acclaimed Toowoomba Carnival of Flowers will take over September as a joyous 30 days of petals, flavours, sounds and sights, headlined by 190,000 blooms. Toowoomba Carnival of Flowers is supported by the Queensland Government, through Tourism and Events Queensland, and features on the It's Live! In Queensland events calendar.
TICKETS to the Festival of Food and Wine are on sale NOW at tcof.com.au
TCOF imagery here
Toowoomba Carnival of Flowers 2023
1 – 30 September 2023
tcof.com.au
Festival of Food & Wine
8- 10 September 2023
tcof.com.au
Contact details:
Kath Rose
0416 291 493
kath@kathrose.com