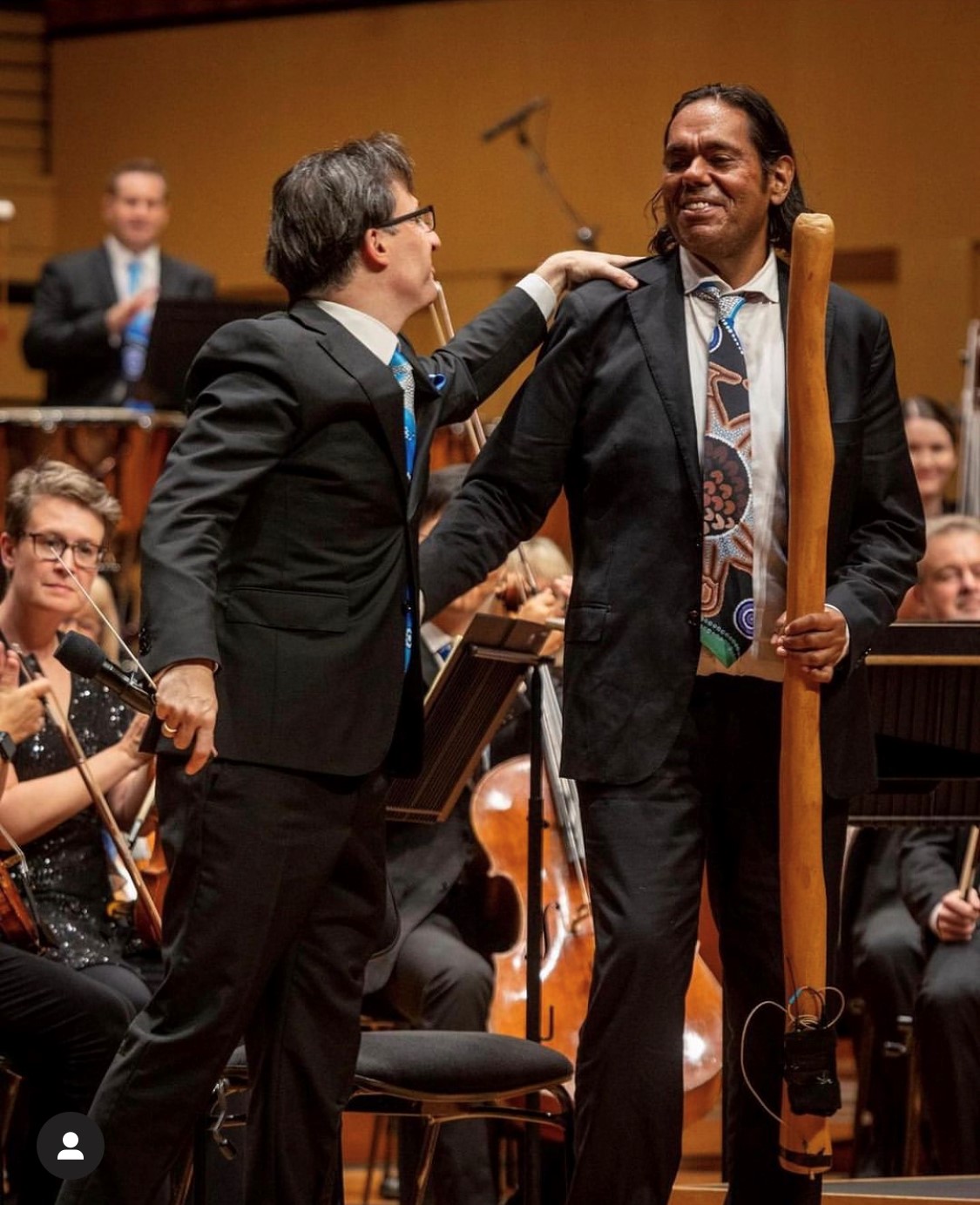 THIS SUNDAY:
Stunning artwork by First Nations artist Rosella Namok to accompany the Orchestra's performance of Sculthorpe's Earth Cry in what will be a powerful music event
This Sunday internationally acclaimed didgeridoo virtuoso William Barton and Queensland Symphony Orchestra will perform in Cairns/Gimuy under the baton of Chief Conductor Umberto Clerici. The concert program features Tchaikovsky's masterpiece Symphony No. 5, and Australian composer Peter Sculthorpe's famous Earth Cry for what promises to be a spectacular music event, part of the 2023 Cairns Festival.
Barton Meets Tchaikovsky will be held on Sunday 3 September at 6pm in the Cairns Performing Arts Centre.
The program begins with Craig Young's Fanfare for the Seventy-fifth Birthday of Queensland Symphony Orchestra and follows with didgeridoo virtuoso William Barton and powerhouse violinist Véronique Serret performing their recent musical collaboration Kalkani (Heartland) described as 'a message of peace and love carried by the eagle spirit'.
Peter Sculthorpe's Earth Cry, an evocative piece that captures the unique beauty and vastness of the Australian landscape will be a feature, with William Barton's virtuosic performance on the didgeridoo a highlight. Sculthorpe, often referred to as the 'Australian Beethoven', and the founding father of Australian classical music, added a didgeridoo part to his famed Earth Cry specifically for Barton 16 years after he originally composed the piece and this version was premiered by the QSO in 2002.
Digitized versions of stunning artworks of Cairns-based First Nations artist Rosella Namok, winner of the Flying Arts First Nations Artist Award category of the 2022 Queensland Regional Art Awards, will feature on large screens during the concert. Flying Arts is partnering with QSO in a special collaboration for the concert, with Chair The Hon Anthe Philippides saying Rosella's art was providing the missing piece making for a unique concert experience.
"Rosella's visuals are elemental and very powerful, perfect as an image companion experience when the Orchestra performs the equally as powerful Earth Cry. We are thrilled that four pieces will be featured throughout the concert, all chosen by QSO Chief Conductor Umberto Clerici," she said.
Artist Rosella Namok said while her artworks are hung in major building around Australia and internationally, having them on a big screen while the full QSO performs on stage may well reduce her to tears.
The concert also features Tchaikovsky's Symphony No.5, a masterpiece that shows off all the sections of the Orchestra.
Chief Conductor Umberto Clerici said, "QSO is committed to sharing our wonderful music with all Queenslanders, and this year will tour across the state, west out to Roma and north to Cairns, and many places in between. The concert in Cairns/Gimuy will be breathtaking."
In addition to the concert, QSO will provide professional development sessions for music educators in the Cairns region, and QSO musicians will play alongside community members in a special workshop. These regional activities, known as QSO Connect, link QSO musicians with schools and communities around Queensland, ensuring everybody has the opportunity to be involved with music, whether it be through learning, listening, performing, or composing.
Queenslanders will see more of QSO in their regions from 2024 onwards, with the Company commencing a five year Regional Touring Plan featuring the full symphony orchestra and includes education and large-scale community events.
Queensland Symphony Orchestra - Barton Meets Tchaikovsky
In partnership with Cairns Festival and Cairns Regional Council.
Sunday 3 September, 6pm - Cairns Performing Arts Centre, with William Barton and Chief Conductor Umberto Clerici
Queensland Symphony Orchestra's Season 2023 is a year of grand masterpieces and intimate chamber moments, world premieres, and experimental music experiences, anchored by some of Queensland's biggest music names in Ray Chen, Piers Lane and William Barton, and featuring some of the greatest music in the world in Don Quixote, The Planets, Beethoven's heroic Symphony No.9, and what will be one of the most spectacular productions of 2023, Wagner's Ring Cycle. The Orchestra is also touring Queensland throughout 2023.
For more media information, please contact Kath Rose on 0416 291 493 or email kath@kathrose.com