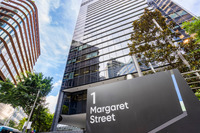 Quintessential has been confirmed as the buyer of One Margaret Street office tower in a move that includes plans to commit a further $90 million to reposition the A-grade building. The transaction is just the fifth in the last five years for a 100% freehold acquisition within the Sydney CBD.
The property is ideally positioned between the redeveloped Wynyard Station to the east and the Barangaroo precinct to the west and located above Sydney's primary subterranean pedestrian connection from the Barangaroo Wharf to Pitt Street.


With the substantial redevelopment budget, Quintessential plans to improve the quality of the finishes, amenities, and technology throughout the 18-level building, bringing it to a high A-Grade standard.

Working with council to deliver a product aligned to their strategic framework, Quintessential will create a 10,000sqm podium with typical floor areas of circa 1,850sqm of NLA, breathing external spaces and winter gardens in excess of 1,000sqm.
Work on the upper floors will commence in 2024, with the plant to be upgraded to create an all-electric building. Post planning approvals, the new podium will aim to be delivered into the market in 2026/27 when there is a void in new supply for quality A-grade space.
The repositioning work will build upon the current impressive 5.5 NABERS energy rating, using low carbon embodied materiality, including green concrete, green reo and green steel to complete the works.
The re-imagination of One Margaret Street will include a co-working facility providing flexible spaces for its tenants and third-party external users.
The sale was negotiated by the CBRE team of Flint Davidson, James Parry, Andrew Hunter and Michael Andrews, and Adam Woodward and James Mitchell from Colliers.
Flint Davidson, Pacific Head of Capital Markets, CBRE
"The opportunity to find value in secondary assets in Sydney that are capable of being repositioned to prime is gaining traction with capital off the back of some solid prime leasing data.
Quintessential's CIO, Andrew Borger
"One Margaret Street is excellent value; we have acquired a prime quality asset at $14,240 per sqm NLA with additional land at effectively no value. We intend to add 4,000 sqm NLA to the asset, reflecting 20% additional area."
"With recent inflationary pressure, new developments in Sydney will be challenging and repositioning key strategic assets is something we will see more of in the medium to long term."
"In a challenging market, we are pleased to have raised more than $200 million of equity and a senior debt facility via the Commonwealth Bank of Australia.
"We look forward to collaborating with our new tenants and all relevant stakeholders to reimagine this outstanding property with a high ESG focus, building upon the strong tenant and investment demand for repositioned assets."

Shane Quinn, Executive Chair of Quintessential
"We appreciate the support of our long-term loyal investor base and have welcomed many new investors who see the counter-cyclical opportunity in the market."
"We have waited a long time to be able to acquire quality assets such as this at such attractive pricing and below replacement cost. We think now is the time for creating intergenerational wealth and returns for investors at this point of the cycle."
"One Margaret Street is the largest asset Quintessential has ever purchased. I never thought we could find an
A-Grade asset in a location such as this over Wynyard Station in the Sydney CBD and still be able to provide our projected desired returns for investors.
"We think the market is overpricing risk in well-located, A-Grade assets, which provides an opportunity for our investors to capitalise on."
"Comparatively B- Grade and secondary assets are struggling to attract tenants, which has not yet been reflected in pricing, so we think the market is mispricing this."
"Once repositioned, this will be a very attractive asset, particularly to institutional and foreign capital, seeking a 100% freehold interest."
-END-
Key Facts:
Recent Quintessential Activity Explained:

1. Andrew Borger joined Quintessential as the Chief Investment and Operations Officer in January from Charter Hall, where he was Head of Portfolio for Office, managing a portfolio valued at $23BN.
2. Richard Lucas has been appointed CEO effective July, following three years as the business's CFO, a move that will ensure strong leadership and continuity from someone who is already in tune with the strategic outlook of the business.

3. Quintessential retained the knowledge of former CEO Russell Bullen as he joined the Advisory Board with newly appointed Chair Peter Kahan.
4. Quintessential (formally Quintessential Equity) has revealed a new brand identity, including a name change, as part of the Quintessential Business Brand Strategy.
5. The brand strategy sets the framework for business into the future, and the refreshed brand identity facilitates a hierarchy to facilitate growth ambitions.
About us:
Quintessential specialises in property regeneration and development, providing tenants with inspirational solutions and giving investors exceptional risk-mitigated returns.
Contact details:
Tommy McDonald
Arize Communications 
0414 394 966
Carmen Smith
Head of Marketing - Quintessential