New corporate strategy launched, detailing Race's optimised clinical program and key areas of discovery, placing Race at the heart of cancer care

Lead clinical focus on investigating anti-cancer, plus cardio-protective and FTO properties in metastatic breast cancer, using the peripherally administered bisantrene formulation, RC220 with a view to improving therapeutic outcomes and heart health for patients with cancer

Secondary focus on pursuing increased anti-cancer / FTO benefits of bisantrene combined with current standard of care therapies in acute myeloid leukaemia (AML)
Targeted R&D program designed to maximise bisantrene's partnering potential

Video update, presentation and shareholder information sessions available to provide additional background and offer Q+A opportunities

8 August 2023 – Race Oncology Limited ("Race") is pleased to provide shareholders with a strategic update, including an overview of revisions to corporate strategy, designed to optimise use of existing resources, while driving bisantrene's commercial partnering and collaboration potential.
Non-Executive Chair, Mary Harney commented: "Through the course of conducting this review of strategy, Race drew upon a rich set of insights. We further reviewed our deep historic clinical dataset, as well as many preclinical studies across a range of indications. We investigated the many market opportunities for bisantrene and engaged with key opinion leaders to inform our view of unmet patient need. Finally, and of critical importance, we reviewed the paths to market which would position our lead asset most strongly with potential partners.
This strategic update delivers committed and planned programs, designed to optimally leverage bisantrene RC220's potential in the areas of anti-cancer, cardio-protection and FTO[1] inhibition. This has been a significant body of work - I thank the Race team for their dedication in driving toward the best outcome and am also grateful for the ongoing interest and support of our shareholders."
Race CEO and Managing Director, Damian Clarke-Bruce commented: "Race's revised development program has been designed in such a way that our new bisantrene formulation can fit straight into a global pharmaceutical partner's pipeline. Through our rigorous clinical development plan, Race will investigate bisantrene RC220 in both metastatic breast cancer and continue our clinical experience in AML, while investigating and expanding our knowledge of its mechanism of action. We have a clear regulatory pathway and a program that is supported by international key opinion leaders, for a drug candidate which has already been shown to improve patients' lives.
We look forward to presenting the strategy to existing and potential new shareholders over the coming weeks as we seek to advance our position as a commercial partner with a life-changing therapeutic asset in bisantrene RC220."
Several key recent insights have driven the strategic revisions as summarised in the following slide extracted from Race's investor presentation, appended with this announcement: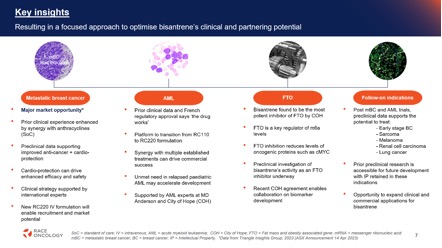 Evolving the corporate strategy
Race's new strategy has been designed to maximise the inherent value of bisantrene: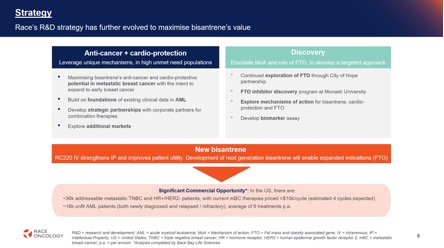 Anti-cancer + cardio-protection
Race's core focus is to impact cancer outcomes and address the challenges of chemotherapeutic cardiotoxicity. Studies will leverage the unique mechanisms of bisantrene in mBC and AML, both cancer patient populations with a high unmet need, paving the way to a host of future indications.
Metastatic breast cancer (mBC)
Breast cancer has the highest use of a class of drugs called anthracyclines. While highly effective anti-cancer drugs, anthracyclines may cause serious and permanent damage to the heart in many patients, limiting the total dose that can be administered. Several studies have estimated that over half of the patients exposed to anthracyclines will develop some form of heart disease within six years of treatment[2] despite those limits. The mBC patient population would strongly benefit from a therapeutic approach that could provide both anti-cancer and cardio-protection by allowing more doses to be delivered with an improved safety profile.
mBC has been identified as the lead indication for bisantrene as it provides Race with the opportunity to address this clear high unmet patient need and, with around 36,000 mBC patients in the US per annum, it represents a large commercial opportunity.
Historical anti-cancer data exists for bisantrene as a monotherapy across 471 advanced/mBC patients in Phase 2/3 studies. Race has also demonstrated preclinically, that bisantrene can protect the heart from anthracycline-induced cardiomyopathy in vitro and in vivo.
Race plans to take bisantrene RC220 into a Phase 1/2 clinical trial in combination with the anthracycline doxorubicin, the most widely used chemotherapy agent in mBC. This trial will establish the dosing regime for bisantrene RC220 in combination with doxorubicin, and evaluate bisantrene RC220's performance as both an anti-cancer and cardio-protective agent. Exploratory endpoints have also been built into the trial to evaluate FTO expression, assessment of biomarkers, and downstream pathways.
This trial will be initiated once GMP RC220 is available, and after the completion of toxicology studies, ethics submission, and regulatory approvals. The expected timeframe for trial commencement is Q3 CY 2024.
Acute myeloid leukaemia (AML)
The AML program remains a key part of Race's strategy as there remains a need for a new therapeutic which improves on current cancer treatment options, while limiting toxicity for the ~16,000 AML patients in the US each year who are considered unfit for other treatments.
Bisantrene monotherapy has demonstrated efficacy and a well characterised safety profile in AML. Across 146 patients in 10 relapsed or refractory (r/r) AML studies, bisantrene has historically demonstrated an average complete response rate of 46%. Race has promising preclinical data to support anti-cancer efficacy in AML with bisantrene in combination with standard of care. Having been approved in France for AML in the 1980s, these additional insights provide confidence in Race's AML clinical program.
Race plans to take bisantrene into a Phase 1b/2a clinical trial where it will be investigated in combination with oral decitabine/cedazuridine in dose escalation studies, followed by a triple combination with a standard of care treatment, such as venetoclax. The initial phase will provide a transition from the original RC110 (central vein administration) formulation to RC220.
The AML trial is an evolution of the RAC-006 study (which will now be called RAC-009) and enables the broader recruitment cohort of unfit AML patients (including those with relapsed/refractory AML) and can also include patients with extramedullary disease. The trial is planned to start in late Q4 CY 2023, with transitional phases from RC110 to RC220 in 2024.
Race believes the AML program offers significant opportunities to enter into early commercial partnerships.
Discovery
Our discovery program is designed to further elucidate both cardio-protective mechanisms of action and the findings by City of Hope that bisantrene is the most potent inhibitor of FTO. This finding is suggestive of an option to deliver targeted therapy to the right patient, identified with an overexpression of FTO.
The discovery program will:
Continue to build knowledge around the unique MOA of bisantrene that enables reduced cardiotoxicity and related cardio-protection in combination with anthracyclines

Help to define the individual clinical benefits of anthracenes vs anthracyclines like doxorubicin

Enhance exploration of FTO through the recently announced City of Hope alliance

Further pursue the FTO inhibitor discovery program with Monash University

Provide an understanding of the MOA within the m6A pathway

Develop a biomarker assay that can be used in clinic
New bisantrene
Activities conducted under this program are designed to strengthen intellectual property for bisantrene and to develop the next generation of bisantrene to improve patient outcomes and experience.
This program will:
Build upon and leverage the foundations of RC110, bringing RC220 to clinic
Develop the next generation bisantrene to expand treatment indications, strengthen IP and enhance partnering options with potential for increasing the overall lifecycle of bisantrene
Additional follow-on indications
In order to ensure targeted application of resources and funding, Race's focus on mBC and AML has led the Company to categorise other investigated indications where it has produced promising data as "follow-on indications". These disease areas include melanoma, soft tissue sarcoma, renal cell small cell carcinoma and lung cancer. Early-stage breast cancer has been added to this category due to the likelihood that bisantrene's use could be expanded from mBC to early stage breast cancer, later in its development. In addition, further exploration of a paediatrics program will evolve as human safety data is generated with RC220.
Commercialisation strategy
Race is now commercially prepared and positioned to engage in international biopharma dialogues, so enabling partnership opportunities. This follows a critical evaluation of the clinically impactful features and benefits of bisantrene, and insights from local and international key opinion leaders and experienced industry agencies. This has enabled a definitive focus in developing target product profiles to meet high unmet needs and to tailor our proposed clinical development plan to enable recruitment, while providing a positive patient experience and clear regulatory pathways. Race believes its clinical program enhances and delivers a unique commercial opportunity that can now be realised by the appropriate in-market pharmaceutical company.
Race retains a solid cash reserve. Both the AML Phase 1b/2a study and committed preclinical programs are fully funded. Race is investigating a variety of avenues for funding the mBC study due to start in late 2024, including non-dilutive sources and partnerships.
Other assets describing the strategic update and rationale
Presentations
Appended with this announcement is an investor presentation which includes within it an updated activities pipeline and clinical development plan.
Investors are also invited to view a video copy of the presentation as delivered by CEO and Managing Director, Damian Clarke-Bruce and Chief Medical Officer, Dr Michelle Rashford. To view the video presentation, please click here: https://raceoncology.com/?p=5619
Investor briefings
Shareholders and potential new investors are also invited to attend an online investor Q&A session,
and/or in-person briefings in Sydney, Melbourne and Perth over the coming weeks. The Race team looks forward to welcoming all those shareholders and potential investors who can attend.
Please see our other ASX announcement being lodged today (8 August 2023) for further details.
-ENDS-
---
[1] Fat mass and obesity associated protein
[2] Swain SM, Whaley FS, Ewer MS. Congestive heart failure in patients treated with doxorubicin: a retrospective analysis of three trials. (2003) Cancer 97:2869–79.
About us:
About Race Oncology (ASX: RAC)
Race Oncology (ASX: RAC) is an ASX-listed clinical stage, global biotechnology company with a dedicated mission to be at the heart of cancer care.
Race's lead asset, bisantrene, is a small molecule anthracene chemotherapeutic. Bisantrene has a unique and rich clinical history with demonstrated therapeutic benefits in both adult and paediatric patients, a well characterised safety profile, and compelling clinical data demonstrating an anti-cancer effect and a lack of cardiotoxicity. 
Race is developing bisantrene to address the high unmet need of patients across multiple oncology indications, with an initial focus on metastatic breast cancer (lead indication) and acute myeloid leukaemia (AML), exploring anti-cancer plus cardio-protection in synergy with known standards of care.
As part of its clinical program, Race is also investigating the impact bisantrene and new molecules have on the m6A RNA pathway, following independent research describing bisantrene as the most potent inhibitor of FTO (Fat mass and obesity-associated protein). Dysregulation of RNA (over expression of FTO) has been shown to be a driver of a diverse range of cancers.
Race Oncology is in collaboration with City of Hope, MD Anderson, Sheba City of Health and UNC School of Medicine, and is actively exploring partnerships, licence agreements or a commercial merger and acquisition to accelerate access to bisantrene for patients with cancer across the world.
Learn more at www.raceoncology.com
If you have any questions on this announcement or any past Race Oncology announcements, please go to the Interactive Announcements page in our Investor Hub https://announcements.raceoncology.com
Contact details:
Jack McLintock
+61 450 608 022
jack.mclintock@irdepartment.com.au