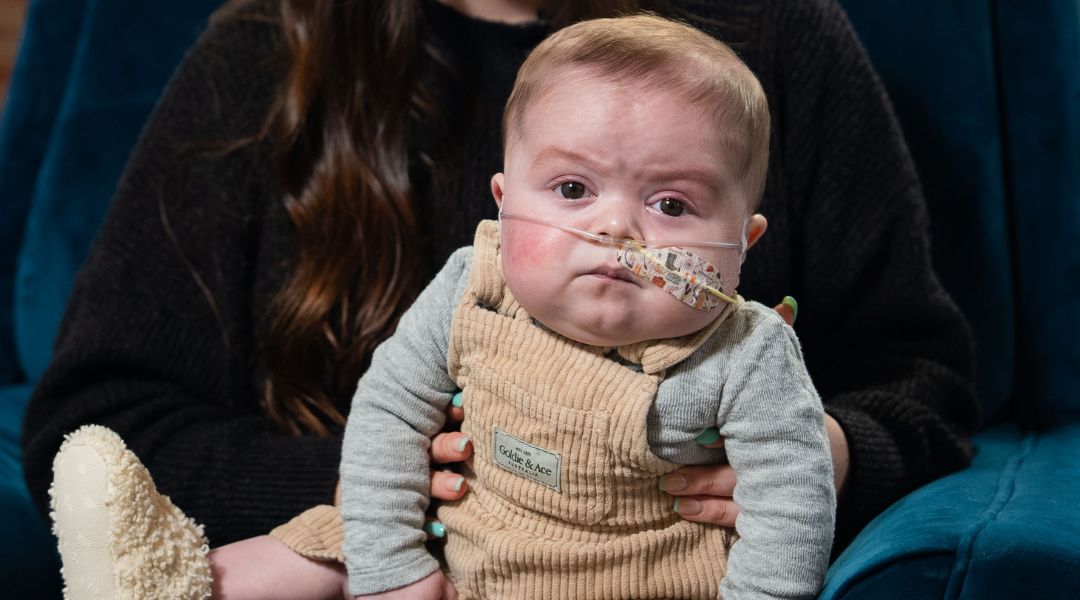 Ronald McDonald House Charities Victoria & Tasmania (RMHC VIC & TAS) – which operates the Ronald McDonald Houses at Monash, Fitzroy North and Parkville in Melbourne and in Hobart, Tasmania – is calling on the public to open their hearts and wallets for seriously ill and injured children and their families this Matched Giving Day Appeal from noon on Thursday 17 August until noon on Friday 18 August, 2023.
All donations made to RMHC VIC & TAS during the 24-hour Matched Giving Day Appeal will be doubled, thanks to generous corporate supporters.
"You don't know the impact of the house until you're living and breathing a situation where you need the house to see it. It's a community and it becomes that community that you need. There's just all those little things… they make a massive difference when you're living through what we lived through and you want to focus all your time on your kids in the hospital." – Baby York's Mum, Maddy (see video links).
"We're aiming for the Stronger Together Appeal to be our largest ever single day fundraiser" said Peter Bishop, RMHC VIC & TAS CEO. "Families tell us that they can't imagine what they would have done without Ronald McDonald House. We've been supporting families from across Australia for nearly 35 years and funds raised on the day will ensure that this vital, family-centred care will continue long into the future."
RMHC VIC & TAS operates three Houses in Melbourne:
Ronald McDonald House Parkville is situated next door to the Royal Children's Hospital and gives seriously ill children the best gift of all – their families.
Ronald McDonald House North Fitzroy caters to the growing need for regional, rural and interstate families to have access to safe and reliable accommodation in central Melbourne while their child undergoes treatment in the city.
Ronald McDonald House Monash on the grounds of Monash Children's Hospital provides the whole family with a comfortable place to stay and peace of mind, knowing they can stay together next to the hospital.
The Melbourne Ronald McDonald Houses have provided a home-away-from-home for more than 500,000 seriously ill and injured children and their families since its inception in 1986.
The Ronald McDonald House Hobart is situated right across the road from the Royal Hobart Hospital so parents are never more than minutes away from their child's bedside and has provided a home-away-from-home for more than 60, 000 seriously sick kids and families since its inception in 1998.
RMHC VIC & TAS specialises in supporting families who need to travel long distances from home to receive specialist medical care. Sometimes families find themselves facing financial ruin due to missed work and the cost of care required for their children and almost always, they find themselves in an exceptionally difficult state – emotionally, mentally and physically
It costs RMHC Victoria and Tasmania approximately $160 per night to support each family staying at one of the Houses. There is no charge to the families who need this support; accommodation is absolutely free of charge to these families.
In the traditional sense, a night would simply refer to a roof over someone's head for the night, but at RMHC VIC & TAS, a night means so much more to families in need of support.
A night for families at one of the Ronald McDonald Houses in Tasmania and Victoria means:
They have an on-site network of families, staff and volunteers who understand what they're going through
They're within a 5-minute walk to their sick children in hospital and within the hospital, they have access to the RMH Family Room – a place to recharge and find respite away from the clinical environment of a ward
A stocked kitchen and regular access to home-made cooked meals
Access to in-house education support by qualified teachers and 40 hours of free tuition when the patient returns home
Freedom from financial pressures via this home-away-from-home so families can focus on their sick children
RMHC VIC & TAS's goal for the Stronger Together appeal is to raise enough funds for 1,500 nights of accommodation at the Ronald McDonald Houses.
To donate, visit www.strongertogtherappeal.com.au or call 03 9966 8420 during the 24 hours of the Appeal, from noon Thursday 17 August – noon Friday 18 August, 2023.
Key Facts:
Meet Maddy & Baby York's Story - strongertogetherappeal.com.au 2023 - YouTube
Please Donate to Ronald McDonald House Charities Victoria & Tasmania (giveeasy.org)
About us:
Ronald McDonald House Charities Victoria & Tasmania keep families of seriously ill children together and close to the care their child needs. Through our accommodation and services, we offer shelter and support when life gets turned upside down due to a child's illness. Our Ronald McDonald Houses and Programs are run by a tirelessly hard-working team of staff and volunteers, aided by the generous support of our donors, sponsors and corporate partners.
Contact details:
Nicole Roberts: nicole.roberts@rmhc.org.au