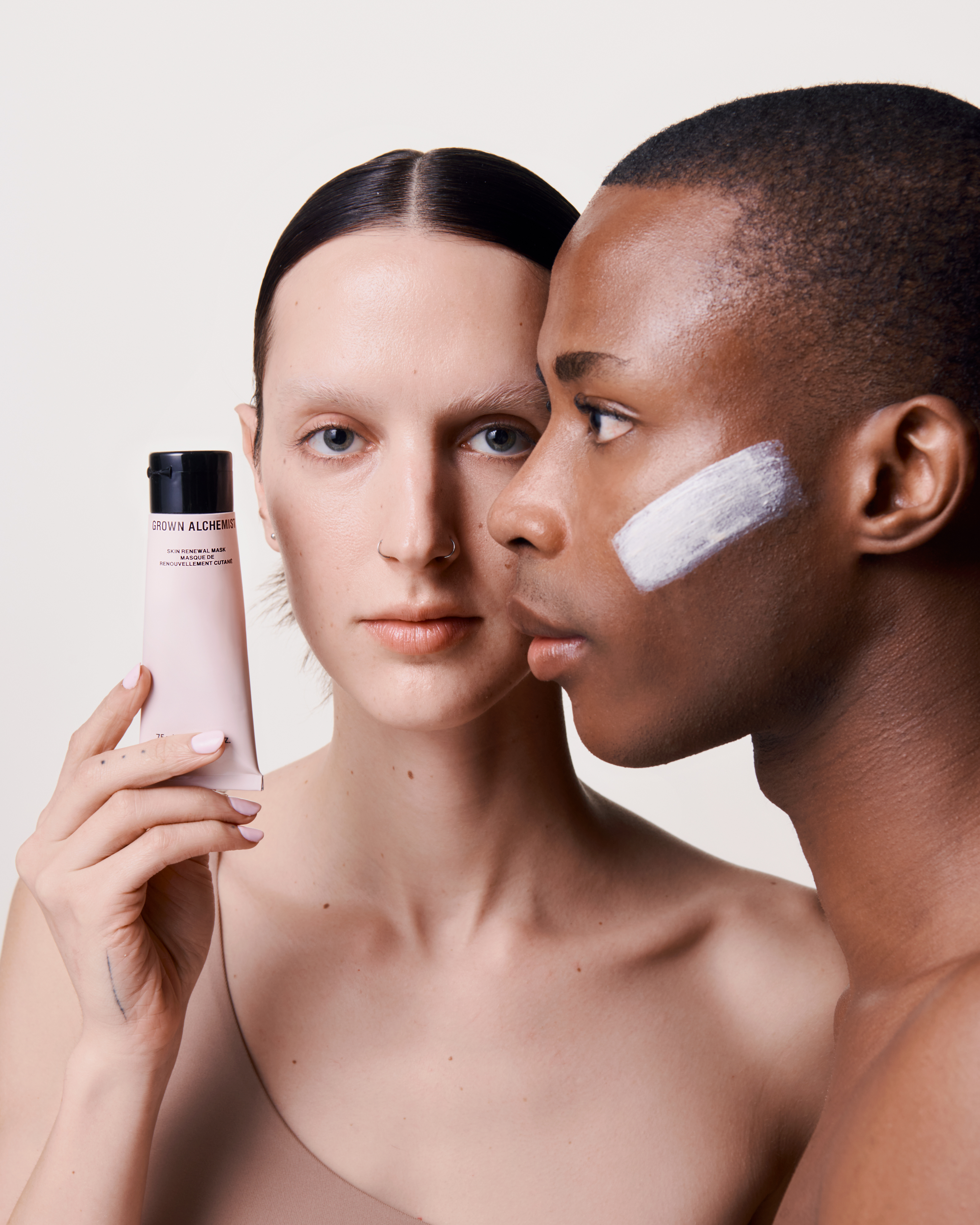 BEYOND HYDRATION.​
Embrace the ultimate skincare revolution. Synonymous with innovation and science-backed beauty, Grown Alchemist, unveils its newest power duo: the Skin Renewal Mask and Skin Renewal Day Cream, available now. These adaptogen-powered formulations are siblings to the highly acclaimed Skin Renewal Serum launched earlier this year, rounding out the revolutionary tools needed to supercharge cellular renewal and achieve optimal skin health.​
Taking the evolution of Grown Alchemist's best-selling Detox range to new heights, the Skin Renewal Mask and Day Cream mark a new era of skincare technology, capability, and performance. Say goodbye to skin dysfunction and hello to renewed radiance and resilience.​
Let's face it, your skin deserves the best defence against environmental aggressors. Enter the Skin Renewal Day Cream. Niacinamide, Echinacea, and Reishi Mushroom join forces to soothe, shield, and nourish your skin, while Moringa Peptides protect against particle pollution. The result is a fortified, resilient skin barrier that stands tall against the first signs of ageing.​
Packed with the potent blend of Snow Mushroom Extract and Echinacea, the Skin Renewal Mask delivers a burst of plant-based hydration, supporting your skin's natural ability to self-defend against the effects of oxidative stress. Drawing out and absorbing lingering oils, dirt, and impurities which cause unwanted breakouts, this creamy wash-off clay mask gently exfoliates, revealing visibly smooth, radiant skin.​
Both the Skin Renewal Mask and Day Cream have been put through their paces, and the results speak volumes. Clinical trials have shown that the Day Cream strengthens the skin's moisture barrier by up to 16% in just 12 hours. Meanwhile, users raved about the Mask, with 91% reporting purified skin and 90% exclaiming a radiance recharge for their tired, dull complexion.​
Grown Alchemist values your skin and our planet. That is why these revolutionary products are formulated with over 94% ISO Natural, Vegan, and Cruelty-Free Ingredients. You won't find any harmful toxins such Lauryl Sulphate, Petrochemicals, or Parabens at Grown Alchemist. Being eco-conscious runs deep in the brand ethos also, with all products featuring 100% recyclable aluminium, glass and PET packaging.​
GROWN ALCHEMIST SKIN RENEWAL. BEYOND HYDRATION.​
The Skin Renewal Mask RRP $72.00 and Skin Renewal Day Cream RRP $85.00 is available to purchase online at grownalchemist.com/au.
Key Facts:
High-res imagery here.
Instagram: @grownalchemistau
Website: https://grownalchemist.com/au
About us:
ABOUT GROWN ALCHEMIST
Grown Alchemist is built on a profound understanding of the connection between the health inside your body and the story told through your skin. And, by creating health in the body through repairing and restoring cellular function, revealing your biological beauty. Function = Beauty. The brand ethos is backed by the creation of 100% natural, clean, environmentally friendly, vegan, and cruelty-free product offering, with accreditations by Think Dirty, Australian Certified Organic and SAFE Cosmetics Australia and Positive Luxury. That is who Grown Alchemist is at the core: a premium, clean beauty brand.​
Contact details:
Mimi Gibson, Account Director, mimigibson@tidepr.co
Olivia Jacobs, Account Manager, oliviajacobs@tidepr.co